The president makes downright scary remarks about killing drug dealers, the Brazilian army and cops roar into Rio's favelas, California's Democratic Party reaffirms its support of legal pot, and more.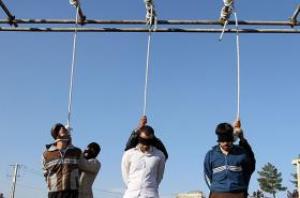 Marijuana Policy
Arizona Legalization Bill Snuffed Out. A bill that would have legalized marijuana in the state was snuffed out last week by House Judiciary and Public Safety Committee Chairman Eddie Farnswoth (R-Chandler). The measure, House Concurrent Resolution 2037 would, if passed, have put the issue directly before voters in a referendum.
California Democrats Reaffirm Commitment to Legal Marijuana, Diss Anti-Pot Feinstein. Meeting over the weekend, the California Democratic Party approved numerous platform planks in support of marijuana legalization, including one that says they "support the ongoing legalization, regulation, and taxation of cannabis in a manner similar to that of tobacco or alcohol, while prioritizing the health, education, and safety of California's communities and the country over revenue or profits." In other action, the state party failed to provide its endorsement to Sen. Diane Feinstein, who has lagged far behind other state Democrats when it comes to marijuana policy.
Maine Legalization Implementation Bill Kills Off Social Clubs, Tax Revenue Sharing. The Marijuana Legalization Implementation Committee took a final vote on the overhauled implementation bill Friday. The final version of the bill contains no provision for marijuana social clubs, nor does it allow for the sharing of marijuana tax revenues to the state with localities that allow marijuana businesses. The excise tax on wholesale marijuana is set at 21.5%, or about $335 a pound at current prices. The measure will go before the whole legislature in a few weeks.
Ohio Legalization Initiative Could Be Delayed to 2019 or 2020. At a press conference last Friday, Cincinnati businessman Jimmy Gould, the man behind the failed 2015 "monopoly marijuana" legalization initiative, said his plans to get another initiative on the ballot may not come to fruition this year. He said language for the proposed measure was not yet set and the initiative may not appear on the ballot until 2019 or 2020. The deadline to hand in enough vote signatures to qualify for the ballot this year is July 4.
Medical Marijuana
Idaho CBD Medical Marijuana Bill Advances. The House Health and Welfare Committee has approved House Bill 577, which would legalize the possession of low-THC CBD oil for medical use. The bill advanced despite the opposition of law enforcement and the Idaho Office of Drug Policy. It now heads for a House floor vote.
Sentencing
Trump Says He Wants to Execute All Drug Dealers. President Trump has been making some disturbing authoritarian and blood-thirsty private remarks about what he'd like to do to drug dealers, according to a new report from Axios. Worse yet, his dark fulminations may foreshadow some repressive policy prescriptions not too far down the road. Trump seems obsessed with fighting drugs, according to the Axios report. It cites five sources who've spoken with Trump on the subject who say "he often leaps into a passionate speech about how drug dealers are as bad as serial killers and should all get the death penalty" and that softer approaches to drug reform will never work.
Arizona Bill Would Impose Mandatory Minimums on First Time Heroin, Fentanyl Sellers. A bill that would create five-year mandatory minimum sentences for first-time heroin and fentanyl sellers passed the House last week. House Bill 2241 now heads to the Senate.
International
Brazilian Army, Rio de Janeiro Cops in Massive Anti-Drug Operation. The army and the state police have launched a massive anti-drug operation in several favelas (shantytowns) on the west side of the city, military spokesmen announced last Friday. More than 3,000 soldiers and police are taking part in the operations in Vila Alianca, Coreija, and Vila Kennedy. In the latter, there have been at least 13 shoot outs between drug traffickers and police since January. The operation started just days after an army sergeant and police commander were killed there last week.
Colombia Coca-Country Clashes Are Creating Refugee Flows. Three-way fighting between rightist paramilitaries, leftist ELN guerrillas, and the Colombian military in the coca-rich Bajo Cauca region some 80 miles north of Medellin has displaced some 1,500 people already, with the prospect of more to come. "The clashes between the armed groups continue to cause fear amongst the indigenous communities and rural populations," said the Norwegian Refugee Council, which is assisting victims of the violence.
Manila Demonstrators Protest Philippines Drug War. Thousands of marchers organized by Catholic groups took to the streets of Manila Saturday in a "walk for life" to protest the thousands of killings that have occurred under President Rodrigo Duterte's bloody crackdown on drugs. "We will not tire in walking for life even if the path ahead is winding and soaked in blood," Cardinal Luis Antonio Tagle.
Philippines Police Kill Ten in Night of Bloody Drug Raids. In the single bloodiest night of the country's drug war since police resumed participation in December, police said they killed 10 suspected drug dealers and arrested 63 more last Wednesday night. The operations took place in Bulacan, north of Manila, the capital. Police said the suspects were killed in eight separate towns during 45 "buy-bust" incidents.