There's a changing of the guard at the top of the Senate Judiciary Committee, a Pennsylvania medical marijuana patient sues over gun access, a new report finds fake and counterfeit drugs killing tens of thousands each year in Africa, and more.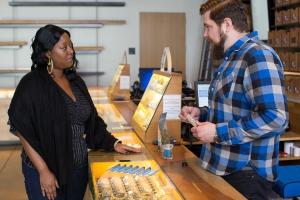 Marijuana Policy
Graham to Replace Anti-Marijuana Hardliner Grassley as Head of Senate Judiciary Committee. Sen. Chuck Grassley (R-IA) announced last Friday that he is stepping down as chairman of the Senate Judiciary Committee. He will be replaced by Sen. Lindsey Graham (R-SC), who, while not exactly a friend of marijuana law reform, is not nearly as oppositional as Grassley. While Grassley has stifled marijuana bills during his tenure as chair, Graham has cosponsored bills to protect legal medical marijuana states from federal interference, reschedule marijuana, and remove CBD from the list of banned substances. (Grassley has also been a champion late in his career for enacting at least modest criminal justice and sentencing reform.)
Massachusetts's First Marijuana Stores to Open Tuesday. Slightly more than two years after voters approved marijuana legalization, the state's first retail marijuana outlets are set to open their doors tomorrow. The state Cannabis Control Commission announced last Friday that retail shops in Leicester and Northampton had received final sign-offs to start selling recreational weed.
Medical Marijuana
Indiana Poll Finds Strong Support for Medical Marijuana. Even in red-state Indiana, they like their medical marijuana, a new poll finds. The poll from Ball State University finds that 81% of Hoosiers believe marijuana should be legal for medical reasons. The poll had support for full legalization at only 39%.
Pennsylvania Doctor and Medical Marijuana Patient Sues for Right to Own a Gun. A Philadelphia physician who is also a medical marijuana patient filed a lawsuit in federal court last Thursday challenging a federal law that prevents him from owning a firearm because he uses medical marijuana. Dr. Matthew Roman was blocked from buying a gun earlier this year when he honestly answered a question about marijuana use. Roman's lawsuit claims that the blanket prohibition against marijuana users violates the constitutional rights of tens of thousands of nonviolent, law-abiding American citizens. The filing, in US District Court for the Eastern District of Pennsylvania, claims the law violates both the Second and Fifth Amendments of the Constitution.
Harm Reduction
Opioid Reversal Drug Company Gouged Taxpayers With 600% Price Increase. A new report from the Senate's Permanent Subcommittee on Investigations finds that a pharmaceutical company "exploited the opioid crisis" to gouge taxpayers by increasing the price of its overdose reversal drug by 600% between 2014 and 2017. The report found that the company Kaléo raised the price of its drug EVZIO from $575 in 2014 to $4,100 in 2017. EVZIO is an auto-injector form of the drug naloxone. The price hikes cost taxpayers more than $142 million over the past four years in Medicare and Medicaid charges.
International
Fake and Counterfeit Drugs Are Killing Thousands in Africa, Report Finds. A new European Union-funded report finds that tens of thousands of Africans are dying because of fake and counterfeit drugs. Fake or substandard anti-malarial drugs alone were linked to anywhere between 64,000 and 158,000 deaths each year, the report found. The fake drugs are especially entrancing to the region's poor, who often cannot afford prescribed drugs and turn to the streets to buy cheaper alternatives. "So this is a criminal activity, you can focus on and try to find the source of this. The problem is also the access of the real medicine, the cost to buy them is too high so poor people are just despaired (they despair) to find something, anything that they think could help them," said Ruth Dreifuss, Chair of the Global Commission on Drug Policy.
Mexico Supreme Court Rejects Law Regulating Tr0ops Fighting Drug Cartels. In a 9-2 decision last Thursday, the nation's highest court threw out a new law aimed at regulating the use of the military to fight drug cartels. The law was meant to set out rules of engagement for the armed forces in their fight with organized crime, but human rights groups warned it could clear the way for more military human rights abuses. The court ruled that Congress does not have the power to legislate on "domestic security" and only the executive can dispatch troops. The court ruling came a day after incoming security minister Alfonso Durazo said there was "no way" to withdraw the military from the fight because it is more trustworthy than the police.