There's a pot of gold waiting in California, a Republican congressman comes out of the closet on his medical marijuana use, CVS is expanding expanded access to naloxone to seven more states, and more.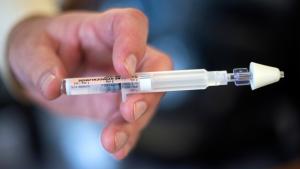 Marijuana Policy
California Legislative Analyst's Office Says Legalization Could Generate $1 Billion a Year in Taxes and Fees. In a report presented to state lawmakers, the Legislative Analyst's Office said the figure was a mid-range estimate. "Our best estimate is that the state and local governments could eventually collect net additional revenues that could range from the high hundreds of millions of dollars to over $1 billion annually," analyst Aaron Edwards told lawmakers. The analysts cautioned that legalization could also incur some costs, with likely increased marijuana use requiring additional money to be spent on drug treatment.
New Hampshire Legislature Balks at Decriminalization. The Granite State will remain the only one in New England that has not embraced decriminalization. House and Senate negotiators have agreed on a version of Senate Bill 498 that would lower the penalty for possessing small amounts of pot, but still leave it a criminal offense. The bill does lower the fine from $500 to $350, but possession remains a misdemeanor criminal offense. The House had voted twice in favor of decriminalization this year, but the Senate wouldn't go for it.
Medical Marijuana
GOP Congressman Steps Out of the Closet on Medical Marijuana Use. Long-time medical marijuana supporter Rep. Dana Rohrabacher (R-CA) has told marijuana reformers lobbying on Capitol Hill that he uses medical marijuana for arthritis pain. "I went to one of those hemp fests in San Bernardino," he explained, adding that a vendor showed him a topical preparation he could rub on his sore shoulder. "And you know what? I tried it about two weeks ago, and it's the first time in a year-and-a-half that I've had a decent night's sleep, because the arthritis pain was gone."
Heroin and Prescription Opioids
Senate Bill Would Tax Prescription Opioids to Fund Drug Treatment Facilities. Sen. Joe Manchin (D-WV) Tuesday introduced the Budgeting for Opioid Addiction Treatment (BOAT) Act, which would impose a one-penny fee for each milligram of opioid prescription drugs. That fee would generate $1.5-2 billion annually, Manchin said. The bill has not yet been assigned a number.
Harm Reduction
CVS Health to Expand Naloxone Access to Seven More States. CVS Health, the massive pharmacy chain, announced Wednesday that it will increase access to the opioid overdose reversal drug naloxone (Narcan) in the states of Colorado, Florida, Idaho, Louisiana, New Mexico, Oregon, and Washington this summer. CVS has already increased access to naloxone in 23 other states. The CVS program establishes a standing order with a physician in the state, allowing pharmacists to dispense naloxone to patients without an individual prescription.
911 "Bad" Samaritan Law Goes to Ohio Governor's Desk. The state Senate Tuesday approved House Bill 110, which was originally designed to save lives, but has been amended to the point where advocates say it will actually make people less likely to seek emergency help for overdoses. The amended bill limits the number of times people can seek overdose help to the first two times they call and it requires medical providers to give patient information to law enforcement. The bill also requires people to get mandatory treatment screening within 30 days or face arrest. Harm reduction advocates are calling on Gov. John Kasich (R) to veto the bill.