Civil rights and civil liberties groups join drug and sentencing reformers in calling for a moratorium on DEA enforcement actions, residents of Cowtown takes to the streets in support of legal weed, Italy's hard right interior minister picks a fight with low-THC marijuana sales, and more.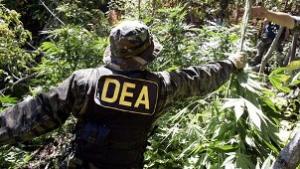 Marijuana Policy
Hundreds March for Marijuana Legalization in Fort Worth. Hundreds of people marched through downtown Fort Worth Saturday afternoon in support of legalizing marijuana and CBD. The event began with a rally that included speakers, voter registration tables, live music and food trucks. That was followed by a march to the Tarrant County Courthouse and back. The march comes as the Texas legislature is considering hemp, CBD, and pot decriminalization bills.
Medical Marijuana
Arizona Appeals Court Rules You Can't Smoke Medical Marijuana in a Parked Car. The state Court of Appeals ruled last Thursday that the state's medical marijuana law does not allow smoking marijuana in public places -- and that includes parked cars. The ruling reinstated the misdemeanor convictions of two cardholders caught toking up near a Mesa music festival.
Harm Reduction
Oakland Moves Toward a Safe Injection Site. Mayor Libby Schaaf (D) and Councilwoman Nikki Fortunate Bas filed a resolution with the city council last Thursday supporting AB 362, which would allow San Francisco to open a safe injection site, and asking that the bill be amended to include Oakland.
Law Enforcement
ACLU, NAACP Among Groups Calling for Suspension of DEA Enforcement Activities. The ACLU and NAACP have joined drug and sentencing reform groups such as the Drug Policy Alliance and the Sentencing Project in calling for a suspension of DEA enforcement activities until Congress can review their effectiveness. In a letter sent to the House Appropriations Committee last month, the groups wrote that the DEA is "emblematic of how the drug war has been a devastating failure" when drug use should be seen as a public health issue. "In short, the DEA is the lead entity executing the war on drugs," the letter says. "If we are ever to treat drugs as a health issue, not a criminal issue, then the DEA's enforcement activities must be suspended until an oversight hearing is done on this program by the House Judiciary Committee."
International
Italian Interior Minister Vows to "Go to War" Against Legal Marijuana. Interior Minister Matteo Salvini, who also heads the country's neofascist League Party, has vowed war on legal marijuana dispensaries. "From today, I'll go to war on cannabis street by street, shop by shop, neighborhood by neighborhood, city by city," said Salvini. Salvini is attacking not marijuana as we know it, but pot products made with exceedingly low levels of THC (under 0.2%), which are legal under the country's 2016 hemp law. Salvini's move could cause problems for his party's coalition with the populist Five Star movement, which has been considering a proposal to implement broader legalization of the drug.