New Jersey's marijuana legalization bill is finally moving, activists in New York City target the governor over safe injection sites, South Korea becomes the first East Asian nation to approve medical marijuana, and more.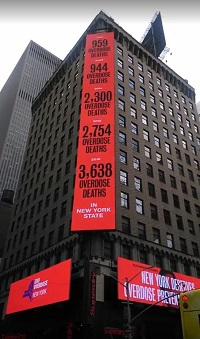 Marijuana Policy
New Jersey Legalization Bill Advances. The long-awaited marijuana legalization bill, S2703, is moving in the legislature. It was voted out of a joint committee on Monday, with a 7-4 vote in the Senate Budget and Appropriations Committee and a 7-3 vote in the Assembly Budget Committee. Now the bill goes to the Senate and Assembly floors for any amendments and final votes. The measure would legalize the possession of small amounts of marijuana for adults and set up a statewide system of taxed and regulated production and sales.
Medical Marijuana
New Jersey Senate Health Committee Votes in Support of Medical Marijuana Expansion. The Senate Health, Human Services, and Senior Citizens Committee voted Monday to expand the state's medical marijuana program. But advocates had concerns: "Today's vote in support of expanding New Jersey's medical marijuana program is a step in the right direction," said Roseanne Scotti, New Jersey State Director of the Drug Policy Alliance. "However, we have concerns about the impact of this legislation on patients, as it will transfer oversight of medical marijuana from the New Jersey Department of Health, which has a long established, patient-centered program, to a new and relatively undefined commission."
Harm Reduction
Times Square Billboards Urge New York Governor to "Give the Gift of Life" by Authorizing Overdose Prevention Centers. Advocates and family members who have lost loved ones to overdose blasted Gov. Andrew Cuomo (D) in a series of electronic billboards that began airing throughout Times Square on Giving Tuesday, pressing the Governor to "Give the Gift of Life" this holiday season by authorizing Overdose Prevention Centers. The centers, also known as safer consumption spaces (SCS), are a proven tool for preventing unnecessary and tragic overdose deaths. As overdose deaths continue to increase across New York -- a New Yorker dies every 6 hours of a preventable overdose -- advocates in the EndOverdoseNY coalition are calling on Governor Cuomo to show his leadership and take immediate action to establish Overdose Prevention Centers.
International
South Korea Becomes First East Asian Nation to Approve Medical Marijuana. The South Korean National Assembly has voted to approve an amendment to the country's drug laws that will pave the way for the use of medical marijuana by prescription. Potential patients would be required to apply to the Korea Orphan Drug Center and approval would be granted on a case-by-case basis.