A federal appeals court has put the kibosh on a proposed Philadelphia safe injection site, a Michigan prosecutors says no more magic mushrooms prosecutions, and more.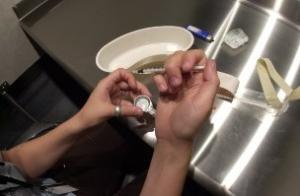 Marijuana Policy
New Survey Finds Majority of Americans View Marijuana as Less Dangerous Than Alcohol. Survey data published in the journal Addictive Behavior finds that a majority of Americans believe marijuana has less potential for abuse than either alcohol or prescription drugs. "This study found that more than half of respondents perceived CBD, THC, hemp, and marijuana as having medical use," the authors wrote. "They also perceived the potential for abuse of CBD, THC, hemp, and marijuana as significantly less than potential for abuse of commonly prescribed anti-anxiety and pain medications." As for alcohol: "A majority of the public perceives THC and marijuana as grouped together with prescription medications rather than with illicit substances and as having more medical value and less abuse potential than alcohol," the researchers wrote.
Psychedelics
Michigan Prosecutor Will No Longer Try Cases Involving Marijuana, Magic Mushrooms, Other Entheogens. New Washtenaw County (Ann Arbor) prosecutor Eli Savit on Tuesday unveiled two policy directives explaining that he will do longer prosecute criminal cases involving the possession of marijuana, magic mushrooms, and other entheogens. Savit pointed to the disproportionate consequences for people of color as being a factor in his decision, and he also cited the medical benefits of both marijuana and natural psychedelics. He also clarified that cultivation of magic mushrooms for personal use will not be prosecuted.
Asset Forfeiture
South Carolina Supreme Court to Hear Asset Forfeiture Appeal on Wednesday. The state Supreme Court will hear a case challenging the constitutionality of civil asset forfeiture. Last year, a lower court ruled the practice unconstitutional, but prosecutors quickly appealed. Now, the Institute for Justice, a leading national advocate of ending civil asset forfeiture, is on the case. "Tomorrow, the court has an opportunity to put an end to civil forfeiture once and for all," said Institute for Justice Senior Attorney Robert Frommer, who will argue the case. "Lower courts have rightly found that civil forfeiture is unconstitutional, and we're confident that the state supreme court will agree."
Harm Reduction
Third Circuit Court of Appeals Rules Safe Injection Sites Violate Federal Law. The Third Circuit ruled Tuesday that it is a federal crime to open a supervised injection site or "consumption room" for illegal drug use. Local nonprofit Safehouse planned to open the nation's first such consumption room in the City of Philadelphia, where individuals would be invited to inject heroin and use other drugs under supervision. But the Third Circuit ruled that doing so "will break the law" because Safehouse knows and intends that visitors to its consumption room will have a significant purpose of using illegal drugs. In agreeing with the government's interpretation of the Controlled Substances Act, the Court explained that, "[t]hough the opioid crisis may call for innovative solutions, local innovations may not break federal law."
International
Mexico Publishes Regulations for Medical Marijuana. The Mexican government on Tuesday published the regulations for medical marijuana supply in the country. The move comes three years after the country passed a law permitting the use of medical marijuana. Under the regulations, there will be space to research marijuana's medical applications and for the development of marijuana-based pharmaceuticals.