The punishment of Olypmic athlete Sha'carri Richardson for testing positive for marijuana draws intense interest and criticism, New Mexico drug dogs are getting laid off in the wake of legal pot, and more.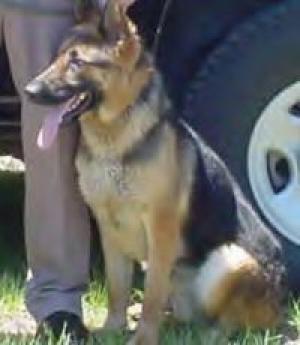 Marijuana Policy
New Mexico Drug Dogs Face Retirement in Wake of Marijuana Legalization. Drug-sniffing police dogs in the state are being forced into retirement because they have been trained to alert on any drug, including marijuana, and cannot be retrained. As the Tucumcari Police Department noted as it announced the retirement of its drug dog, Aries: "With the legalization of recreational marijuana, K9 Aries is unable to continue his function as a narcotics detection dog." Other cities and towns are doing the same thing, and so is the State Police, which will be retiring all nine of its current drug dogs. "Once the new canines are trained, the handlers will have the option of retiring their current assigned canine to their home, or we will look at other options to the likes of donating them to other law enforcement entities outside of the state of New Mexico who have yet to legalize marijuana," the State Police said.
Drug Policy
Drug Czar's Office Seeks Comment on How Drug Policies Create Systemic Barriers for Underserved Communities. In a notice published in the Federal Register Wednesday, the Office of National Drug Control Policy (ONDCP -- the drug czar's office) said it is seeking comment on whether existing federal drug control policies create "systemic barriers to opportunities for underserved communities" and to better promote equity in future programs. Although the agency has embraced some progressive drug policy positions, such as pushing for broader access to buprenorpine, this level of acknowledgment of harms caused by drug policy marks a change of direction.
The agency didn't take the action independently. Rather, it is part of a broader executive order requiring agencies to seek feedback and "assess whether, and to what extent, its programs and policies perpetuate systemic barriers to opportunities and benefits for people of color and other underserved groups. Such assessments will better equip agencies to develop policies and programs that deliver resources and benefits equitably to all," ONDCP explained. Comments on how ONDCP can better achieve equity are being accepted at [email protected] through August 6.
Drug Testing
Sha'Carri Richardson Out of Olympics After Positive Marijuana Test. Star athlete Sha'Carri Richardson was disqualified last week from the Tokyo Olympics' women's 100 meter race after testing positive for marijuana after the qualifying run, and now will completely miss the games after being left off the team chose for the women's relay race. Her disqualification has caused howls of outrage, with some commentators calling it racist, and even President Biden, who initially responded with "the rules are the rules," suggesting the rules need to change. Richardson said she smoked marijuana to cope with the death of her biological mother and did so in Oregon, where it is legal, but she took responsibility for her actions: "I know what I did," Richardson said. "I know what I'm supposed to do... and I still made that decision."
Harm Reduction
California Safe Injection Site Bill Delayed to Next Year. The Assembly Health Committee has informed Senator Scott Weiner (D-San Francisco) that his bill to allow a safe injection site pilot program, Senate Bill 57, which is billed as an "overdose prevention program," will not get a hearing until January. The state is in the first year of its two-year legislative session, so the bill is not dead, just delayed. "While I'm extremely disappointed that we are experiencing another delay in passing this life-saving legislation -- which has passed both the Senate and Assembly twice in different forms over the past five years -- I continue to be optimistic that we'll pass SB 57 and get it signed into law," said Weiner. "San Francisco and other California cities are experiencing record overdose deaths, and safe consumption sites are a proven strategy to save lives and help people into recovery. I am deeply committed to this legislation -- as is our broad coalition -- and I look forward to moving SB 57 forward in January." The bill has already passed the Senate.