A New Jersey judge's ruling keeps an Atlantic City needle exchange program alive (for now), the Scottish government is trying to find a way to open a safe injection site in Glasgow, and more.
Medical Marijuana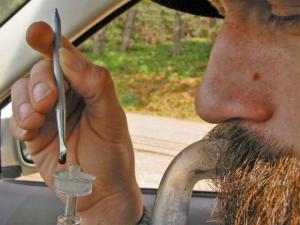 Colorado Announces New, Stricter Medical Marijuana Rules
. As of January 1, the rules for purchasing medical marijuana will be tightened. Among the changes: daily purchases of marijuana flower will be limited to two ounces and eight grams of concentrates, such as wax or shatter. For patient between ages 18 and 20, the limit will drop to two grams per day. The current purchase limit for concentrates is 40 grams per day. To enforce the daily limits, dispensaries will be required to input patient ID numbers on patients' medical marijuana cards. The rule changes come after the legislature passed a bill largely driven about concerns about young people using high-potency marijuana concentrates.
Harm Reduction
New Jersey Judge Rules to Keep Atlantic City Needle Exchange Open -- At Least for Now. Judge Michael Blee of the Atlantic County Superior Court on Friday continued the restraints against Atlantic City enforcement of Ordinance 32 (which would terminate the city's syringe access services operated by South Jersey AIDS Alliance) until further order of the court. Judge Blee also ordered Atlantic City to provide the New Jersey Commissioner of Health with formal written notice of the adoption of Ordinance 32, together with pertinent documents from the litigation. He intends to issue a written opinion on the duration of the restraints no later than December 3.
"Syringe access is health care, period. Every day that the clients of South Jersey AIDS Alliance have access to lifesaving health care service is a day worth celebrating, and we're thrilled that our syringe services will continue operation for the time-being," said Carol Harney, Chief Executive Officer of South Jersey AIDS Alliance. "Our job is to show up for people living with HIV and living with a substance use disorder with the best public health tools we have, and there is no denying that syringe access is an essential service for Atlantic City residents."
International
Germany's Next Coalition Nears Deal on Legalizing Marijuana. The parties likely to form the next governing coalition -- the Social Democrats, the Greens, and the Free Democrats -- are close to a deal on legalizing marijuana. The parties are hammering out details, including rules for the use and sale of marijuana. But it's not a done deal yet, and the outcome could still change. Spokespeople for the three parties declined to comment on the negotiations. The effort comes as public support for marijuana legalization has hit 49 percent with 46 percent opposed -- the first time those in favor polled higher than those opposed.
Scottish Government Working on New Plan for Safe Injection Site in Glasgow. The Scottish government is "actively exploring" ways to open a safe injection site in Glasgow, Deputy Prime Minister John Swinney said Thursday. There are legal and political barriers to overcome. The comment comes after the current Lord Advocate said last week that even though a previous Lord Advocate had ruled in 2017 that such facilities violated the Misuse of Drugs Act, the issue "could be looked at again." But the notion still faces opposition from British Prime Minister Boris Johnson, and it is the British government that determines drug policy for the union. Some 1,339 people died of drug overdoses last year in Scotland, the seventh year in a row of rising overdose deaths.