An Illinois Democratic congressional candidate goes bold on weed, New Jersey legalization efforts face an uphill battle in the Senate, congressional Democrats call for investigations into DEA-linked drug war deaths in Mexico, and more.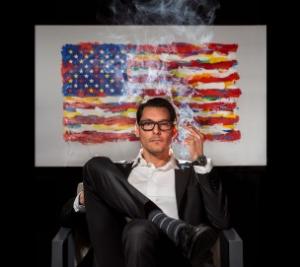 Marijuana Policy
Illinois Democratic Congressional Candidate Smokes Joint in Ad. Former FBI national security official and current Logan Park restaurateur Benjamin Thomas Wolfe is running for the Democratic nomination for Illinois' 5th congressional district -- and he's putting marijuana legalization front and center. A photograph Wolf released Monday features him sitting in front of an American flag painting. Above him, smoke rises from the joint he presumably just puffed on. "As a cannabis user, I think it's important we get out front and talk about it," Wolf said. "We realize that cannabis can bring billions of dollars to the state, it's medicine for millions of people around the country, it changes criminal justice reform and personally I think it's a wonderful recreational substance as well."
New Hampshire Poll Finds Strong Support for Legalization -- Without Sales. A new Granite State poll has across the board support for a bill that would legalize the possession and cultivation of small amounts of marijuana, but not sale or taxation of it. The poll had support at 56% overall, with 61% of Democrats, 56% of independents, and 49% of Republicans behind it.
New Jersey Senate Survey Suggests Hard Road Ahead for Legalization. A survey of all 40 state Senate members by NJ Cannabis Insider finds there is some work to be done before the body is prepared to pass a legalization bill. The survey found only five senators said they would vote yes, 20 would vote no, and 15 were either undecided or did not reply. A legalization bill, Senate Bill 830, awaits a hearing in the Senate Judiciary Committee.
Medical Marijuana
Tennessee Medical Marijuana Bill Advances. The House Criminal Justice Subcommittee narrowly approved a medical marijuana bill Tuesday. The committee voted 4-3 in favor of House Bill 1749, with the key vote provided by House Speaker Beth Harwell.
Harm Reduction
New York Advocates Call on Mayor de Blasio to Release Study on Safe Injection Sites. Advocates led by the Drug Policy Alliance, Housing Works, and Camelot gathered at city hall Tuesday to demand that Mayor Bill de Blasio release a $100,000 study on the feasibility of safe injection sites. De Blasio said last month he would release the results "relatively soon." On Tuesday, the Health Department again said "soon." The city council authorized safe injection sites two years ago.
Law Enforcement
Congressional Democrats Want Investigation into Mexico Murders Linked to DEA Activities. Democratic leaders in the House and Senate have sent a letter to the Justice and State departments asking that their inspectors general investigate DEA-led operations in Mexico that triggered violent retaliation from drug cartels, leading to the death or disappearance of dozens or even hundreds of people. The Democrats cited a 2010 cartel attack in Monterrey and a 2011 massacre by Zetas in the state of Coahuila. In both cases, the killings were linked to DEA surveillance activities, and in both cases, the DEA downplayed its involvement and didn't help investigate the killings.
(This article was prepared by StoptheDrugWar.org's 501(c)(4) lobbying nonprofit, the Drug Reform Coordination Network, which also pays the cost of maintaining this web site. DRCNet Foundation takes no positions on candidates for public office, in compliance with section 501(c)(3) of the Internal Revenue Code, and does not pay for reporting that could be interpreted or misinterpreted as doing so.)