The former leader of the Sinaloa Cartel has been found guilty on all counts at his trial in New York City, Sri Lanka advertises for hangmen as the president there vows to resume drug executions, South Dakota House members defy their governor and approve a hemp bill, and more.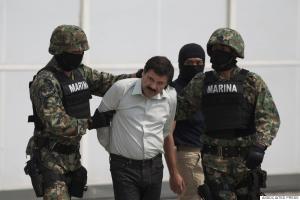 Marijuana Policy
New York Pot Legalization Foes Lobby in Albany. Groups opposed to marijuana legalization gathered at the Capitol Monday to urge lawmakers to reject the idea. Led by Kevin Sabet of Smart About Marijuana, foes warned that legalization would lead to increased use among schoolchildren—even though that hasn't been the case in early legalization states such as Colorado and Washington. Sabet was joined at the Capitol by representatives of the state PTA, the Police Conference of New York and representatives of groups that deal with drug and alcohol addiction, all of which oppose legalization.
New York Coalition Urges Governor Cuomo to Improve Marijuana Legalization Bill to Center Racial and Economic Justice. Members of the Start SMART NY coalition (Sensible Marijuana Access through Regulated Trade) Tuesday laid out their vision for a just marijuana industry and demanded that Governor Andrew Cuomo incorporate the Marijuana Regulation and Taxation Act (A.1617) into his proposed recreational marijuana legalization plan. The act is model legislation to create a taxed and regulated adult-use marijuana market that not only creates economic opportunities for all New Yorkers but also addresses the harms of decades of prohibition.
Hemp
South Dakota House Ignores Governor, Passes Hemp Bill. Rejecting advice from Gov. Kristi Noem (R) to leave hemp alone this year, the House on Monday voted 65-2 to pass HB 1191, which would give farmers and producers the green light on hemp production beginning July 1. The bill now heads to the Senate, where GOP leaders say it will likely pass.
Law Enforcement
El Chapo Convicted on All Counts. Joaquin Guzman Loera, known by various aliases, including "El Chapo" and "El Rapido," was convicted today by a federal jury in Brooklyn, New York of being a principal operator of a continuing criminal enterprise – the Mexican organized crime syndicate known as the Sinaloa Cartel – a charge that includes 26 drug-related violations and one murder conspiracy. Guzman Loera was convicted of all 10 counts of a superseding indictment, including narcotics trafficking, using a firearm in furtherance of his drug crimes and participating in a money laundering conspiracy. The verdict followed a 12-week trial before U.S. District Judge Brian M. Cogan. Guzman Loera faces a mandatory sentence of life imprisonment. Sentencing has been set for June.
Pregnancy
Tennessee Bill Would Prosecute Mothers for Drug Use While Pregnant. A bill filed last week, SB 659, would authorize a woman to be prosecuted for assault based on the person using a narcotic drug illegally while pregnant if the child is born addicted to or harmed by the drug used. A woman could avoid prosecution under the bill if she was actively enrolled in an addiction recovery program before the child was born if she remained in the program after delivery and successfully completed the program. An identical bill has been filed in the House.
International
Sri Lanka Advertises for Hangmen as President Pushes for Harsher Drug War. The government has begun advertising for hangmen after President Maithripala Sirisena said last week he wanted to resume capital punishment for drug traffickers within 60 days. Although drug trafficking is already a capital offense in the country, no one has been executed for any crime there since 1976. Last month, during a visit to the Philippines, Sirisena praised President Rodrigo Duterte's bloody war on drugs, which has resulted in the deaths of thousands.