Crookedness in the Wayne County, Michigan, court system; endemic corruption in Camden; a tweaker cop in Iowa; and another pair of jail guards go bad. Let's get to it: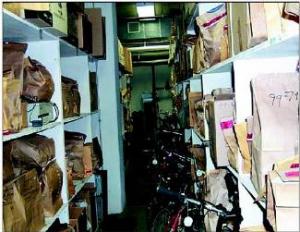 In Detroit,
a
retired Wayne County judge, a retired Wayne County drug prosecutor, and two former
Inkster
police officers were ordered last week to stand trial on felony charges related to a perjury-tainted 2005 cocaine trial. Retired Judge Mary Waterstone, former Wayne County drug prosecutor Karen Plants, and former Inkster police officers Robert McArthur and Scott Rechtzigel are accused of conspiring to hide the role of a secret paid informant in a 47-kilo cocaine bust. Waterstone faces four felony counts of official misconduct, Plants is charged with conspiracy, McArthur is charged with conspiracy, perjury, and misconduct in office, and Rechtzigel is charged with perjury and conspiracy. Waterstone is accused of privately agreeing with prosecutors to hide the identity of the informant and allowing the informant and the two police officers to lie on the stand about the nature of their relationship.
In Camden, New Jersey,
two Camden police officers were charged October 13
with falsifying evidence in drug cases in an ongoing scandal that has caused prosecutors to drop more than 200 criminal cases. Officers Antonio Figueroa, 34, and Robert Bayard, 32, were members of a special operations unit assigned to crack down on open-air drug markets, but five unit members became drug traffickers themselves. They are accused of stealing from some suspects, planting drugs on others, threatening to plant drugs to coerce cooperation, paying informants with drugs, keeping drugs for their own use, conducting illegal searches, giving false testimony and filing false reports between 2007 and last year. Three other officers have already been charged in the year-long investigation. Figueroa and Bayard had been on suspension for the past year. Figueroa faces eight charges and Bayard five. For both, the most serious is conspiracy to violate the civil rights of a citizen, punishable by up to 10 years in prison.
In Des Moines, Iowa,
a former Pleasant Hill police officer was sentenced last Friday
to three years' probation for stealing methamphetamine from the department evidence room and crashing his police SUV while tweaking. Former officer Dan Edwards had pleaded guilty to DUI, illegal drug possession, and third-degree burglary. Edwards went down after the April crash, when a state trooper reported finding meth on him. Edwards' attorney said he suffered post traumatic stress disorder after tours of duty in Afghanistan and Iraq and this his wife and infant son had been killed in a car crash years earlier.
In Pensacola, Florida,
a former Escambia County Road Prison corrections officer was found guilty last Thursday
of providing Xanax to a prisoner in exchange for oral sex. Lawrence Vieitez was convicted on charges of delivery of a controlled substance, introducing contraband into a county detention facility and solicitation to commit prostitution. He went down after an inmate complained about his advances. The inmate was then wired, and a deputy was able to listen in as Vieitez offered to procure Xanax in exchange for oral sex. Vieitez then left to obtain the Xanax and was arrested when he gave it to the inmate. He's looking at up to 20 years in prison.
In Paterson, New Jersey, a
former Passaic County corrections officer was sentenced last Friday
to five years in state prison for smuggling heroin and homemade weapons into the Passaic County Jail. Former guard Marvin Thompson, 41, has no chance at early parole. During trial, prosecutors argued that Thompson smuggled the contraband into the jail with the intention of "discovering" it so he would look like a hero. He was then a provisional employee and hoped to win a permanent post. But an inmate working with Thompson snitched him out, and when he reported finding 10 packets of heroin, he was arrested. He was convicted of second degree official misconduct, possession of heroin, and filing false police reports.