One study finds that Colorado is doing just fine with marijuana legalization, another finds that kids aren't smoking more pot in medical marijuana states, there's trouble in Albuquerque, Detroit police go on yet another well-publicized mass drug sweep, Marc Emery vows revenge, and more. Let's get to it: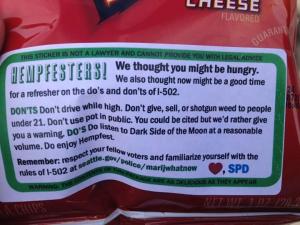 Marijuana Policy
Brookings Institution Report Finds Colorado's Legalization is Succeeding. The Brookings Institution's Center for Effective Public Management today released a report on how well Colorado is managing marijuana legalization. The title of the report, "Colorado's Rollout of Legal Marijuana is Succeeding," pretty much spells it out. "The state has met challenging statutory and constitutional deadlines for the construction and launch of a legal, regulatory, and tax apparatus for its new policy," according to the report authored by John Hudak, a Brookings fellow in Governance Studies. "In doing so, it has made intelligent decisions about regulatory needs, the structure of distribution, prevention of illegal diversion, and other vital aspects of its new market. It has made those decisions in concert with a wide variety of stakeholders in the state." Click on the link to read the full report.
Georgia Libertarian Party Endorses Marijuana Legalization. The Libertarian Party of Georgia says "legalize it." In a Wednesday press release, the party came out four-square for legalization. "Georgia voters should be allowed to vote on the issue", said state party chair Doug Craig. "If the voters were allowed to vote we believe they would vote to legalize. Rights should never be determined by popular vote, but polling gives us a good indication on where the public stands on the issue. As Libertarians, we support giving the public the freedom to choose. Lawmakers should study the issue and allow public input into forming a better policy that stops treating otherwise law abiding citizens as criminals."
Albuquerque Decriminalization Initiative Up in the Air After City Messes Up Signature Requirements. What a mess! The city of Albuquerque told initiative organizers they needed 11,000 signatures to qualify for the ballot, so to ensure that they had a comfortable cushion, organizers turned in 16,000 signatures. Then, two days after signatures were handed in, the city said it had made a mistake, and organizers needed 14,000 signatures to qualify. The measure could still qualify, but if it comes up with more than 11,000 valid signatures, but less than the 14,000 needed to make the ballot, look for legal action.
East Lansing, Michigan, Decriminalization Initiative Campaign Turns in Signatures. The Coalition for a Safer East Lansing turned in about 2,300 signatures for its decriminalization initiative Tuesday. If they end up with enough valid signatures to qualify, the measure will go on the ballot in November. Similar efforts are afoot in more than a dozen other Michigan towns and cities.
Medical Marijuana
National Bureau of Economic Research Report Finds Medical Marijuana Has Not Led to More Teen Use. The finding comes in the working paper Medical Marijuana Laws and Teen Marijuana Use. "Our results are not consistent with the hypothesis that the legalization of medical marijuana caused an increase in the use of marijuana among high school students. In fact, estimates from our preferred specification are small, consistently negative, and are never statistically distinguishable from zero," the authors said.
Drug Policy
Broad Coalition Forms to Highlight Plight of Drug War's Youngest Victims. More than 80 civil rights, immigration, criminal justice, racial justice, human rights, libertarian and religious organizations are joined by notable figures such as Michelle Alexander in calling for an end to the war on drugs in the name of protecting children both in Latin America and here in the United States. They have all signed on to a letter of support for new policies. The signatories -- which include the Black Alliance for Just Immigration, Center for Constitutional Rights, Institute of the Black World, Presente.org, Students for Liberty, United We Dream, William C. Velasquez Institute, and the Working Families Organization -- are notable for their diversity in cause and focus, yet have come together around the issue of the drug war's impact on youth, at home and abroad. Click here for a full list of supporters.
Law Enforcement
Detroit Police in Yet Another Militarized Drug Blitz. In the latest in a series of mass raids under the rubric of "Operation Restore Order," heavily armored Detroit Police SWAT teams and other officers targeted the Ninth Precinct on the city's east side today. More than a hundred police were involved. The first house they hit had no drugs, the second contained some weapons and drug paraphernalia, the third resulted in the seizure of a couple dozen crack rocks.
One Seattle Police Officer Wrote 80% of Marijuana Tickets; Now, He's Off the Streets. One police officer who apparently doesn't think much of Washington's marijuana legalization law -- he wrote snide remarks on some of the tickets -- is responsible for a whopping 80% of all public pot smoking tickets written by the Seattle Police in the last six months. In one instance, Officer Randy Jokela used a coin toss to decide whom he would cite. He has been assigned to other duties while the department's Office of Professional Accountability investigates.
International
Marc Emery Vows Political Revenge on Canadian Conservatives. Out of prison in the US, but still stuck in an American deportation center awaiting his return to Canada, "Prince of Pot" Marc Emery is vowing political revenge on Canada's Conservatives. He has served nearly five years in federal prison for selling marijuana seeds after the Conservatives allowed him to be extradited from Canada. "My own government betrayed me and I'm going to wreak an appropriate amount of political revenge when I get home and campaign against the Conservative government," Emery said. "The whole thing is nonsense. I should never have been turned over to the US government," said the fervent Liberal supporter. Canadian elections are next year.
(This article was published by StoptheDrugWar.org's lobbying arm, the Drug Reform Coordination Network, which also shares the cost of maintaining this web site. DRCNet Foundation takes no positions on candidates for public office, in compliance with section 501(c)(3) of the Internal Revenue Code, and does not pay for reporting that could be interpreted or misinterpreted as doing so.)