SWAT teams are in the news, the RAVE Act gets critiqued as counterproductive, there will be no medical marijuana initiative in Oklahoma, but it looks like there will be a decriminalization initiative in Santa Fe, and more. Let's get to it: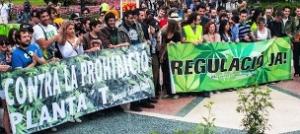 Marijuana Policy
Santa Fe, New Mexico, Decriminalization Initiative Qualifies for Ballot. The Santa Fe city clerk has determined that an initiative to decriminalize marijuana possession in the city has qualified for the November ballot. Now the city council must either vote to change the city ordinance or send the measure to the voters. This measure will eliminate jail time for the possession of less than 1 ounce of marijuana and possession of marijuana paraphernalia for personal use and will result in no more than a simple $25 fine, as well as make marijuana possession the lowest priority for the Santa Fe Police Department.
Medical Marijuana
Oklahoma Initiative Effort Will Fall Short, Organizers Concede. There will be no medical marijuana initiative in the Sooner State this year. Saturday was the deadline for handing in signatures, and organizers concede they don't have enough valid signatures. They vow to be back at next year.
Hawaii Medical Marijuana Events Slated. The Drug Policy Forum of Hawaii and the American Civil Liberties Union of Hawaii (cofounders of the Medical Cannabis Coalition of Hawaii) have announced three free public events on medical marijuana policy next weekend. "Policy Perspectives on Medical Marijuana" will take place in Oahu and Hilo, while a talk session will be held in Kona. Click on the link for more details.
Law Enforcement
Georgia County Won't Pay Medical Bills for Toddler Injured in SWAT Raid. Habersham County, Georgia, says it will not pay the hospital bills for Bounkham "Baby Boo Boo" Phonesavah, the 19-month-old toddler severely burned when a SWAT team executing a drug arrest warrant threw a flash-bang grenade into his home during a May drug raid. The person the police were looking for wasn't there. Look for a civil lawsuit.
Tampa Police Review Finds No Problem With SWAT Team Killing of Man in Minor Marijuana Raid. SWAT team members acted appropriately when they shot and killed 29-year-old Jason Westcott during a May drug raid, a Tampa Police internal review has found. Police entered the residence where Westcott and a roommate were sleeping, then encountered him with a handgun in the bathroom, where they shot and killed him. Police seized less than $2 worth of marijuana at the scene. There are problems with the investigation that led to the raid, too; click on the May drug raid link to read more.
New York Governor Candidate Randy Credico Arrested, Jailed for Making Video of Cops Arresting Black Man in Subway. Randy Credico, challenger to incumbent Gov. Andrew Cuomo in next month's Democratic primary, was arrested and jailed for videotaping undercover transit police aggressively arresting a black man Friday afternoon. He is charged with menacing a police officer, obstructing government administration and resisting arrest and disorderly conduct. Credico has been arrested more than 20 times, mostly for civil disobedience actions or videotaping police activities.
Justice Department Ups the Ante on FedEx with New Money Laundering Charges. Federal prosecutors in San Francisco unveiled a new indictment against FedEx last Thursday that adds money laundering to a list of charges alleging that the delivery company knowingly shipped illegal prescription drugs from two online pharmacies. The company was already facing 15 conspiracy and drug charges and is looking at a fine of up to $1.6 billion if found guilty. UPS paid the feds $40 million last year to settle similar charges.
RAVE Act Has Done More Harm Than Good, Study Finds. The 2003 RAVE Act (Reducing Americans' Vulnerability to Ecstasy Act) has not reduced the drug's popularity, but has instead endangered users by hampering efforts to protect them. The law held club owners and produces criminally responsible for drug use at their events, and that made them disinclined to provide harm reduction services -- providing free bottled water of allowing groups like DanceSafe to do informational flyering or drug testing -- because that could be used as signs they were aware of drug use. "There were a lot of groups like that, and there was a lot of educational information about drugs being made available," study author University of Delaware sociologist Tammy Anderson said. "Today, clubs and promoters are reluctant to take those precautions because it could be used as evidence against them. The RAVE Act is a relic of the War on Drugs," she said. "It never worked in the past, and it's not working now." Her research was presented Sunday at the American Sociological Association annual meeting in San Francisco.
International
Vietnam Sentences Six to Death for Heroin Trafficking. A court in northern Vietnam sentenced six people to death last Thursday for trafficking Laotian heroin destined for China. The six were convicted of trafficking 240 pounds of the drug. Under Vietnamese law, the death penalty can be imposed for offenses involving as little as 3.5 ounces of heroin.
Barcelona to Shut Down Dozens of Cannabis Clubs. The city of Barcelona moved quietly last week to shut down about a third of the city's 145 cannabis clubs, citing "deficiencies" in management at nearly 50 of them. Those "deficiencies" included the illegal sale of marijuana, trying to attract non-members to their premises, and creating problems for the neighborhoods where they operate. Under Spanish law, the clubs can operate as members-only establishments where participants share their collective crops. The Spanish Federation of Cannabis Associations has asked for better regulations to avoid illegal practices.
(This article was published by StoptheDrugWar.org's lobbying arm, the Drug Reform Coordination Network, which also shares the cost of maintaining this web site. DRCNet Foundation takes no positions on candidates for public office, in compliance with section 501(c)(3) of the Internal Revenue Code, and does not pay for reporting that could be interpreted or misinterpreted as doing so.)