In a major, broad-ranging report released Thursday, the Associated Press declared that "After 40 Years, $1 Trillion, US War on Drugs Has Failed to Meet Any of Its Goals." The report notes that after four decades of prohibitionist drug enforcement, "Drug use is rampant and violence is even more brutal and widespread."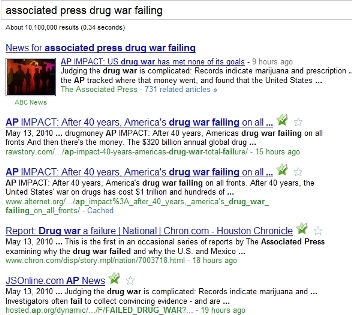 The AP even got drug czar Gil Kerlikowske to agree. "In the grand scheme, it has not been successful," Kerlikowske said. "Forty years later, the concern about drugs and drug problems is, if anything, magnified, intensified."
The AP pointedly notes that despite official acknowledgments that the policy has been a flop, the Obama administration's federal drug budget continues to increase spending on law enforcement and interdiction and that the budget's broad contours are essentially identical to those of the Bush administration.
Here, according to the AP, is where some of that trillion dollars worth of policy disaster went:
$20 billion to fight the drug gangs in their home countries. In Colombia, for example, the United States spent more than $6 billion, while coca cultivation increased and trafficking moved to Mexico -- and the violence along with it.
$33 billion in marketing "Just Say No"-style messages to America's youth and other prevention programs. High school students report the same rates of illegal drug use as they did in 1970, and the Centers for Disease Control and Prevention says drug overdoses have "risen steadily" since the early 1970s to more than 20,000 last year.
$49 billion for law enforcement along America's borders to cut off the flow of illegal drugs. This year, 25 million Americans will snort, swallow, inject and smoke illicit drugs, about 10 million more than in 1970, with the bulk of those drugs imported from Mexico.
$121 billion to arrest more than 37 million nonviolent drug offenders, about 10 million of them for possession of marijuana. Studies show that jail time tends to increase drug abuse.
$450 billion to lock those people up in federal prisons alone. Last year, half of all federal prisoners in the US were serving sentences for drug offenses. [Editor's Note: This $450 billion dollar figure for federal drug war prisoners appears erroneous on the high side. According to Department of Justice budget figures, funding for the Bureau of Prisons, as well as courthouse security programs, was set at $9 billion for the coming fiscal year.]
The AP notes that, even adjusted for inflation, the federal drug war budget is 31 times what Richard Nixon asked for in his first federal drug budget.
Harvard University economist Jeffrey Miron told the AP that spending money for more police and soldiers only leads to more homicides. "Current policy is not having an effect of reducing drug use," Miron said, "but it's costing the public a fortune."
"President Obama's newly released drug war budget is essentially the same as Bush's, with roughly twice as much money going to the criminal justice system as to treatment and prevention," said Bill Piper, director of national affairs for the nonprofit Drug Policy Alliance. "This despite Obama's statements on the campaign trail that drug use should be treated as a health issue, not a criminal justice issue."
"For the first time ever, the nation has before it an administration that views the drug issue first and foremost through the lens of the public health mandate," said economist and drug policy expert John Carnevale, who served three administrations and four drug czars. "Yet... it appears that this historic policy stride has some problems with its supporting budget."
Of the record $15.5 billion Obama is requesting for the drug war for 2011, about two thirds of it is destined for law enforcement, eradication, and interdiction. About one-third will go for prevention and treatment.
The AP did manage to find one person to stick up for the drug war: former Bush administration drug czar John Walters, who insisted society would be worse if today if not for the drug war. "To say that all the things that have been done in the war on drugs haven't made any difference is ridiculous," Walters said. "It destroys everything we've done. It's saying all the people involved in law enforcement, treatment and prevention have been wasting their time. It's saying all these people's work is misguided."
Uh, yeah, John, that's what it's saying.