Last year's wave of overdose deaths from heroin cut with fentanyl, a powerful synthetic opioid pain reliever, killed more than a thousand people, according to the US Drug Enforcement Administration (DEA). The deaths began early in the year in the Mid-Atlantic states before spreading to the Midwest, with significant clusters in Chicago and Detroit.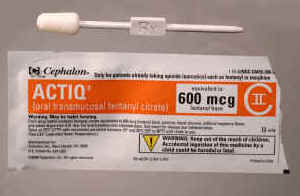 Early official responses to the wave of deaths was slow and spotty, but concern spread as the death toll mounted. By December, more than 120 public health experts signed an
open letter
to Health and Human Services Secretary Mike Leavitt calling for a more aggressive response. The deaths have continued, but not at the torrid pace of last fall and summer.
The DEA estimate of the death toll came in an interim rule regulating a fentanyl precursor chemical, N-phenethyl-4-piperidone (NPP), published in
Monday's federal register. "The recent distribution of illicitly manufactured fentanyl has caused an unprecedented outbreak of hundreds of suspected fentanyl-related overdoses, at least 972 confirmed fentanyl-related deaths, and 162 suspected fentanyl-related deaths occurring mostly in Delaware, Illinois, Maryland, Michigan, Missouri, New Jersey, and Pennsylvania," the agency reported.
Noting that fentanyl is 30 to 50 times more powerful than heroin, the DEA went on to warn of its dangers. "The legitimate medical use of fentanyl is for anesthesia and analgesia, but fentanyl's euphoric effects are highly sought after by narcotic addicts," the agency explained. "Fentanyl can serve as a direct pharmacological substitute for heroin in opioid dependent individuals. However, fentanyl is a very dangerous substitute for heroin because the amount that produces a euphoric effect also induces respiratory depression. Furthermore, due to fentanyl's increased potency over heroin, illicit drug dealers have trouble adjusting ("cutting") pure fentanyl into proper dosage concentrations. As a result, unsuspecting heroin users or heroin users who know the substance contains fentanyl have difficulty determining how much to take to get their "high" and mistakenly take a lethal quantity of the fentanyl. Unfortunately, only a slight excess in the amount of fentanyl taken can be, and is often, lethal because the resulting level of respiratory depression is sufficient to cause the user to stop breathing."
The death toll suggests the DEA is not exaggerating in this instance. Let's be careful out there, kids.