Governors use their bill-signing pens in Rhode Island and North Carolina, a new poll has surprisingly strong support for marijuana legalization in Wisconsin, Montanans will vote on medical marijuana in November, and more.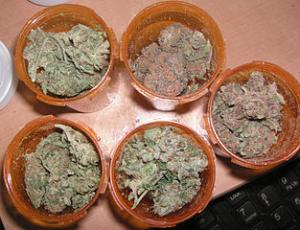 Marijuana Policy
Wisconsin Poll Has Strong Majority for Marijuana Legalization. A Marquette Law School poll released Wednesday has a whopping 59% support for freeing the weed in the Badger State. The poll question asked whether pot should be "fully legalized and treated like alcohol." The level of support is up dramatically from September 2014, when voters asked a similar (but not identical) question about legalization only gave it 46% support.
Medical Marijuana
Montana Medical Marijuana Initiative Qualifies for the Ballot. An initiative aimed at reestablishing the state's medical marijuana system has qualified for the November ballot, state officials said Wednesday. The I-182 initiative would reverse restrictions imposed by the legislature in 2011 and, after lengthy court challenges, set to go into effect on August 31. Voters had approved the state's medical marijuana system in 2004.
Rhode Island Governor Signs Bill to Allow Medical Marijuana for PTSD. Gov. Gina Raimondo (D) Wednesday signed into law a bill that will allow medical marijuana to be recommended for the treatment of PTSD symptoms.
Heroin and Prescription Opioids
Congress Passes Major Heroin and Opioids Bill, But Doesn't Adequately Fund It. The Senate voted Wednesday to send opioid legislation known as the Comprehensive Addiction and Recovery Act (CARA) to President Obama for his signature. The House voted last week 407-5 to approve CARA. The bill advances a large number of treatment and prevention measures intended to reduce prescription opioid and heroin misuse, including evidence-based interventions for the treatment of opioid and heroin addiction and prevention of overdose deaths. This bill, however, does not provide federal funding. Republican leadership have maintained that opioid funding must be appropriated through regular order and have repeatedly pledged to fund the programs authorized in CARA this year. Advocates urge Congress to deliver on this promise.
Harm Reduction
North Carolina Governor Signs Bill to Allow Needle Exchanges. Gov. Mike McCrory (R) Monday signed into law House Bill 972, which authorizes the operation of needle exchange programs by local governments.
International
Indian MP Calls for Legalization of Recreational Drugs. MP Dr. Dharamvira Ghandi said Wednesday he is crafting an amendment to the Narcotic Drugs and Psychotropic Substances Act to legalize recreational drugs. Gandhi has been working with Delhi-based lawyers and professionals on a draft of the bill. He says drug prohibition has failed. "Punitive measures to combat the supply of drugs failed miserably, as demand for drugs had exhibited an exponential growth, leading to creation of drug mafias that provided continuous supplies, regardless of the harshest provisions for punishment," he said. "It has dawned upon countries worldwide that by decriminalizing certain substances that pose minimal health risks, and by following harm reduction policies, the demand for harmful and killing medical drugs had dropped drastically, along with the offences committed. Certain Indian states are currently facing a massive drug problem, with citizens between 15-40 years of age abusing drugs, and this has caused considerable harm to society in general, and the youth in particular."