Mexican drug trafficking organizations make billions each year smuggling drugs into the United States, profiting enormously from the prohibitionist drug policies of the US government. Since Mexican president Felipe Calderon took office in December 2006 and called the armed forces into the fight against the so-called cartels, prohibition-related violence has killed more than 36,000 people, including more than 15,000 last year. The increasing militarization of the drug war and the arrest or killing of dozens of high-profile drug traffickers have failed to stem the flow of drugs -- or the violence -- whatsoever. The Merida initiative, which provides $1.4 billion over three years for the US to assist the Mexican government with training, equipment and intelligence, has so far failed to make a difference. Here are a few of the latest developments in Mexico's drug war: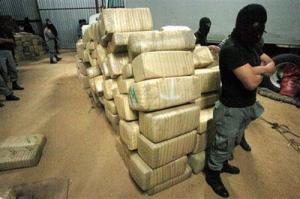 Tuesday, April 12
In Sinaloa,
eleven people were found buried
in a field near the town of Ahome. It is unclear when the dead -- nine males and two females -- were killed, or by whom.
Wednesday, April 13
In Ciudad Juarez,
the bodies of four men who were last seen being kidnapped by members of a special police unit were discovered
in a ravine just outside the city. Three police officers from the elite "Grupo Delta" have been arrested for the March 26 kidnapping. The four victims are all between 23 and 28 years old.
In Monterrey, six people were killed during a fire fight between the Army and a group of gunmen. Five of the dead were armed suspects and one was an uninvolved female motorist who was killed in the crossfire. Additionally, an eight-year old girl was wounded in the legs when she was hit by stray bullets during the incident, which began when soldiers gave chase to two SUVs full of armed men.
Thursday, April 14
In Ciudad Juarez
, a state prosecutor was gunned down
outside his home by heavily armed men. Marion Ramon Gonzalez was leaving his home at 8:20am when he was attacked by men carrying assault rifles who had arrived in three black vehicles.
In Ciudad Juarez
, three children were killed
when unknown assailants threw a Molotov cocktail through the window of their home. The mother escaped the blaze with her hair and clothing on fire.
Friday, April 15
In Veracruz,
a police chief and two of his officers
were killed after being ambushed by gunmen. Juan Moreno Lopez was the head of the inter-municipal police force for the Minatitlan-Cosoleacaque area. The other two officers were his bodyguards. These deaths bring to nine the number of police officers killed in the Veracruz area in under a month.
Saturday, April 16
In Ciudad Victoria, Tamaulipas,
Mexican marines captured a high-ranking Zeta
who has been linked to the mass graves in the San Fernando area. Martin "Comandante Kilo" Estrada Luna was arrested along with five others during a raid. He has also been linked to the August 2010 murder of 72 migrants and is thought to be the Zeta commander responsible involved in drugs, extortion, and human trafficking activities in the area.
In Tepic, Nayarit
, a man was found skinned and posed on a bridge in the city.
This is the third case of someone being skinned in the last several weeks in Tepic. The victim -- who remains unidentified -- had had his hand cut off and left placed on his chest.
Sunday, April 17
In Acapulco,
six men were discovered murdered in the popular resort area of Costa Azul.
Two of the dead were discovered in a vehicle, and another two were discovered in a nearby alley. Two more were found not far away. A note left with the body indicated that the men had been killed by the Sinaloa Cartel.
In the nearby city of Chilancingo, a man was gunned down outside his home.
In Nuevo Laredo, Tamaulipas,
the top security official for the state resigned.
Former General Ubaldo Ayala Tinoco had previously threatened to resign if the state government did not begin providing police with better salaries. Recently, 16 police officers were arrested for allegedly being involved with the mass graves that are still being fully uncovered in San Fernando, Tamaulipas.
In Ciudad Juarez, 14 people were murdered in various incidents across the city. In one incident, a man was found dead after having been beaten to death with a stone. In another incident, a man -- showing signs of having been tortured -- was discovered in a pile of trash.
Tuesday, April 19

In Veracruz, ten gunmen were killed during a series of clashes with soldiers. The fighting began when soldiers on patrol in the Infonavit Rio Medio neighborhood came under fire. A second gun fight occurred after they chased suspects who had fled. One civilian was wounded in the arm by a stray bullet.

[Editor's Note: We have relied in the past on El Universal's weekly body count, but it has not been appearing recently. We thus suspect that our totals are undercounting the actual totals.]

Total Body Count for the Week: 218 (including the 145 so far exhumed in San Fernando)

Total Body Count for the Year: 2,209

Total Body Count for 2010: 15,273

Total Body Count for 2009: (approx.) 9,600

Total Body Count for 2008 (approx.): 5,400

Total Body Count for 2007 (approx): 4,300

Total Body Count for Calderon's drug war through 2010: 34,849

Total Body Count for Calderon's drug war to date: 37,058