Oregon cities will fight to be allowed to tax marijuana, the CRS says state-level legalization leaves the US vulnerable to criticism on international drug treaties, federal reform bills pick up more sponsors, Hawaii medical marijuana patients get some rental protections, Iran is fine with executing drug traffickers, and more. Let's get to it: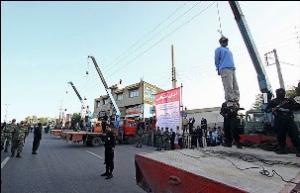 Marijuana Policy
Congressional Research Service Says Legalization Leaves US Vulnerable to Charges It Violates International Drug Treaties. In a report released this week, the Congressional Research Service said state-level marijuana legalization challenges the international drug treaties, but that legalization in the District of Columbia would be the most direct affront because Congress has oversight over DC laws and the ability to void them. "This line of reasoning suggests that if Initiative 71 is permitted to take effect, this inaction by the federal government may strengthen the [International Narcotics Control] Board's argument that the United States has not fulfilled its commitments under the Single Convention," the report said. Congress could challenge DC legalization, but it appears there is little interest in doing so.
Oregon Cities Seek to Tax Marijuana. The League of Oregon Cities says it will ask the legislature to amend the voter-approved Measure 91 legalization initiative to explicitly allow local taxes imposed before the measure was approved earlier this month. Measure 91 sponsors say they will oppose the move because it could drive prices up high enough to encourage users to continue to resort to the black market. The legislature is considering forming a joint committee to consider this and regulatory issues in the wake of Measure 91's passage. Measure 91 allows for the state to tax marijuana, but not localities. Some 70 Oregon localities passed tax measures before Measure 91 was approved.
Medical Marijuana
Federal Charlotte's Web Medical Hemp Act Picks Up New Cosponsors. The bill, HR 5526, would amend the Controlled Substance Act to remove cannabidiol (CBD) and "therapeutic hemp" from the definition of marijuana. "Therapuetic hemp" is defined as marijuana plants containing less than 0.3% THC. The bill was introduced by Rep. Scott Perry (R-PA) and now has 36 cosponsors -- 20 Democrats and 16 Republicans. The latest are Reps. Jimmy Duncan (R-TN), Zoe Lofgren (D-CA), and Austin Scott (R-GA). The bill has been assigned to subcommittees of the House Judiciary and House Energy and Commerce committees.
Hawaii Law Protecting Medical Marijuana Patient Housing Rights Goes Into Effect. As of this month, a new law voids provisions in state rental agreements that previously allowed for tenants to be evicted based on their status as registered medical marijuana patients. The Medical Cannabis Coalition of Hawaii fought for and now applauds this step toward protecting patient rights. The law does not, however, protect people living in government-subsidized housing.
Asset Forfeiture
Federal Civil Asset Forfeiture Reform Act Picks Up New Cosponsor. The bill, HR 5212, would strengthen protections against asset forfeiture and require that seizures be proportional to the offense. It was sponsored by Rep. Tim Walhberg (R-MI) and now has 20 cosponsors -- 15 Republicans and five Democrats. The latest is Rep. Tony Cardenas (D-CA). The bill is before the House Judiciary Committee's Subcommittee on Crime, Terrorism, Homeland Security, and Investigations.
Drug Treatment
Federal Comprehensive Addiction and Recovery Act Picks Up New Cosponsors. The bill, S 2389, was introduced by Sen. Sheldon Whitehouse (D-RI). It would provide grants to community-based anti-drug coalitions, create treatment instead of incarceration programs, and provide for evidence-based opioid treatment interventions, among other provisions. It now has six cosponsors -- four Democrats and two Republicans. The latest are Sens. Dianne Feinstein (D-CA) and Al Franken (D-MN). It is before the Senate Judiciary Committee.
Sentencing
Federal Smarter Sentencing Act Picks Up New Cosponsors. The bill, HR 3383, was introduced by Rep. Raul Labrador (R-ID) and would allow federal judges to sentence most drug offenders without regard to mandatory minimum sentences. It would also allow crack cocaine offenders sentenced before 2010 to seek sentence reductions. It now has 55 cosponsors -- 36 Democrats and 19 Republicans, and is before the House Judiciary Committee Subcommittee on Crime, Terrorism, Homeland Security, and Investigations.
Federal Second Chance Reauthorization Act Picks Up New Cosponsor. The bill, HR 3465, was introduced by Rep. James Sensenbrenner (R-WI) and would expand federal grants to aid former prisoners reentering society. It has 45 cosponsors -- 37 Democrats and eight Republicans. The latest is Rep. Grace Meng (D-NY). It is before the House Judiciary Committee Subcommittee on Crime, Terrorism, Homeland Security, and Investigations.
Massachusetts Chief Justice Renews Call for End to Mandatory Minimums for Drug Offenders. After a visit to Worcester Trial Court to meet with local court officials and employees, Supreme Judicial Court Chief Justice Ralph Gants reiterated an earlier call to abolish mandatory minimums for drug offenders. He said he wants "individualized, evidence-based" sentencing. "Everybody sort of feels that the drug problem is not getting any better. I think everybody recognizes that we're not going to incarcerate ourselves out of the problem," he said.
Massachusetts Criminal Justice Panel Recommends Eliminating Mandatory Minimums for Drug Offenders. The Special Commission to Study the Commonwealth's Criminal Justice System has recommended ending mandatory minimum sentences for all drug offenses in the state. It is also calling for parole eligibility for all inmates who have served at least two-thirds of the lower end of their sentences, except for those convicted of murder or manslaughter. The commission is working on a report for incoming Gov. Charlie Baker (R). Baker signaled support for ending mandatory minimums for drug offenders during the campaign.
International
Iran Rejects Criticism of Its Resort to the Death Penalty for Drug Traffickers. Iranian Justice Minister Mostafa Pourmohammadi Tuesday rejected criticism from human rights campaigners and UN human rights bodies over its frequent executions of drug traffickers. "We do not accept the statements made by the UN human rights bodies that drug-related convicts should not be executed," he said. He added that anyone who smuggles or deals drugs deserves to be executed.
Report on Drug Policy Progress in Asia. The Open Society Foundations Global Drug Policy Program has published "Moving the Needle on Drug Policy in Asia," which examines innovations in drug policy in an area that boasts some of the world's harshest drug policies. The report looks at harm reduction programs in Taiwan and drug treatment programs in Malaysia. Click on the title link to read it.