Voters in Switzerland Sunday gave overwhelming approval to a proposal to make the country's pioneering heroin prescription program legal, but at the same time rejected an initiative that would have legalized and regulated the use and sale of marijuana. The heroin program won with 69% of the vote, while the marijuana initiative got only 37% support.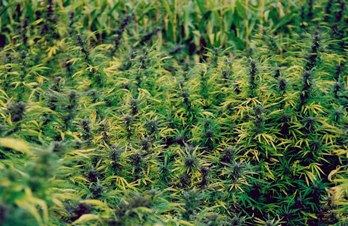 Begun in 1994, the Swiss heroin prescription program has been proven to reduce crime among participants and improve the health and daily lives of addicts. It is currently offered in 23 centers across the country, where users who have not responded to other therapies inject carefully measured doses of heroin under medical supervision. The program also provides access to psychiatrists and social workers in its bid to help users function in society.
Making heroin prescription permanent was approved by parliament in March. But conservative forces balked at that decision and forced a national referendum.
The United States and the UN's International Narcotics Control Board have criticized the program as potentially fueling drug abuse, but other governments have started or are considering their own programs modeled on the system. The Netherlands has been offering prescribed heroin since 2006, with nearly 600 patients in the program, and in May of this year, Denmark approved a law making heroin prescribing a permanent program. Great Britain, Belgium, Germany, and Spain are also carrying out heroin prescription trials, and one just finished up in Canada.
While Swiss voters were okay with providing heroin to addicts, they were not okay with allowing pot-smokers to go unmolested. The Hemp Initiative went down in flames, despite the wide acceptance of marijuana use in the country. Some 44% of Swiss 13-to-29-year-olds have smoked pot at least once, and 9% said they smoke almost daily.
The Hemp Initiative would have decriminalized the possession and cultivation of marijuana for personal use. It made the ballot after more than 100,000 Swiss signed petitions to place it before the voters.
But the initiative incited an organized opposition, which included part of the governing coalition. Despite the seeming paradox of approving the distribution of heroin while barring the use of marijuana, the Swiss seemed concerned that relaxing the marijuana laws would increase drug tourism and encourage drug use.
"That could lead to a situation where you have some sort of cannabis tourism in Switzerland because something that is illegal in the EU would be legal in Switzerland," government spokesman Oswald Sigg told the Associated Press.
"We would have to fear Switzerland becoming a European drug hub," Hans Fehr, a People's Party lawmaker, told the AP. "There'll be more consumers, unforeseeable, costs and a wider drug trade."
Olivier Borer, 35, a musician from Solothurn, told the AP he welcomed the vote's outcome because the state needed to help heroin addicts, but not encourage pot smoking. "I think it's very important to help these people, but not to facilitate the using of drugs. You can just see in the Netherlands how it's going. People just go there to smoke," Borer said.
But Jo Lang, a Green Party member of parliament said the marijuana vote result was disappointing because it meant 600,000 Swiss pot smokers will continue to be treated as criminals. "People have died from alcohol and heroin, but not from cannabis," Lang said.