The Obama administration asked Congress Tuesday to allocate $600 million in emergency funds to enhance security on the US-Mexico border. The move comes as the administration is under boisterous attack by "secure the border" advocates who seek to shunt aside comprehensive immigration reform in favor of merely walling us off from our neighbors.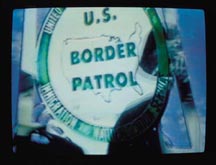 The funding would finance the hiring of another 1,000 Border Patrol agents, another 160 Immigration and Custom Enforcement agents, extra Border Patrol canine teams, and the purchase of two unmanned drones to overfly the border. It would also provide funding for extra FBI task forces, DEA agents, prosecutors, and immigration judges.
The federal law enforcement presence on the border is already at record levels. The Border Patrol has doubled in size since 2004 and now fields some 20,000 agents. The emergency funding request would allow for another 5% increase in their numbers.
President Obama said the budget request "responds to urgent and essential needs" in a letter to House Speaker Nancy Pelosi (D-CA) asking that the request be considered an emergency. "These amendments would support efforts to secure the Southwest border and enhance federal border protection, law enforcement and counter-narcotics activities," Obama wrote.
Last month, the administration announced it was sending 1,200 National Guard troops to the border and that he would seek $500 million in emergency funding. This week's funding request covers that and adds an additional $100 million taken from other Homeland Security programs.