Border Junkies: Addiction and Survival on the Streets of Juarez and El Paso, by Scott Comar (2011, University of Texas Press, 214 pp., $24.95 PB)

Border Wars, by Tom Barry (2011, MIT Press, 171 pp., $14.95 HB)

Dealing Death and Drugs: The Big Business of Dope in the US and Mexico, by Beto O'Rourke and Susie Byrd (2011, Cinco Puntos Press, 119 pp., $12.95 PB)

El Sicario: The Autobiography of a Mexican Assassin, edited by Molly Molloy and Charles Bowden (2011, Nation Books, 209 pp., $15.99 PB)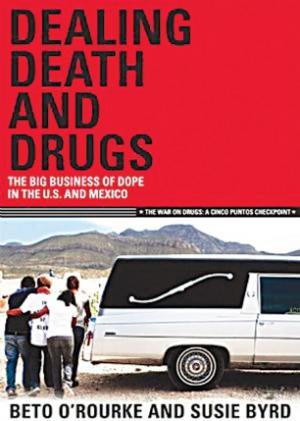 In addition to an ever-increasing death toll, now more than 50,000 since President Calderon sent in the army in December 2006, Mexico's drug wars are generating an increasing level of concern and interest in the US, including a burgeoning literature. Next week, we'll review a trio of new works that seek to describe the emergence and significance of the so-called cartels, but this week, we look at a quartet of books that focus on the drug wars (and the drug scene) along the border.
If there's anywhere in America more attuned to the Mexican drug wars -- by which I mean the prohibition-related violence among competing drug trafficking organizations, between them and Mexican law enforcement and the military, and, sometimes, even between different factions of the Mexican security apparatus -- it's El Paso, just across the Rio Grande from one of the epicenters of the drug trade and the violence, Ciudad Juarez.
That's reflected in these titles. One is written by a pair of El Paso politicians, two more are largely set in the El Paso-Ciudad Juarez bi-national metroplex, and the last covers the US border region of which El Paso is front and center. The view from El Paso, staring across the river at the killing and mayhem, can be frightening, but also enlightening.
In
Dealing Death and Drugs
, El Paso city council members Susie Byrd and Beto O'Rourke (he of the famous city council resolution calling for a discussion of legalization and now running for Congress) bring a home-town perspective on the drug wars, provide some lessons on the economics of the illicit marijuana business and present a concise, yet cogent, argument for legalizing weed as a means of weakening the cartels and reducing the violence.
Marijuana is critical for the cartels, Byrd and O'Rourke argue, because unlike cocaine, which must be purchased from producers elsewhere or methamphetamine, which requires imported precursor chemicals, the cartels control it from farm to market, generating profits each step of the way. They take you from the pot fields of the Sierra Madre Occidental, where a pound costs $23 to Juarez, where it goes for $73 a pound. Getting it past the border and into El Paso drives the price up to $240, and getting it past the Border Protection Service checkpoints a few miles into Texas gets it to its final US wholesale price of about $550 a pound.
US and Mexican law enforcement seized or eradicated 22 metric tons of Mexican weed in 2008, Byrd and O'Rourke note. That's as much as 90% of high end estimates of all the pot smoked in the US, which means either those estimates are way low or that the business is way profitable. And throwing billions of dollars at the problem through law enforcement hasn't helped.
Legalizing, regulating, and taxing the marijuana market is "the least bad" solution, Boyd and O'Rourke write. Their argument, like the book itself, is pithy, yet compelling, and, as Boyd notes in an afterword, even Calderon is starting to come around. But not yet most policymakers in the US.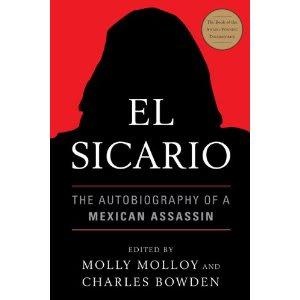 With
El Sicario
, we take a deep, dark turn toward the underbelly of the Mexican drug wars. Border sage and drug war critic Charles Bowden and translator and Juarez body count keeper Molly Molloy bring the terrifying realities of the business into chilling focus through their interviews with a former cartel hitman now in hiding with a contract on his head. This may be the single scariest book I've read about the Mexican drug wars, not for its calm and collected accounts of horrifying acts of brutality, which can be truly stomach-turning, but for the picture it paints of absolutely corrupted and complicit law enforcement, including the military.
Can you imagine if you don't know whether that cop who just stopped you is going to write you a ticket or shoot you dead without warning, or kidnap and torture you because he's actually working for the cartels? That's the case in Mexico now. Our interlocutor in
El Sicario
attended the Chihuahua state police academy, rose to the rank of comandante, and underwent training by the FBI, all while carrying out killings, kidnappings, and tortures for the Juarez and Sinaloa cartels. Even more perversely, while he was running the anti-kidnapping squad for the state police, he was using police vehicles to kidnap people and transport drugs.
And he is by no means alone. According to the hit man, about a quarter of his graduating class at the police academy were on the cartel payroll -- from the very beginning of their law enforcement careers! The Mexican police are heavily salted with cartel men; it's a long-term business strategy that has paid handsomely for the cartels, but has absolutely shredded any trust the public has in state and local law enforcement there.
But it's not just rotten on the Mexican side of the border. The hit man details how he and his colleagues transported tens of millions of dollars worth of drugs across the border and how he personally paid a US Customs officer $50,000 to let cars full of drugs get through.
El Sicario
shows that dirty knows no borders, even if the cartels are smart enough to keep the blood-letting almost entirely south of the border.
But there are other ways US law enforcement is benefiting from the Mexican drug wars. In
Border Wars
, journalist and Center for International Policy analyst Tom Barry uses a series of interlocking essays to argue that since the September 2001 Al Qaeda attacks, the US has spent billions of dollars "securing the border" against a triple threat of illegal immigration, drugs, and terror, and has accomplished little good, quite a bit of bad, and plenty of stupid.
Barry opens with the death of Jesus Manuel Galindo, who died for lack of proper medical treatment in 2008 in a privately operated, publicly owned federal immigration prison in remote Pecos, Texas. He recalls that until 2006, we typically handled illegal immigration administratively, often simply deporting Mexicans back across the Rio Grande. But since then, the Bush administration began treating illegal immigration as a criminal matter, and now some 20,000 people languish in those distant prisons. Barry paints chilling, Kafkasque scenes of assembly-line "justice" where judges, prosecutors, and defense attorneys, all in the pay of the Us government, process dozens of shackled would-be immigrant laborers into the ever-expanding federal immigration detention system.
There is money to be made there, sucking off the federal teat, although more of it appears to go to lawyers, consultants, dealmakers and lobbyists than to the desperate rural towns hoping a private prison will provide them with a semblance of an economy. There's even more money to be made by border sheriffs and border state law enforcement entities in the seemingly endless billions of Department of Homeland Security dollars to fight drugs and terror.
Barry takes us to Texas and Arizona border counties where the numbers show little violent crime, but the sheriffs and politicians cry to high heaven about "spill over violence," Korans found on the border, and the threat of narco-Hezbollah conspiracies, for which there is no evidence. Some of these counties are among the poorest in the nation, lacking social and public services, yet in one of them, the sheriff's department is so awash in federal grant money that each deputy has two official vehicles, one patrol car and one SUV.
Along the way, he exposes the ugliness of border security politics and some of it practitioners, such as Govs. Rick Perry of Texas and Jan Brewer of Arizona, who use a politics of fear and hate to firm up support among their most reactionary supporters, who hype nonexistent violence on this side of the border, and who constantly tout their border security efforts "without help from Washington" even as they take in billions from Washington to pay for their loudly-touted initiatives. It's rank cynicism, opportunism, and hypocrisy at its worst, and Barry nails it.
For Barry, the central problem is our inability to enact comprehensive immigration reform, a goal always pushed further into the future as we "secure the border" first. And, he says, we have to separate national security from public safety. The gargantuan Department of Homeland Security should worry about terrorists; a separate Customs and Border Protection Service should deal with illegal immigration and drugs.
"The standard of success for our border policy shouldn't be how completely sealed and secured our border is," he writes, "but rather how well it is regulated. New regulatory frameworks for immigration and drug consumption are fundamental prerequisites for a more cost-effective border policy." And a more sane and human one.
Finally, with
Border Junkies
, University of Texas-El Paso borderlands historian Scott Comar takes us back to "the good old days" in Juarez, a decade ago, before the city earned its blood-drenched reputation. In an eye-opening work of auto-ethnography, Comar tells mainly his own story of his descent into abject addiction, in which he moved with appalling speed from owning his own moving truck to panhandling on the streets to feed his habit.
In telling his own story, though, Comar unveils a never-before-written-about world, that of the street junkies of Juarez. His account, based largely on his journal entries, details the day-to-day struggle of the border junkies, the strategies they adopt to survive and score -- and not necessarily in that order -- the kinship and friendship networks that envelop them, the heroin distribution systems that feed their insatiable appetites. For those with a taste for anthropological examinations of the junkie life, this is fascinating stuff, right up there with the work of Philippe Bourgois.
Border Junkies
is notable in one other respect: I don't think there is one mention of the cartels in it. Comar recounts constant harassment by the Juarez police (and the El Paso police, too) and petty corruption, he mentions that some of his fellows belonged to gangs, though only passingly, but the existence of the cartels, the source of their dope, is so distant from their daily lives that it is as if they don't exist.
Of course, that was before the death toll in Juarez started climbing to thousands every year. Now those street gangs that in Comar's time seemed to be engaged mainly in minor thuggery, a little smuggling, and posing with pistols have, in the pressure cooker of the Mexican drug wars, morphed into true killing machines like Barrio Azteca, the Artist Assasins, and La Linea. Those guys who quietly peddled smack on the corners or out of their houses in Comar's day died by the hundreds when the violence swept through just a few years later.
Wretched as the border junkie's existence is, it is doable. Comar did it for three years, commuting over the river to panhandle in El Paso, then back across to cop and nod. It was a gritty, miserable existence, but Comar makes it seem almost routine, banal. And, along the way, he has some interesting things to say about addiction and recovery, too.
Perhaps it's fitting to end with the image of the junkie straddling the border, because the root causes of Mexico's drug wars certainly do. Whether it's America's never-ending appetite for Mexican weed, the cartels' addiction to money and power, their alcohol and cocaine-numbed killers, or border state and federal law enforcement's addiction to immigration/drugs/terror funding booty, it's all entangled there on the line.
Mexico may be another country and, thankfully, the violence, at least, remains on that side so far, but we are all in this together. Legalizing marijuana or even ending drug prohibition in the US won't make the cartels magically disappear, but failing to do so will only ensure that they grow ever more entrenched, while continuing to provide sustenance to malign political forces and authoritarian, if not downright Orwellian, policing tendencies here.