by Bernd Debusmann Jr.

Mexican drug trafficking organizations make billions each year smuggling drugs into the United States, profiting enormously from the prohibitionist drug policies of the US government. Since Mexican president Felipe Calderon took office in December 2006 and called the armed forces into the fight against the so-called cartels, prohibition-related violence has killed around 40,000 people, including more than 15,000 last year. The increasing militarization of the drug war and the arrest or killing of dozens of high-profile drug traffickers have failed to stem the flow of drugs -- or the violence -- whatsoever. The Merida initiative, which provides $1.4 billion over three years for the US to assist the Mexican government with training, equipment and intelligence, has so far failed to make a difference. Here are a few of the latest developments in Mexico's drug war: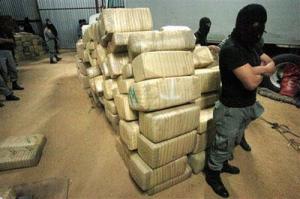 Tuesday, November 1
In a swamp near Veracruz, an
anonymous tip led to the discovery of eight bodies.
The area where the bodies were found is near Bocas del Rio, where 35 bodies were dumped in September.
Wednesday, November 2
In La Piedad, Michoacan,
town Mayor Ricardo Guzman, 45, was shot and killed.
Guzman was handing out campaign flyers outside a restaurant when a gunman in a black SUV shot him once with a pistol. He was a member of President Calderon's PAN party.
In March, La Piedad police chief Jose Luis Guerrero was killed by gunmen with AK-47s. His successor was later attacked by up to 40 gunmen traveling in a ten-car convoy, but survived.
In Saltillo, Coahuila, at
least three people were killed during a series of fire fights
which took place in several locations around the city. Two of the dead were police officers. The fighting began between two groups of rival traffickers in the afternoon. Later in the day, students at a local university were trapped during a gun battle between Marines and unidentified gunmen.
Thursday, November 3
In Mexico City,
SEDENA announced that 14 soldiers were convicted
and given prison sentences for the shooting deaths of three children and two women who were killed at a checkpoint in Sinaloa in 2007. The commanding officer was given a 40-year sentence, and another officer given a 38-year sentence while 12 enlisted soldiers were given 16-year sentences.
Near Mexico City,
a high-ranking member of the La Borradora Organization was captured by police.
Victor Manuel Rivera Galeana, "Victor el Gordo," 35, is thought play a large role in his organization's battle for control of retail drug sales and criminal activities in the Acapulco area.
In Ciudad Juarez,
six gunmen were killed during a massive fire fight
between groups of rival criminals. Two of the gunmen were killed in a car with Texas plates. Over 400 bullet casings were recovered after the battle.
Friday, November 4
In Culiacan,
11 people were killed in two separate incidents.
In one of the incidents, eight people gathered at a volleyball court were killed when gunmen descended from several vehicles and opened fire on them with automatic weapons.
In another part of the same city, two men and a woman were gunned down. The killings are all thought to be related to the recent killing of Sinaloa Cartel enforcer Francisco "Pancho" Arce, who was said to be responsible for the murder of a nephew of Juarez Cartel boss Vicente Carillo Fuentes in Sinaloa not long ago.
In Hidalgo, Texas,
two alleged Gulf Cartel members were arrested
and charged in connection with an attempted kidnapping that occurred on Tuesday. The victim was rescued from the trunk of a car as the men attempted to smuggle him into Mexico. According to police, the men were attempting to recover a 1,500 pound narcotics shipment that had gone missing. Several other suspects are still being sought.
Saturday, November 5
In Guamuchil, Sinaloa,
three bodies were left hanging from an overpass.
At least one of the victims had been tortured before being killed. The other two appear to have been stored in a freezer until being dumped.
Sunday, November 6
In Veracruz,
the offices of local newspaper El Bueno Tono were torched
after gunmen stormed the building and told employees to flee. Nobody was injured in the incident, which involved at least 10 hooded and heavily armed men.
Monday, November 7
In Tijuana,
an Arellano-Felix Cartel boss was captured
after he opened fire on a car carrying two rival traffickers. Juan Francisco Sillas Rocha, "El Ruedas," 34, is thought have reported directly to cartel boss Fernando "The Engineer" Sanchez Arellano. Sillas is thought to have played a large part in the AFO's fight with the Sinaloa Cartel between 2007 and 2009 and is alleged to have masterminded the kidnapping of three women tied to Sinaloa Cartel figure Ismael "El Mayo" Zambada in 2010.
In Sinaloa, the
mayor of the tourist town of Mazatlan was unhurt
when his car was ambushed by gunmen on the highway to Culiacan. Alejandro Higuera Osuna was traveling in a convoy with his bodyguards when they were ambushed by at least ten men who had been hiding in the brush.
In Ciudad Juarez,
the dismembered bodies of two men were left on a busy street
.
Their heads were inside two coolers. A note, whose contents have not been revealed, was left with the bodies.
Wednesday, November 9
In Nuevo Laredo,
a blogger was found beheaded.
The man, so far only identified by his online moniker "Fiddler", was a moderator on the blog "Nuevo Laredo en Vivo". His body was left with a note which said that he had "failed to understand I must not report on social networks."
Editor's Note: We can no longer tally this year's drug war deaths in Mexico with accuracy. The figure for this year's deaths is an estimate, no more, until there is some official toll reported.]
Total Body Count for 2007 (approx.): 4,300
Total Body Count for 2008 (approx.): 5,400
Total Body Count for 2009 (approx.): 9,600
Total Body Count for 2010 (official): 15,273
Total Body Count for 2011: (approx.): 8,500
TOTAL: > 42,000