by Bernd Debusmann, Jr.

Mexican drug trafficking organizations make billions each year smuggling drugs into the United States, profiting enormously from the prohibitionist drug policies of the US government. Since Mexican president Felipe Calderon took office in December 2006 and called the armed forces into the fight against the so-called cartels, prohibition-related violence has killed more than 35,000 people, including more than 15,000 last year. The increasing militarization of the drug war and the arrest of dozens of high-profile drug traffickers have failed to stem the flow of drugs -- or the violence -- whatsoever. The Merida initiative, which provides $1.4 billion over three years for the US to assist the Mexican government with training, equipment and intelligence, has so far failed to make a difference. Here are a few of the latest developments in Mexico's drug war: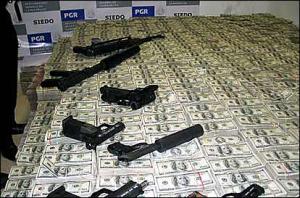 Wednesday, January 26
In Tamaulipas,
an American missionary was shot and killed
when gunmen opened fire on her truck at an illegal roadblock. Nancy Davis, 59, had been involved in missionary work in Mexico for the last 30 years. Tamaulipas is a stronghold of drug trafficking organizations in Mexico and has seen drastic increases in violence over the last year as the Zetas Organization battles its former masters, the Gulf Cartel.
Friday, January 28
In Ciudad Juarez,
two federal police officers were charged
with killing one of Ciudad Juarez's mayor's bodyguards during an incident the previous week.
In Veracruz,
33 ex-mayors have been ordered arrested
on corruption charges.
In Pantanal, Nayarit,
four men were killed
during a firefight between two rival gangs. The gunmen were heavily armed with assault rifles and grenade launchers. The incident took place after one group of gunmen attacked a safe house used by another group. Pantanal is located in the municipality of Xalisco, which is well known as a hub for traffickers who export black tar heroin to the United States.
Saturday, January 29
In Monterrey
, five gunmen were killed
after attacking an army convoy in the suburb of Santa Catarina. Two innocent bystanders were wounded by grenades during the gun battle.
Near Acapulco,
a mutilated body was discovered hanging
from an overpass bridge was spans the busy Acapulco-Mexico City highway. The unidentified victim had been severely beaten and tortured.
Monday, January 31
In Mexico City,
prosecutors announced a $658,000 reward
for information leading to the arrest of two suspects in the massacre of 72 migrants last August. The two men are known as "The Coyote" and "The Scorpion" and are thought to be members of the Zetas Organization. Eight other Zetas suspected of taking part in the massacre are already in custody.
In Ciudad Juarez,
at least 11 people were murdered
in different parts of the city. Among the dead was a 16-year old girl who succumbed to her wounds after being shot by federal police alongside her 13-year old sister, who was wounded. According to a tally by local newspaper El Diario, 216 people were murdered in Ciudad Juarez in the first month of 2011. Last year the city had 3,111 murders take place.
Wednesday, February 2
In Guadalajara,
suspected cartel gunmen used grenades, burned vehicles and created makeshift blockades
in a series of seven incidents across the city. A policeman and two transportation workers were wounded. The attacks seem to be in retaliation for the recent arrest of drug gang members.
In Monterrey, a federal police officer and three gunmen were killed during an attack on an army convoy in the suburb of Apodaca. Three policemen were wounded and an unknown number of suspects were taken into custody. In a separate incident in Monterrey, three other gunmen were killed by federal police personnel.
Total Body Count for the Week: 103
Total Body Count for the Year: 641
Total Body Count for 2010: 15,273
Total Body Count for 2009: 9,600
Total Body Count for 2008 (approx.): 5,400
Total Body Count for 2007 (approx): 4,300
Total Body Count for Calderon's drug war through 2010: 34,612
Total Body Count for Calderon's drug war to date: 35,253