If you've spent nearly a half-century and $250 billion trying to stop the flow of cocaine into the US and the white powder is now cheaper and more plentiful than ever, maybe it's time to rethink. That's the implicit lesson lurking behind a new study on the impact of drug interdiction efforts on drug trafficking organizations.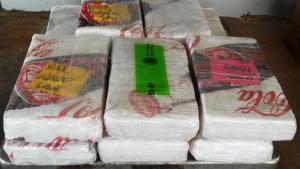 Interdiction is the supply side approach to reducing drug use. Rather than reducing demand through education, prevention, and treatment, interdiction seeks to reduce the supply of drugs available domestically by blocking them en route to the US or at the border.
Published in the Proceedings of the National Academy of Sciences and conducted by scientists from a half-dozen American universities, the study relied on a computer model called NarcoLogic that shows how drug traffickers respond to interdiction strategies and tactics. More sophisticated than previous attempts to simulate the drug trade, NarcoLogic models local- and network-level trafficking dynamics at the same time.
"Our team consists of researchers who worked in different parts of Central America during the 2000s and witnessed a massive surge of drugs into the region that coincided with a reinvigoration of the war on drugs," David Wrathall of Oregon State University's College of Earth, Ocean and Atmospheric Sciences said in a press release announcing the research results. "We asked ourselves: did drug interdiction push drug traffickers into these places?"
The short answer is yes, and that has implications that go far beyond drug policy. The Central American migrants who are at the center of the current "border crisis" are fleeing not only poverty but also high levels of violence generated by the movement of Mexican drug trafficking groups into the region a decade ago as they faced increasing interdiction efforts at home and from US authorities.
In fact, although it is not addressed in this new research, it was earlier interdiction efforts aimed at Colombian cocaine trafficking groups in the 1980s that led directly to the transformation of formerly small-scale Mexican cross-border smuggling organizations into the Frankenstein's monster of drug prohibition that the cartels are today. With the Colombians under intense pressure, Mexican traffickers rose to the occasion and have been making billions of dollars a year ever since.
This despite five decades of US interdiction efforts with an average annual expenditure of $5 billion. Instead of curbing the flow of cocaine into the United States, all that has been accomplished is making the drug trafficking operations more widespread and harder to eradicate. Putting pressure on one route or location simply leads traffickers to scatter and regroup. This is the "balloon effect," where suppressing traffic or production in one area prompts it to pop up elsewhere, and the "cockroach effect," where traffickers simply decentralize their operations.
"Between 1996 and 2017, the Western Hemisphere transit zone grew from 2 million to 7 million square miles, making it more difficult and costly for law enforcement to track and disrupt trafficking networks," Wrathall said. "But as trafficking spread, it triggered a host of smuggling-related collateral damages: violence, corruption, proliferation of weapons, and extensive and rapid environmental destruction."
And for all that effort, the impact on cocaine price and availability has been negligible -- or even perverse.
"Wholesale cocaine prices in the United States have actually dropped significantly since 1980, deaths from cocaine overdose are rising, and counterdrug forces intercept cocaine shipments at a low rate. More cocaine entered the United States in 2015 than in any other year," Wrathall said. "And one thing people who support interdiction and those who don't can agree on is that change is needed. This model can help determine what that change should look like."
The main takeaway from the study is not that drug trafficking became more widespread and resilient because of ineffective interdiction efforts, but because of interdiction itself. The policy aimed at suppressing the drug trade has only made it stronger and wealthier.
"The study is a victory for observation and theory. This model successfully recreates the dynamic our team had observed," Wrathall said. "It tells us that increased interdiction will continue to push traffickers into new areas, spreading networks, and allowing them to continue to move drugs north."
Maybe it is time to try something different.
This article was produced by Drug Reporter, a project of the Independent Media Institute.