Missouri NORML is threatening recalcitrant rural counties with court orders over their failure to get expungements done, a pair of senators file a bill to fight Mexican cartels by increasing southbound inspections near the border, and more.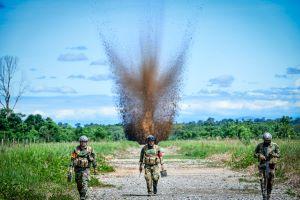 Missouri NORML Threatens Court Order Against Counties for Failing to Meet Expungement Deadline
. Last Thursday was the deadline for counties to expunge all misdemeanor marijuana cases, but several rural counties failed to meet that deadline, and now Missouri NORML is threatening to seek a court order to force them do so.
The expungement provision was part of last November's Amendment 3 marijuana legalization initiative, but some of those counties have made little or no effort to comply, said Missouri NORML spokesman Dan Viets. "Many rural counties did not have a majority in favor of Article 14. In some cases, I think we are seeing a reflection of that fact in the reluctance of county officials to follow the constitution. Once the deadline has passed, there certainly is a basis for seeking a court order that the lower courts comply with the constitution. This is not a discretionary matter. It's not a matter of choice. It's a matter of mandate."
Nevada Legislature Approves Omnibus Marijuana Reform Bill. Lawmakers last week gave final approval to an omnibus marijuana law reform bill, Senate Bill 277, and sent it to the desk of Gov. Joe Lombardo (R). The bill revises upward the amount of weed a person can buy or possess from one ounce to 2.5 ounces and doubles the amount of allowable concentrates from one-eighth ounce to one-quarter ounce. The bill also gives medical marijuana dispensaries new flexibility to serve adult use customers.
Drug Policy
Senators Hassan, Lankford Introduce Bipartisan Bill to Combat Drug Cartels by Increasing Southbound Border Inspections US Senators Maggie Hassan (D-NH) and James Lankford (R-OK), both members of the Senate Homeland Security and Governmental Affairs Committee, introduced bipartisan legislation to increase inspections of traffic going from the US to Mexico, which would help combat the flow of illicit firearms and money that fuel drug cartels.
"Shutting down drug cartels requires disrupting the supply chains that bring illicit guns and cartel profits from the US to Mexico," Senator Hassan said. "By significantly increasing inspections of southbound traffic at the Southern border, this bipartisan legislation will crack down on fentanyl and other drug trafficking and help save lives. I will continue working to address the opioid crisis that is devastating New Hampshire and urge my colleagues to join this important legislation."
Specifically, the bipartisan Enhancing Southbound Inspections to Combat Cartels Act would:
1. Require that at least 20 percent of southbound vehicles are inspected, to the extent practicable.
2. Authorize at least 500 additional Customs and Border Protection officers to assist with southbound inspections.
3. Authorize at least 100 additional Homeland Security Investigations agents.
4. Authorize 50 additional x-ray inspection systems for southbound inspections.
International
Peru Blows Up Clandestine Air Strips Used in Cocaine Trade. The government of embattled President Dina Boluarte continues to wage the war on drugs, proudly reporting that authorities have destroyed 18 clandestine air strips used to move coca leaf and cocaine from the Peruvian jungle into neighboring countries and Europe. The Peruvian National Police say their goal is destroy 30 air strips by year's end.
"The majority of these airstrips are located in very remote places and are guarded by heavily armed men. They generally extent more than 1 kilometer," said Pedro Yaranga, a Peruvian narcotrafficking and terrorism expert. "Most of the narco planes come from Bolivia. They also send drugs to Paraguay and some border areas of Brazil, with Europe as the final destination."
The strips were destroyed in the departments of Pasco, Huánuco, and Ucayali, where authorities also deployed monitoring and intelligence operations.