Although China has long waged war on drug users and traffickers, it has never had statutes aimed specifically at the drug trade and dealing with drug users. That is about to change. Chinese lawmakers Tuesday began debating a new bill that would expand police powers to crack down on the cross-border drug trade and set standards for drug treatment, the Chinese state news agency Xinhua reported.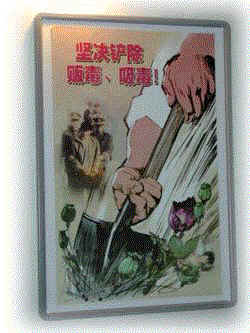 "It is important to introduce such a law as China is now facing a grave situation in drug control," the agency quoted Zhang Xinfeng, vice minister of public security, as telling the standing committee of China's parliament. Drugs from Afghanistan and the Golden Triangle are "pouring" into China and "posing a grave threat to China's drug control efforts," Zhang added.
Chinese authorities estimate the country has more than 1.1 million drug users, including 700,000 heroin addicts. In addition to heroin and opium, authorities report problems with methamphetamine and ecstasy use.
The drug trafficking portion of the proposed bill would expand police powers. According to Xinhua, "The bill will also authorize police to search people and their luggage for illegal drugs at key public places such as train stations, long-distance bus stations and border crossings."
Police would also be granted the power to force suspected drug users to submit blood or urine samples -- a practice so far limited to primitive places like South Dakota -- and owners of bars and nightclubs would have to post anti-drug propaganda on their premises.
But while the proposed bill takes a tough line on trafficking, it strikes a softer tone when it comes to drug users and addicts. It includes provisions that would bar treatment centers from physically punishing or verbally humiliating addicts and demands they pay addicts for work they do. The bill also provides for people ordered into treatment to receive it in their communities rather than forcing them into treatment centers. Treatment center admissions would be limited to injection drug users, people who refuse community help, or people who live in communities without treatment resources.
"Drug takers are law violators, but they are also patients and victims. Punishment is needed, but education and assistance are more important," Zhang said.