Every day for 15 months, Vancouver heroin addict Rob Scott Vincent, 36, went into a nondescript building on the city's Downtown Eastside where a nurse would hand him a syringe loaded with pharmaceutical grade heroin. Sitting at a sterile, stainless steel counter, Vincent would inject himself with the drug, then sit in an equally sterile waiting room for awhile as the drug took hold before heading out to do his daily business.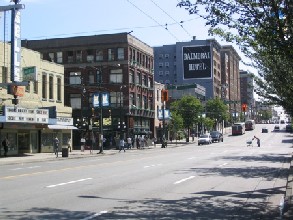 Vincent was one of 251 participants -- 192 in Vancouver and the rest in Montreal -- in the only heroin maintenance program in the hemisphere, a pilot program known as the
North American Opiate Maintenance Initiative
(NAOMI). Originally intended to operate in both Canada and the US, the US component never got off the ground in the drug war atmosphere there. And now, NAOMI is winding down in Vancouver and Montreal. The last handful of participants in the program will get their last fixes at the end of this month.
In the program, which was limited to long-time addicts over 25 who had failed to kick the habit at least twice in previous treatment tries, participants used treatments of oral methadone or injected heroin. A small percentage received a pharmaceutical opiate called Dilaudid. Participants also received counseling and other support services. The Canadian federal government (then under control of the Liberals) funded the project with $1.8 million and agreed to allow the importation of pharmaceutical heroin for the project.
Similar pilot opiate maintenance projects in Switzerland, Germany and the Netherlands produced results showing reductions in criminality, drug use, and economic costs to society, and increases in health, stability, and employability among participants. NAOMI researchers and supporters are hoping it will produce similar results. While the final research report from NAOMI is not expected until the fall, preliminary results suggest the findings will be similar to those in Europe.
In a March briefing paper, NAOMI reported that 85% of participants taking injected heroin had stayed with the program for 12 months, that the treatment had proven to be "extremely safe," and that there had been no security issues or evidence that NAOMI had had a deleterious impact on the neighborhood. The paper also suggested that the program would show a positive economic impact.
Canada estimates that each heroin addict costs the country $45,000 a year. The studies of European opiate maintenance programs report that they save host countries $20,000 a year for each participant.
"What we know now is that we were able to recruit people with long-term dependence on heroin who repeatedly failed other treatments and who had many health and social problems when they entered," said Dr. David Marsh, one of the co-investigators and lead clinical physician for the study. "From a doctor's perspective, whether they were treated with methadone or heroin, many of them improved dramatically. We'll know from the formal research results how much and in what ways they improved."
The provision of methadone or heroin was only part of the treatment, Marsh said. "The medication is a component of a broader package of primary care, mental health care, addiction counseling, and case management to provide participants with access to a range of welfare and other benefits," said Marsh. "We work with people to try to manage the negative consequences of their drug use and help them improve their lives."
Vincent had been addicted to opiates for nearly 15 years when he decided to participate in NAOMI. "I wanted to see if it could better my life, and it did," he said. "It helped me slowly wean down. I'm still using, but not even one-third of what I was using."
Vincent's stint in NAOMI ended in March. Since then, he has had to return to the streets to find his drugs. "It's not too bad," he said. "I mostly use morphine pills, and I pick up a pill for $5 bucks every morning and I'm good for the day." Vincent pays for his fixes by collecting and recycling cans. But sometimes, he can't find what he wants and has to spend time searching for a substitute opiate -- heroin, dilaudid, whatever is around. "It's usually readily available," he said, "but sometimes I have to scrounge around."
Getting participants completely off opiates wasn't the be-all and end-all of the pilot program, said Marsh. "Patients benefit in a lot of ways," he said. "Some were able to stop taking illegal opiates, and in my view, if a patient is prescribed methadone and is using it properly, I consider that a success. Methadone treatment has been available for many years, and there are thousands of studies showing its benefits."
The Vancouver Area Network of Drug Users (VANDU) was one of the key supporters of NAOMI, despite its complaints about the restrictiveness of the standards for qualifying for the study. The program needs to continue, VANDU said.
"Regardless of the parameters they set that made it tough to qualify, this is a badly needed service and it's a shame it's just a pilot project and is not continuing," said VANDU president Richard Utendale. "I've talked to a lot of people who have been helped by it. They were able to improve their day-to-day lives by not having to struggle to feed their drug habits. NAOMI provided a safe place and support, and participants didn't have to worry about being jacked up by the police or ripped off or sold inferior products or dope with adulterants."
The Downtown Eastside, where both VANDU and NAOMI are located is the epicenter of one of the largest hard drug scenes in the hemisphere. The program had an impact on the area, said Utendale. "I think NAOMI also improved the neighborhood, with less street and property crime."
There was a downside to NAOMI, though, said Utendale. "The drawback is that when people are finished with the program, they have to go back on the street and resort to the same old means of getting their drugs. That's why this needs to be permanent."
Vincent said he wished the program could continue. "I would most definitely participate in a permanent program," he said. "It was very, very helpful. It's a lot easier to quit or reduce my intake with pharmaceutical grade heroin. Most of the stuff on the street is cut with other things -- that's why I like to use morphine. I can't see any reason for not keeping this open," he said. "NAOMI is a medical facility, just like Insite [the Vancouver safe injection site]. They should not shut it down."
But that is what is going to happen at the end of this month. Last November, doctors appealed on compassionate grounds to extend the program on behalf of five participants. So far there has been no agreement from either Health Canada or the regional health authority.
"Dreams are free," Utendale sighed, "but the way things are looking right now, this isn't going forward without some changes in Ottawa."
Marsh said it was "premature" to try to predict what would happen. "But I'm optimistic we'll find funding and get the regulatory approval at some point to apply the lessons we've learned from this study," he said.
But given the current Conservative federal government's ideological opposition to harm reduction, as evidenced by its losing battle to shut down Vancouver's safe injection site, it is going to take a new national election before there is any chance that Canada will follow the Europeans' lead and make heroin maintenance part of a broader public health policy.