The drug court phenomenon celebrates its 20th birthday this year. The first drug court, designed to find a more effective way for the criminal justice system to deal with drug offenders, was born in Miami in 1989 under the guidance of then local prosecutor Janet Reno. Since then, drug courts have expanded dramatically, with their number exceeding 2000 today, including at least one in every state.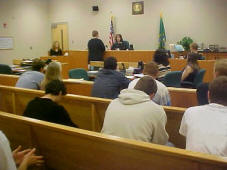 According to
Urban Institute estimates
, some 55,000 people are currently in drug court programs. The group found that another 1.5 million arrestees would probably meet the criteria for drug dependence and would thus be good candidates for drug courts.
The notion behind drug courts is that providing drug treatment to some defendants would lead to better outcomes for them and their communities. Unlike typical criminal proceedings, drug courts are intended to be collaborative, with judges, prosecutors, social workers, and defense attorneys working together to decide what would be best for the defendant and the community.
Drug courts can operate either by diverting offenders into treatment before sentencing or by sentencing offenders to prison terms and suspending the sentences providing they comply with treatment demands. They also vary in their criteria for eligibility: Some may accept only nonviolent, first-time offenders considered to be addicted, while others may have broader criteria.
Such courts rely on sanctions and rewards for their clients, with continuing adherence to treatment demands met with a loosening of restrictions and relapsing into drug use subjected to ever harsher punishments, typically beginning with a weekend in jail and graduating from there. People who fail drug court completely are then either diverted back into the criminal justice system for prosecution or, if they have already been convicted, sent to prison.
Drug courts operate in a strange and contradictory realm that embraces the model of addiction as a disease needing treatment, yet punishes failure to respond as if it were a moral failing. No other disease is confronted in such a manner. There are no diabetes courts, for example, where one is placed under the control of the criminal justice system for being sick and subject to "flash incarceration" for eating forbidden foods.
Conceptual dilemmas notwithstanding, drug courts have been extensively studied, and the general conclusion is that, within the parameters of the therapeutic/criminal justice model, they are successful. A recently released report from the Sentencing Project is the latest addition to the literature, or, more accurately, review of the literature.
In the report, Drug Courts: A Review of the Evidence, the group concluded that:
Drug courts have generally been demonstrated to have positive benefits in reducing recidivism.
Evaluations of the cost-effectiveness of drug courts have generally found benefits through reduced costs of crime or incarceration.
Concern remains regarding potential "net-widening" effects of drug courts by drawing in defendants who might not otherwise have been subject to arrest and prosecution.
"What you have with drug courts is a program that the research has shown time and time again works," said Chris Deutsch, associate director of communications for the National Association of Drug Court Professionals in suburban Washington, DC. "We all know the problems facing the criminal justice system with drug offenders and imprisonment. We have established incentives and sanctions as an important part of the drug court model because they work," he said. "One of the reasons drug courts are expanding so rapidly," said Deutsch, "is that we don't move away from what the research shows works. This is a scientifically validated model."
"There is evidence that in certain models there is success in reducing recidivism, but there is not a single model that works," said Ryan King, coauthor of the Sentencing Project report. "We wanted to highlight common factors in success, such as having judges with multiple turns in drug court and who understand addiction, and building on graduated sanctions, but also to get people to understand the weaknesses."
"Drug courts are definitely better than going to prison," said Theshia Naidoo, a staff attorney for the Drug Policy Alliance, which has championed a less coercive treatment-not-jail program in California's Proposition 36, "but they are not the be-all and end-all of addressing drug abuse. They may be a step forward in our current prohibitionist system, but when you look at their everyday operations, it's pretty much criminal justice as usual."
That was one of the nicest things said about drug courts by harm reductionists and drug policy reformers contacted this week by the Chronicle. While drug courts can claim success as measured by the metrics embraced by the therapeutic-criminal justice complex, they appear deeply perverse and wrongheaded to people who do not embrace that model.
Remarks by Kevin Zeese of Common Sense for Drug Policy hit many of the common themes. "If drug courts result in more people being caught up in the criminal justice system, I do not see them as a good thing," he said. "The US has one out of 31 people in prison on probation or on parole, and that's a national embarrassment more appropriate for a police state than the land of the free. If drug courts are adding to that problem, they are part of the national embarrassment, not the solution."
But Zeese was equally disturbed by the therapeutic-criminal justice model itself. "Forcing drug treatment on people who happen to get caught is a very strange way to offer health care," he observed. "We would see a greater impact if treatment on request were the national policy and sufficient funds were provided to treatment services so that people who wanted treatment could get it quickly. And, the treatment industry would be a stronger industry if they were not dependent on police and courts to be sending them 'clients' -- by force -- and if instead they had to offer services that people wanted."
For Zeese, the bottom line was: "The disease model has no place in the courts. Courts don't treat disease, doctors and health professionals do."
In addition to such conceptual and public policy concerns, others cited more specific problems with drug court operations. "In Connecticut, the success of drug courts depends on educated judges," said Robert Heimer of the Yale University School of Public Health. "For example, in some parts of the state, judges refused to send defendants with opioid addiction to methadone programs. This dramatically reduced the success of the drug courts in these parts of the state compared to parts of the state where judges referred people to the one proven medically effective form of treatment for their addiction."
Heimer's complaint about the rejection of methadone maintenance therapy was echoed on the other side of the Hudson River by upstate New York drug reformer Nicolas Eyle of Reconsider: Forum on Drug Policy. "Most, if not all, drug courts in New York abhor methadone and maintenance treatment in general," he noted. "This is troubling because the state's recent Rockefeller law reforms have a major focus on treatment in lieu of prison, suggesting that more and more hapless people will be forced to enter treatment they may not need or want. Then the judge decides what type of treatment they must have, and when they don't achieve the therapeutic goals set for them they'll be hauled off to serve their time."
Still, said Heimer, "Such courts can work if appropriate treatment options are available, but if the treatment programs are bad, then it is unlikely that courts will work. In such cases, if the only alternative is then incarceration, there is little reason for drug courts. If drug court personnel think their program is valuable, they should be consistently lobbying for better drug treatment in their community. If they are not doing this, then they are contributing to the circumstances of their own failure, and again, the drug user becomes the victim if the drug court personnel are not doing this."
Even within the coerced treatment model, there are more effective approaches than drug courts, said Naidoo. "Drug courts basically have a zero tolerance policy, and many judges just don't understand addiction as a chronic relapsing condition, so if there is a failed drug test, the court comes in with a hammer imposing a whole series of sanctions. A more effective model would be to look at the overall context," she argued. "If the guy has a dirty urine, but has found a job, has gotten housing, and is reunited with his family, maybe he shouldn't be punished for the relapse. The drug court would punish him."
Other harm reductionists were just plain cynical about drug courts. "I guess they work in reducing the drug-related harm of going to prison by keeping people out of prison -- except when they're sending people to prison," said Delaney Ellison, a veteran Michigan harm reductionist and activist. "And that's exactly what drug courts do if you're resistant to treatment or broke. Poor, minority people can't afford to complete a time-consuming drug court regime. If a participant finds he can't pay the fines, go to four hours a day of outpatient treatment, and pay rent and buy food while trapped in the system, he finds a way to prioritize and abandons the drug court."
An adequate health care system that provided treatment on demand is what is needed, Ellison said. "And most importantly, when are we going to stop letting cops and lawyers -- and this includes judges -- regulate drugs?" he asked. "These people don't know anything about pharmacology. When do we lobby to let doctors and pharmacists regulate drugs?"
Drug courts are also under attack on the grounds they deny due process rights to defendants. In Maryland, the state's public defender last week argued that drug courts were unconstitutional, complaining that judges should not be allowed to send someone to jail repeatedly without a full judicial hearing.
"There is no due process in drug treatment court," Public Defender Nancy Foster told the Maryland Court of Appeals in a case that is yet to be decided.
Foster's argument aroused some interest from the appeals court judges. One of them, Judge Joseph Murphy, noted that a judge talking to one party in a case without the other party being present, which sometimes happens in drug courts, has raised due process concerns in other criminal proceedings. "Can you do that without violating the defendant's rights?" he asked.
A leading advocate of the position that drug courts interfere with due process rights is Williams College sociologist James Nolan. In an interview last year, Nolan summarized his problem with drug courts. "My concern is that if we make the law so concerned with being therapeutic, you forget about notions of justice such as proportionality of punishment, due process and the protection of individual rights," Nolan said. "Even though problem-solving advocates wouldn't want to do away with these things, they tend to fade into the background in terms of importance."
In that interview, Nolan cited a Miami-Dade County drug court participant forced to remain in the program for seven years. "So here, the goal is not about justice," he said. "The goal is to make someone well, and the consequences can be unjust because they are getting more of a punishment than they deserve."
Deutsch said he was "hesitant" to comment on criticisms of the drug court model, "but the fact of the matter is that when it comes to keeping drug addicted offenders out of the criminal justice system and in treatment, drug courts are the best option available."
For the Sentencing Project's King, drug courts are a step up from the depths of the punitive prohibitionist approach, but not much of one. "With the drug courts, we're in a better place now than we were 20 years ago, but it's not the place we want to be 20 years from now," he said. "The idea that somebody needs to enter the criminal justice system to access public drug treatment is a real tragedy."