The Belltown neighborhood near downtown Seattle is a charming, vibrant urban locale, located just south of the city's landmark Space Needle. Filled with bars and cafes and desirable condos, it is a nighttime hot spot, but it is also a neighborhood where a relatively small number of problematic drug users have reduced the quality of life for residents and businesses alike. According to a recent study by the Seattle Police Department, some 50 people in Belltown were responsible for a whopping 2700 arrests.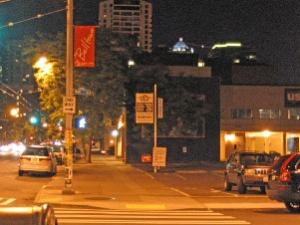 Now, instead of cycling those people through more endless -- and expensive -- rounds of arrest, prosecution, incarceration, and supervision, local officials and the Seattle
Defender Association
have embarked on an innovative pilot program in which beat officers will offer to take low-level, nonviolent drug offenders to drug treatment instead of arresting them, booking them into jail, and prosecuting them.
The pioneering program will allow officers the discretion to offer treatment to people charged with crimes such as public intoxication or drug possession, but not people with records of violence or those accused of dealing drugs. Offenders can decline the offer of treatment and instead be arrested and go through the criminal justice system.
Known as LEAD (Law Enforcement Assisted Diversion), the pilot program is designed to improve public safety and order and reduce the criminal behavior of program participants. It is based on
successful "arrest referral" programs
that have been operating in the United Kingdom for the past several years. The program has strong support from local elected and law enforcement officials.
"We are looking for effective public safety solutions," said Mayor Mike McGinn. "If drug dealing and crime could be solved by arrests alone, we would have solved this problem a couple thousand arrests ago. LEAD offers a promising alternative to traditional responses to street-level drug dealing, and we look forward to tracking its results in Belltown."
"We know that the issue of chemical dependency in our society cannot be solved by law enforcement alone. It is a complex social problem that requires a comprehensive social solution," said Seattle Chief of Police John Diaz. "LEAD provides our front line police officers with the discretion necessary to ensure that treatment diversion is utilized as a viable alternative to incarceration."
"Sheriff Sue Rahr and her staff support the concepts that act as the basis for the LEAD program, and we look forward to our participation," said King County Sheriff Major James Graddon. "Respect, open communication and common goals among some historically adversarial groups have created a positive environment to move this program forward. Using the formal criminal justice system for all offenses is costly and has proven to not necessarily be the most effective way to impact future offender behavior."
Graddon was referring to strained relations dating back to the last decade between the Seattle Police and the Defender Association, a nonprofit agency that provides legal representation to indigent defendants. In a bid to reduce tensions and work together on the common goal of reducing the number of repeat offenders cycling through the system, the Defender Association and law enforcement began discussing possible responses to the continuing problem of drug-user generated low-level crime with back in 2008. The LEAD program, which rolled out in Belltown a month ago now and which will also be tried in the Skyway neighborhood of unincorporated King County, is the fruit of those discussions.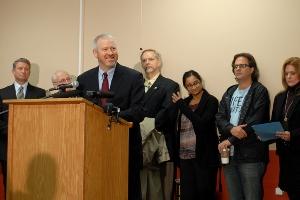 Defender Association Deputy Director Lisa Daugaard has been a prime mover in getting the program going. Given that the state of Washington faces a $2 billion budget deficit and looming social service cuts, Daugaard managed to obtain $4 million in grants from private foundations, including the Open Society Institute and the Ford Foundation, to pay for four years worth of LEAD services, including not only drug treatment, but also job training, housing assistance, and educational opportunities.
"Now, because of the dismantling of the social safety net, these LEAD resources may be the only way that some people will be able to get treatment, housing, and other services," said Daugaard.
LEAD supporters hope that the by the end of the four-year pilot period, the program will be able to demonstrate that it can generate cost savings worthy of being picked up by state and local government. They aren't the only ones watching with interest.
Stateline
, a media outlet covering state government issues across the land, reported last week that Baltimore, New Orleans, Oakland, and the state of New Mexico have already expressed interest in the program.
As a pilot program, LEAD will undergo a rigorous evaluation to determine whether it has been a success. It that proves to be the case, it could be expanded in other Seattle and King County locales, officials said.
"The LEAD pilot has the potential to help people struggling with addiction and save public dollars at the same time," said King County Executive Dow Constantine. "We can work in partnership to replace a downward spiral toward jail with support and resources. Our families and neighborhoods are better off when those headed for the criminal justice system are instead given the opportunity to lead a fulfilling and productive life."
It won't take four years to see what kind of impact LEAD has on Belltown and Skyway. Within a matter of weeks or months, we should be able to see whether this experiment in smart policing is working and produces a model that can be adopted elsewhere.