The issue of marijuana social clubs is bubbling up in Alaska and Colorado, a second Massachusetts legalization initiative gets ready to collect signatures, Oklahomans really don't like asset forfeiture, and more.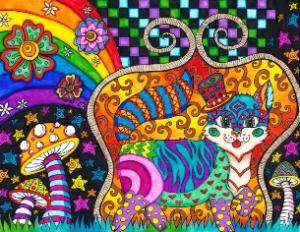 Marijuana Policy
Federal Bill Would End Students Losing Financial Aid for Getting Caught With a Joint. Rep. Earl Blumenauer (D-OR) has filed HR 3561, which would protect students who get arrested for misdemeanor marijuana possession offenses from losing access to financial aid. Under the 1998 version of the Higher Education Act (HEA), students with drug convictions lost financial aid, but that law was later walked back to apply only to students in school and receiving financial aid at the time of their offense. Blumenauer's bill would exempt students caught with marijuana from that punishment.
Alaska Set to Ban Cannabis Social Clubs. The state Marijuana Control Board has accepted draft language that would ban businesses allowing on-site pot smoking. The board said such businesses are not a type that was specified in the initiative that legalized marijuana in the state. If Alaskans want marijuana social clubs, it will now be up to them to convince the legislature to create legal space for them.
Colorado Bill Will Allow Marijuana Social Clubs. Rep. Kit Loupe (R-Colorado Springs) says he has drafted a bill that would create a retail marijuana club license. Marijuana users would be allowed to consume at the club, and the clubs could also serve alcohol and food, if licensed to do so. He says he will introduce the bill when the legislature convenes in January.
Second Massachusetts Legalization Initiative Campaign Kicks Off Tomorrow. It's the 26th Annual Boston Freedom Rally this weekend, and Bay State Repeal is using the occasion to launch the signature gathering drive for its legalization initiative. Another initiative campaign, the Marijuana Policy Project-affiliated Campaign to Regulate Alcohol Like Marijuana, got going on signature-gathering earlier this week.
Medical Marijuana
Oregon Seeking Members for Medical Marijuana Task Force. The state Health Authority's Public Health Division said Thursday it is seeking applicants to serve on a newly created Task Force on Researching the Medical and Public Health Properties of Cannabis (the Cannabis Research Task Force). Those interested need to fill out this form by September 30.
Heroin and Prescription Opiates
Massachusetts Opioid Abuse Bill Would Mandate Screening of School Students. A wide-ranging bill to deal with heroin and opiate use being finalized by state Senate leaders would include mandatory drug screening of junior and high school students. While it is only a drug "screening," not a drug test, the provision is raising privacy and confidentiality concerns among some lawmakers. Click on the link for more discussion.
Psychedelics
Psychedelics Conference in New York City Next Month. The annual Horizons: Perspectives on Psychedelics conference will take place in New York City on October 9-11. "In recent years, a growing community of scientists, doctors, artists, activists, seekers and scholars has orchestrated a renaissance in psychedelic thought and practice. Horizons is a unique forum that brings together the brightest minds and the boldest voices of this movement to share their research, insights and dreams for the future," according to the Drug Policy Alliance, which is a partner in the conference. Click on the links for more information.
Asset Forfeiture
Oklahoma Poll Has Overwhelming Support for Civil Asset Forfeiture Repeal. A new SoonerPoll shows strong public antipathy toward asset forfeiture and strong support for ending asset forfeiture without a criminal conviction. Some 70% said they would support "legislation that would allow law enforcement only to keep property when a criminal conviction is achieved" and 78% said they agreed that "law enforcement keeping confiscated property without a conviction denies those of their constitutional right of due process is un-American." The poll comes as the legislature ponders asset forfeiture reform.
Drug Policy
Massachusetts Senate Passes Bill to Repeal Drivers' License Suspensions for Non-Driving Drug Offenses. The state is one of handful that still maintain such laws, but perhaps for not much longer. Senate Bill 2014 has passed the Senate and now heads to the House.
International
Argentine Presidential Candidates Ignore Experts, Call for More Drug War. The top three hopefuls in this year's presidential race -- Sergio Massa, Mauricio Macri, and Daniel Scioli -- all are calling for a tougher drug war, but Argentine scholars and experts say they are only deepening failed policies. More than a hundred scholars have signed a document, The Drug Issue in Argentina, that says maintaining, let alone deepening, existing prohibitionist policies is not the right way to go. Click on the links for more.
Tomorrow is the Anniversary of the Disappearance of Mexico's Ayotzinapa Students. A year ago Saturday, 43 students from a teachers college went missing in Iguala, Guerrero. They still haven't been found, and their disappearance has revealed links between local politicians, local law enforcement agencies, and drug gangs in a scandal that has severely tarnished the reputation of President Enrique Pena Nieto. The families are keeping the pressure on. Click on the link for more.