Ohio marijuana legalization campaigners take a second stab at coming up with enough signatures for their initiated statute, Virginia lawmakers file bills to defelonize peyote and psilocybin mushrooms, and more.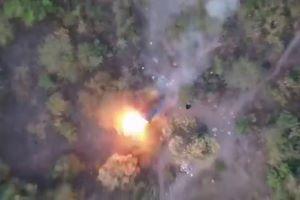 Marijuana Policy
Ohio Marijuana Legalization Initiative Campaign Hands in More Signatures. The Coalition to Regulate Marijuana Like Alcohol has handed in additional signatures after falling short earlier this month. Under state law, the campaign needs 132,887 valid voter signatures to begin the initiated statute process, which would then give state legislature four months to approve it. If it doesn't, campaigners would have to gather another round of signatures and then take the matter directly to the voters. The campaign handed in more than 200,000 raw signatures earlier this month, but the secretary of state's office determined that only 119,825 were valid. Now, the campaign has handed in an additional 29,918 raw signatures. Slightly more than 13,000 of them need to be found valid for the process to continue. Stay tuned.
Psychedelics
Virginia Lawmakers File Bills to Defelonize Peyote, Psilocybin Mushrooms. State Delegate Dawn Adams (D-Richmond) has filed a bill to reduce the penalty for possession of peyote and psilocybin mushrooms from a felon to a misdemeanor. The bill is House Bill 898. Adams, who is also a nurse practitioner, cited psilocybin's growing acceptance in medical contexts, saying "It is increasingly a recognized treatment for refractory depression and PTSD. It's changed people's lives." Companion legislation has been filed in the Senate, but prospects for passage are cloudy at best, especially in the House of Delegates, where Republicans historically unfriendly to drug reform took control after last November's election.
Drug Policy
Vermont Lawmakers File Drug Decriminalization Bill. Democratic and Progressive lawmakers have joined forces to file House Bill 644, which would decriminalize the possession and sale of personal use amounts of illicit drugs. The bill sponsored by Reps. Logan Nicoll (D) and Selene Colburn (P) would make possession or distribution of small amounts of drugs an offense punishable only by a $50 fine, which could be waived by completing a health screening through a new drug treatment referral system. The "benchmark personal use" threshold would be set by a new Drug Use Standards Advisory Board. The bill has 40 initial cosponsors, nearly one-third of the House.
Sentencing
Thousands of Federal Inmates Now Being Released Under First Step Act. Thousands of federal inmates, including many drug offenders, are now eligible for immediate release after the Justice Department published a rule Thursday allowing more prisoners to participate in programs that allow them to earn shorter prison sentences. The inmates will be transferred to residential reentry centers, supervised release programs, or home confinement.
The rule published in the Federal Register on Thursday sets out how the Bureau of Prisons should apply the First Step Act. That law gave the Justice Department and the Bureau of Prisons considerable leeway in interpreting how to implement it, including whether credits for good time and job training that occurred before the law passed could be used to apply for early release.
International
Mexico's Jalisco New Generation Cartel Deploys Drones to Bomb Rivals. Mexico's most powerful drug trafficking organization, the Jalisco New Generation Cartel (JNGC), has attacked rivals in Tepalcatepec, Michoacan, with bombs dropped from a drone. Video of the attack, which featured multiple bombs dropped from the sky, appeared on Twitter. It's just the latest violent attack on Michoacan residents as the JNGC engaged in turf wars with various rivals in the state.
Residents on the ground were eventually able to shoot down the drone, but not before it dropped multiple bombs on its target. Townspeople had briefly been in a brief gunfight with JNGC in the hours before the drone attack. The mayor of the municipality, Martha Laura Mendoza, said she has pleaded with federal authorities for help fending off continuing violence. "It's been four months," she added. "No one has contacted us or offered a solution!"