The US Agency for International Development (AID) has given up on an alternative development campaign designed to help farmers in southern Colombia switch to legal crops, the Houston Chronicle reported. The newspaper cited a Colombian government memorandum, and the report was implicitly confirmed by an unnamed US Embassy source in Bogota.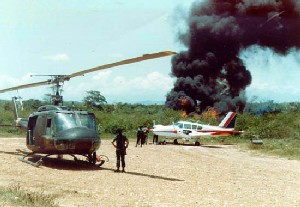 According to the Colombian government document, US AID suspended the development program in southern Caqueta state, long a stronghold of the leftist rebels of the
Revolutionary Armed Forces of Colombia
(FARC), because the area was too dangerous for its workers and it lacked economic potential. With development assistance making up less than 10% of the $800 million the US is spending to wage the drug war in Colombia this year, US AID will channel funding to more secure areas.
"You can't be everywhere simultaneously, and you have to make choices," the unnamed embassy official told the Chronicle. "Resources have to be focused where they can be used most effectively."
With the US and Colombian governments having given up on developing the region, the departure of the US AID project clears the way as the Colombian military begins its largest ever campaign in the south. The US has spent more than $4 billion since 2000 to help the Colombian government obtain and maintain control in such areas, but now the economic advisers are leaving and the soldiers are coming.
US analysts and Colombian politicians contacted by the Houston Chronicle called the move a bad idea. "This is not a good way to win hearts and minds," said Sanho Tree, a Colombia expert at the Institute for Policy Studies in Washington. "We're driving people away from the government and into the hands of our declared enemies: the guerrillas and the drug traffickers," he told the Chronicle.
"This decision runs contrary to the whole concept of Plan Colombia," said Luis Fernando Almario, a congressman from Caqueta.
Adam Isacson, a Colombia expert at the Center for International Policy in Washington, told the Chronicle that writing off the war-torn south would be a grave error. Drawing parallels to the war in Iraq, he likened the current approach to saying: "Forget about the Sunni Triangle."