Khat, a shrub that grows in East Africa, has been used for centuries as a mild stimulant in the region, with a high similar to that obtained by drinking a lot of tea or coffee. Khat is legal thoughout Africa and most European countries, but US federal authorities consider it a dangerous drug. They struck Wednesday, arresting 62 East African immigrants on charges they smuggled more than 25 tons of the stuff into the United States.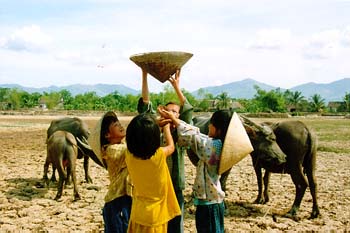 Federal officials told reporters Wednesday they are investigating reports the khat smugglers may be linked to "war lords" in Somalia and Ethiopia, but they have not produced any proof of that, nor do any of the indictments allege any links to terrorist activities in the region, where Islamic extremism is on the march. Muslim fundamentalists linked to Al-Qaida are battling Western-backed "war lords" for control of Somalia.
"It is suspected that there are ties to some type of terrorist organizations," a federal agent demanding anonymity told the McClatchy Newspaper chain. While the indictments do not allege terror links, they do charge the group laundered money through hawalas, an informal network of remittances widely used in South Asia and the Middle East. Some of the money ended up in the Middle East financial capital Dubai, the indictments allege.
FBI Assistant Director Mark Mershon told a New York news conference Wednesday that the agency continues to seek "the ultimate destiny of the funds." According to Mershon, intelligence suggests the money was headed for "countries in East Africa which are a hotbed for Sunni extremism and a wellspring for terrorists associated with Al-Qaida."
Hmmm…They are also the countries from which those arrested hail and where khat is widely grown. Meanwhile, the man charged as ringleader for the group faces up to life in prison and the others face up to 20 years for using and dealing in an herb with which they grew up.