The 2007 International Drug Policy Reform Conference [19] in New Orleans kicked off with a bang Thursday as Antonio Maria Costa, head of the UN Office on Drugs and Crime [20], told a boisterous and sometimes combative audience of drug reformers that while a drug-free world is probably not attainable, it is almost certainly desirable, and that he would continue to work toward that goal.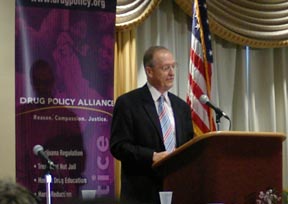 Costa, who as head of the UNODC is the leading cheerleader for the global drug prohibition regime and chief chider of governments UNODC believes are not making sufficient efforts in the war on drugs, is the highest placed drug war figure to ever address a drug reform conference. But while his attendance could mark the beginning of a broader dialog on global drug policy, at various points Thursday it seemed more like a dialog of the deaf.
His remarks came on the opening morning of the three-day conference hosted by the Drug Policy Alliance [21], and co-hosted by Students for Sensible Drug Policy [22], the Marijuana Policy Project [23], Law Enforcement Against Prohibition [24], the American Civil Liberties Union [25], the Harm Reduction Coalition [26], and the Criminal Justice Policy Foundation [27]. With more than a thousand attendees, the joint 2007 conference is the largest drug reform conference ever.
"A drug-free world is not a slogan I use," Costa told the opening morning crowd. "It is an aspiration, not an operational target, much as one aspires to eliminate poverty or hunger or disease."
While Costa flatly rejected drug legalization, he also suggested that drug law enforcement was not the ultimate "solution" to drug use and the drug trade. Even if all the drugs produced around the world this year could be eradicated, he said, they would be planted again next year -- and if farmers in Colombia or Afghanistan didn't want to plant them, farmers somewhere else would. "While law enforcement is necessary, it is not sufficient," he told the crowd.
The answer, Costa argued, is not on the supply side but the demand side. "Lowering demand is the necessary condition to make drug policy realistic and sustainable," he said, adding that that could be achieved by "prevention, harm reduction, and treatment, combined with comprehensive health programs."
Then the top global anti-drug bureaucrat took on the topic of legalization. "Some people say drug use is a personal choice and nobody else's business," he said, as the room erupted with sustained applause. The room quickly quieted, however, as Costa continued: "I have some problems with this. First, this is a health issue. Drug abuse is a disease affecting the brain, triggered by individual vulnerability," he suggested, as scattered hissing and booing broke out.
"Drugs are not dangerous because they are illegal, they are illegal because they are dangerous," Costa bravely soldiered on, only to be met with a crescendo of boos.
Costa also addressed the argument that drug prohibition creates violence, if only obliquely. "You say prohibition creates violence and crime by creating a lucrative black market, so legalize drugs to defeat organized crime. I agree with you, but this is not only an economic argument," he maintained. "Legalization will increase the damage done to individuals and society."
For Costa, there are no drug users, only "addicts" who need help. "Why do we have these ideological debates about drug addiction?" he complained. "People aren't divided about treating tuberculosis or AIDS."
Careful to repeatedly mention that he supported harm reduction as well as prevention and treatment, Costa called on the audience to join him as an "extremist of the center" in an effort to destroy demand for drugs. "We all want to help the farmers and the drug addicts and reduce the crime and violence," he said. "Let us build on this common ground to build a safer and healthier world."
Costa's positions did not go unchallenged. Immediately following him at the podium was Kasia Malinowska-Sempruch, Director of the International Harm Reduction Development program at the Open Society Institute, who went through a litany of repression of drug users: ranging from Russia, where police often block them from gaining access to health care; to China, where police wait outside needle exchanges and arrest people on the way out; to Thailand, where authorities killed thousands of suspected drug users in 2003; to India, where throwing users in cages passes as drug treatment; and Kazakhstan, where female users are subjected to body searches and forced to engage in sex acts to get their seized drugs back.
"When you look at the UNODC report on drug treatment in India," she noted, "those people in the cages are going to be counted. There are no standards for what is drug treatment; the numbers are self-reported."
Costa took even more flak at a lunchtime question and answer session immediately following the presentation. As attendees eager to see the exchange packed the room past capacity, a cavalcade of drug policy reformers and scholars took aim at the UNODC head and his arguments.
"This is a healthy opening," said UC Santa Cruz sociologist Craig Reinarman, who praised Costa for his fortitude in coming to the conference and his charm in making his case. "If you're wrong on most of the arguments, it helps if you're charming." Reinarman challenged Costa on his prescription to deal with drug users by subjecting them to drug treatment. "We agree on making treatment available to all who want it, but the vast majority of people who use illicit drugs do not become addicts who need treatment. The idea that you will treat people who don't have a disease flies in the face of everything I know about medicine," Reinarman said.
He also attacked Costa's claim that reducing supply would reduce demand and the problems attendant with drug use. "The availability of drugs is not correlated with drug problems," he said, citing the case of the Netherlands. "It is surrounded by countries with far more restrictive prohibitionist policies that also have higher figures for use, addiction, overdose deaths, and the like. The notion that there is a correlation between repressive drug policies and use levels is just not borne out by the facts."
Costa did not respond directly to Reinarman, instead diverting the observation by claiming that the Netherlands had "poisoned Europe" with amphetamines produced there, probably an even less apt reference to Dutch production of ecstasy, which in UN-speak is an "amphetamine-type stimulant."
Wealthy San Francisco libertarian John Gilmore reproved Costa for talking treatment while continuing to endorse repression of drug use. "We don't prosecute diabetics," he noted. Costa did not respond.
"Most of what you said flew in the face of reality," chided Pat O'Hare, executive director of the International Harm Reduction Association [28], who took special umbrage at Costa's repeated call for tackling the problem through reducing demand. "We don't know how to reduce demand," he said bluntly. "I want regulation; right now, we have almost no control. I'm prepared to accept slightly more drug use, but a load less harm."
Again, Costa failed to respond directly, although he grew increasingly testy. In response to a query about medical marijuana, he almost sneered: "I don't believe in buying joints," he said. "You don't need to lick mold to get penicillin," he said, eliciting groans and jeers from the crowd.
To charges that the global prohibition regime he cheerleads is financing terrorism and political violence around the globe, Costa agreed that indeed groups like the FARC in Colombia and the Taliban in Afghanistan were profiting from the black market drug trade. "The best response is to quit buying that stuff," was the solution he proffered, a response that brought laughter and jeers.
And with that, the UN's head drug-fighter was gone, off to catch a plane for New York as the conference attendees collectively took a deep breath and scratched their heads. Whether Costa was persuaded to see the errors of his ways remains to be seen, and, given his performance Thursday, that seems most unlikely. But the fact that the top global drug-fighter felt it necessary to enter the lion's den and take on the pride suggests that the movement is making progress. As that old agitator Mahatma Gandhi once said, "First they ignore you, then they ridicule you, then they fight you, then you win."
[Editor's Note: The New Orleans conference continues through Saturday. Look for more reports in the Chronicle next week and some blog posts in the meantime.]
Visit http://www.drugwarrant.com [29] for extensive blogging from the conference, and check back at http://stopthedrugwar.org [30] too.