special to Drug War Chronicle by Bob Newland
[Editor's Note: Drug War Chronicle is beginning a new occasional series of reports on the day-to-day workings of the war on drugs. We spend a lot of time reporting on committee hearings, election campaigns, ballot initiatives, speeches, statements, findings, and even reporting on reports. But while we chronicle the progress (or lack thereof) of drug reform efforts, the drug war grinds on. Last year, some 1.8 million people were arrested on drug charges. We aim to start telling some of their stories -- or to let them tell them themselves. They portray many small injustices nestled inside the larger injustice that is drug prohibition, but that's just business as usual. And business as usual is the problem, as these stories will indicate.
Our first drug war account comes from South Dakota. Famed among motorcycle enthusiasts for the Sturgis Motorcycle Rally, the state also feeds off the event's attendees. As the rally draws nearer every August, South Dakota Highway Patrol cars hover beside the interstates like vultures awaiting the arrival of their prey, and the hunting is good. The Patrol's online publication, The Newsroom [13], shows a whopping 38 felony and 192 misdemeanor drug arrests for Sturgis week, compared to a normally single-digit number of felony drug busts each week and misdemeanor drug busts in the low dozens.
There's an old line among Sturgis attendees about South Dakota's enforcement activities: "Come on vacation, leave on probation." (An alternate version: "Come on a stroll, leave on parole.") But, as this week's story shows, even when they don't get you, they get you.]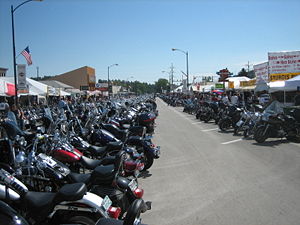 Day after day, it chews and grinds. Its only purpose is chewing and grinding. The chewing and grinding gives it no satisfaction, only another day of existence. Another day of chewing and grinding. The War on Some Drugs has endless hunger. Eric Sage has felt that hunger turned toward him.
Sage, 31, works at a family-owned manufacturing company in Sidney, Nebraska. Sage was riding his motorcycle home August 7, after spending a couple of days at the Sturgis Motorcycle Rally, accompanied by Jorge, who was driving Sage's pickup with passengers Kalie and Barb.
Sage was stopped by South Dakota Highway Patrolman Dave Trautman ten miles
east of Rapid City on Interstate 90 for "weaving" in his own lane. Jorge pulled over also, and stopped ahead of Sage's bike, which was ahead of the patrol car. The patrol car's dash-cam records video of what happens in front and audio of what's said in the car.
Trautman ticketed Sage for a minor traffic infraction, then asked him to wait by the guard rail while he talked to Jorge. Trautman brought Jorge to the patrol car, berating him for tailgating, then asked for permission to search the pickup. Jorge told him the pickup belonged to Sage, but gave permission to search when Trautman told him the driver had that right. Trautman left Jorge in the patrol car, then got out and paused to speak to Sage.
Sage says Trautman asked for permission to search, and, having received it, asked, "Where would I find anything illegal in there?" Sage says he replied slightly sarcastically, "I don't know. Glovebox?"
Trautman then proceeded to the pick-up and ordered the two women passengers to sit on the grass at the road's edge. After spending 16 minutes searching the vehicle, he emerged, poured out a beer, and is seen in the dash-cam coming back to the patrol car with one of the women and a handbag.
"There's weed in your purse," Trautman said in the first comment audible on the tape.
"Yeah," replied the woman, Barbara.
"Where's the weed that was in the glove box?" Trautman then asked. Barb was bewildered by the question. She then admitted to having smoked weed that morning, having nearly finished off the bag in her purse, with the pipe also in her purse.
"With these guys?" Trautman asked.
"Yeah," she said.
Trooper Trautman then walked back to the pickup, looked around the passenger side, and returned to the patrol car. "Here's what I'm gonna do," he resumed. "Everybody's admitted smoking weed..."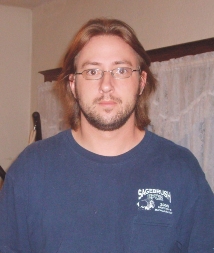 The dash-cam tape ends at this point. In a later written report on the incident, Sage said he was told that the camera "stopped."
Trautman wrote one of the women passengers, Kalie, a ticket for the open container. But he then also cited all four travelers with "possession of paraphernalia," which seems unsupported by the evidence, given that only one of them -- Barb -- was found in possession of paraphernalia. But it gets weirder.
Barb paid her paraphernalia fine, about $250. Kalie paid her open container fine. Jorge is considering what to do. Eric returned to Rapid City August 21 and pled not guilty, thinking it ludicrous that someone on a motorcycle could get charged for something somebody in a nearby pickup had in her purse.
[Editor's Note: The unwary protagonists of this tale did things they shouldn't have done and didn't do things they should have done to avoid getting into this mess in the first place. The basic rule is never consent to a search and keep your mouth shut. As Scott Morgan, Associate Director of the civil liberties organization Flex Your Rights [14] pointed out: "This whole incident stems from the driver's initial decision to consent to a police search. Evidence was discovered, at which point the suspects needlessly implicated one another in criminal activity by admitting to marijuana use. Refusing the search and declining to answer incriminating questions could likely have prevented the subsequent legal fiasco that resulted from this traffic stop."]
Asked why he fought the charges, given that he knew to begin with that it would cost him more than just paying the fine for paraphernalia, Sage said, "I wasn't guilty. I had a clean record. Why should I say I did something I didn't do?"
He was scheduled for a "dispositional" hearing October 15. That's where the state's attorney makes his last plea offer. On October 12, Gina Nelson of the Pennington County state's attorney's office left a message on Eric's phone: "If you don't plead to 'paraphernalia', we'll charge you with 'ingestion'" -- an offense unique to South Dakota.
South Dakota codified law 22-42-15 [15] prohibits ingesting anything except alcohol for the purpose of intoxication, and they'll put you in jail for as long as a year, and fine you as much as $1,000, for wanting to get "high" instead of drunk. It also doesn't matter if you were even in South Dakota when you ingested the drug: "The venue for a violation of this section exists in either the jurisdiction in which the substance was ingested, inhaled, or otherwise taken into the body or the jurisdiction in which the substance was detected in the body of the accused."
Sage refused to cave in. At the hearing, Nelson did as promised, withdrew the paraphernalia charge and instituted an ingestion charge. A preliminary hearing was set for November 21, for a judge to decide whether there was enough evidence to take the case to trial.
For Eric Sage, who has a spotless criminal record, the stakes had just leaped at least fourfold. Chewing and grinding.
The search had yielded .1 oz. of marijuana, according to Trautman's arrest report, which probably includes the weight of the baggie (1/10 oz. on a postal scale) and a pipe, both found in Barb's purse. Sage said he wasn't even aware that anything besides a pipe was in evidence until he saw the report in early November.
South Dakota law requires an arrest report on a Class 1 misdemeanor (ingestion), but not on a Class 2 (paraphernalia), so Trooper Trautman dutifully sat down nine weeks after the day he ticketed Eric Sage and wrote a report in which he alleges that Sage confessed to smoking marijuana that day out of the bag in question. The alleged confession took place after Trautman's dash-cam "stopped." But Sage maintains that Trautman merely informed him he was "doing him a favor" by only charging him with paraphernalia and not taking him to jail.
Trautman's report contains several statements that don't jibe with the camera's story, and he admitted not remembering some details more than two months after the fact. Still, the report contained enough claims by the trooper to arguably support the charge. In other words, Trautman tried to do the job the state's attorney wanted him to do.
A preliminary hearing was set for November 21. Sage retained an attorney, Rena Hymans of Sturgis, who called Assistant States Attorney Nelson repeatedly asking if she was really going to move forward on the case. She left detailed messages on Nelson's voice mail: "Are you really going to have a prelim on this?" The calls went unreturned.
On November 21, Sage drove the 241 miles from his Nebraska home to the Pennington County Courthouse in Rapid City. After meeting with Hymans, the pair went to the Clerk of Courts, who handed them a piece of paper saying the charges had been dismissed by Nelson five days earlier.
In dismissing the charges, Nelson cited "jurisdictional issue (charges involve Meade County)." In other words, faced with having to actually prosecute the case, Nelson and her boss, Pennington County States Attorney Glenn Brenner, punted. Since they now argued that the "ingestion" offense for which Sage was charged allegedly took place at Sturgis, in Meade County, Nelson dumped the case on Meade County States Attorney Jesse Sondreal, who has declined to pursue it. After all, who really wants to prosecute a case where there is no evidence to support the charge?
Despite losing a skirmish in the war on drugs, Brenner and Nelson were able to stick it to Sage one final time by making him take the long journey to Rapid City for nothing. Sage's expenses attributable to being charged with a crime that presented no evidence have mounted to at least $3,000. And so the war on drugs chews and grinds.
"They do this all the time at the Sturgis rally," Sage said after the charges were dropped. "They pull people over, then they figure out why. It's just revenue for them. I'd have played a part in that if I'd paid the ticket. It turns out I played a part anyway. I was mugged. I was mugged by guys in suits with law degrees who knew I wasn't guilty. They just wanted to see me pay. It was like sport to them."
Chewing and grinding, guilty or innocent, the beast doesn't care. Chew them up and swallow them, or chew them up and spit them out. They're still chewed up. Charge with a crime, and if they fight it, punish them. Make them pay. Up the ante. Make them pay again. And, if after having the gall to demand their day in court, they lose, whack them hard for taking up the court's valuable time. And so it goes. Just another day in the drug war. This time it was South Dakota, but it could be Anywhere, USA.