A pair of North Dakota farmers who are suing the federal government over the DEA's failure to act on their applications to grow hemp will know by month's end if their case will continue, a federal district court judge in Bismarck said Wednesday. That comment from Judge Dan Hovland came at the end of a hearing on a motion by the government to dismiss the case.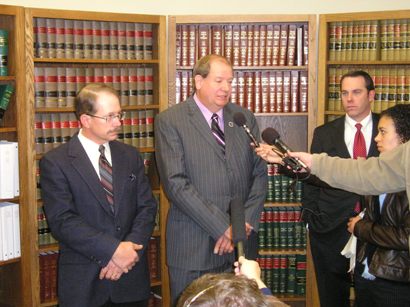 Drug War Chronicle was there, sitting in the back of the courtroom as the farmers, the state of North Dakota, and hemp industry advocates took on a stubborn and recalcitrant DEA and its Justice Department mouthpieces. Besides the plaintiffs and lawyers for both sides, only a handful of hemp advocates and local media reporters were present.
Judge Hovland said he will rule on the motion within two weeks. He also stayed other motions before the court pending his ruling on the motion to dismiss.
Hemp products may be imported to the US, but a DEA ban on domestic production prevents US farmers from growing it, meaning domestic hemp product makers must turn to suppliers in countries where it is legal to grow, including Canada, China, and most of Europe.
Hemp is a member of the cannabis family, but unlike the marijuana consumed by recreational and medical marijuana users, contains only tiny amounts of the psychoactive substance that gets marijuana users "high." But the DEA argues that hemp is marijuana and that the Controlled Substances Act gives it authority to ban it.
The farmers and their attorneys disagree, pointing out that the CSA contains language explicitly exempting hemp fiber, seed oil, and seed incapable of germination from the definition of "marihuana" and are thus not controlled substances under that law. That same language was used to allow the legal import of hemp into the US as a result of a 2004 federal court decision siding with the hemp industry against the DEA.
The lawsuit filed by farmers Wayne Hauge and Dave Monson (who is also a Republican state legislator) is only the latest chapter in a decade-long struggle by North Dakota farmers to grow hemp. The state first passed hemp legislation in 1997, but things really began moving when state Agriculture Commissioner Roger Johnson, a strong hemp supporter, issued the first state permits to grow hemp to Hauge and Monson on February 6. One week later, Hauge and Monson sent a request to the DEA requesting licenses to grow their crops and noting that they needed a response by early April in order to get the crops in the ground this year.
The DEA failed to respond in a timely fashion. According to a March 27 DEA letter to Ag Commissioner Johnson, seven weeks was not enough time for the agency to arrive at a ruling on the request. That letter was the final straw for the North Dakotans, who then sued in federal court to get the DEA out of the way.
Just as the DEA appears determined to stall the hemp applications -- it has been sitting on one from North Dakota State University for eight years -- so the Justice Department seems much more interested in killing the case than arguing it. Wednesday's hearing in Bismarck saw Assistant US Attorney Wendy Ertmer try to make the case go away by arguing that the plaintiffs had no standing to sue the government because they had not been arrested or indicted and by arguing that district court was not the proper venue to hear it.
"The plaintiffs have suffered no injury," said Ertmer.
"Must they expose themselves to arrest to have standing?" asked an incredulous Judge Hovland.
"Generally, yes," Ertmer responded.
Hovland and Ertmer also tangled over the issue of jurisdiction, with Ertmer arguing that challenges to administrative rulings should be handled by federal appeals courts. Hovland seemed to differ, saying that district courts can indeed render declaratory judgements.
Judge Hovland also questioned Ertmer closely over the DEA's failure to act on either the NDSU application or Hauge and Monson's application. "There seems to be no realistic prospect that the DEA will grant the applications," he said.
"Why has it taken eight years and there is still no response to the NDSU application?" he asked. "Is exercising administrative remedies an exercise in futility? I see no prospect the plaintiffs will ever get a license," he said.
Throughout, Ertmer stuck to her guns and the government's official position that hemp is marijuana. She repeatedly referred to industrial hemp as "bulk marijuana" and derided North Dakota legislation that defines hemp as distinct from marijuana as meaningless. "It's still marijuana," she said.
Washington, DC, attorney Joe Sandler, who is representing the plaintiffs, provided a hint of arguments to come as he argued that neither the Supreme Court decision in the Raich case nor an 8th Circuit Court of Appeals case banning South Dakota Lakota Indian Alex White Plume from growing hemp on the Pine Ridge reservation should be controlling in the current case.
Hovland listened attentively, but then, noting that an industrial hemp bill had been introduced in Congress, wondered if a political solution were not the most appropriate. "Isn't the best remedy to amend the definition of industrial hemp under the (federal) Controlled Substances Act?" he asked. "To me, it seems like the easiest solution."
But Hauge, Monson, and their allies in the North Dakota state government and the hemp industry aren't waiting on Congress or the DEA. "If NDSU needed eight years and nothing was resolved, I think the DEA is trying to wait us out," Monson said. "It's a de facto denial of our license and that's part of our frustration."
Hauge and Monson said hemp could be a beneficial crop for North Dakota farmers. "We can start an entire industry with fiber, oil and meal," Monson said. "There are literally thousands of uses. This could be a huge economic benefit for North Dakota."
He is already getting requests for product from people who mistakenly think he's already growing a hemp crop, he said. "At least weekly, someone is calling asking to buy fiber or seed," Monson said. "There is certainly a market, especially on the West Coast and especially in the food industry. We can benefit here in North Dakota from the fiber."
Hauge, who farms a spread near the Canadian border in the western part of the state, said hemp is a potential money-maker, especially when grown in rotation with his durum, pea, and lentil crops. "You can make a profit, it's not just an alternative," Hauge said. "This is a rotation with a profit."
Hauge was hopeful following the hearing, saying he expected a ruling in the plaintiff's favor. "I'm positive about this," Hauge said. "The judge asked good questions and it shows his insight."
If Hovland denies the government motion to dismiss, it's back to court, where the plaintiffs will seek a summary declaration in their favor. But the federal courts move slowly, and planting season is only a few months away.