Since Congress failed to act by Thursday to stop them, new, less severe federal sentencing guidelines for crack cocaine offenses promulgated by the US Sentencing Commission are now in effect. That means some 4,000 federal crack defendants each year can now count on marginally shorter sentences. For those serving the longest sentences that could mean years off.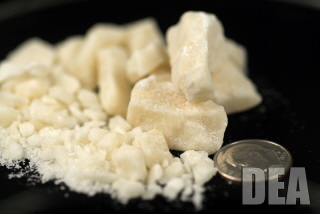 "We're very encouraged about this reform," said Marc Mauer, executive director of the
Sentencing Project
[14]
. "What the Sentencing Commission is doing is terrific and long overdue."
Under federal drug laws adopted by Congress in the mid-1980s, crack offenders are treated much more severely than powder cocaine offenders. Selling five grams of crack carries a mandatory minimum five-year prison sentence, while it takes 500 grams of powder cocaine to merit the same treatment.
The Sentencing Commission, whose job it is to set federal sentencing guidelines, responded to the mandatory minimums by adjusting the guidelines to incorporate them, resulting in guideline sentences that were above the mandatory minimums. The Commission also tried, in 1995, to reduce crack cocaine sentences to match those for powder cocaine, a move that prompted Congress to reverse the Commission's recommendation [15] for the first time in its history. Now, in frustration with congressional failure to deal with the rising clamor over the inequities of the federal cocaine laws, the commission has amended the guidelines to lower the base offense levels for crack convictions.
The differences this time are marginal, but will still make a difference for those facing federal crack time. For example, instead of a sentencing range of 12 to 15 years for a certain drug quantity, defendants will face 10 to 12 years.
But the Sentencing Commission has not yet decided whether to make those changes retroactive, a move that, according to a Sentencing Commission impact analysis [16] published in October, could bring relief to nearly 20,000 crack defendants currently behind federal prison bars -- about 85% of them black. It has the authority to do so; the question is whether it has the political will. The commission recently extended the period for public comment on the retroactivity issue from October 1 to November 1, and has scheduled a November 13 public hearing.
The response has been intense, with the commission reporting that more than a thousand comments have been received -- most of them favoring retroactivity. That is at least in part because groups like
Families Against Mandatory Minimums
[17]
(FAMM) have launched a campaign to support the commission's long-held position that the racial disparity in cocaine sentences undermines the objectives of the country's sentencing laws.
It's not just FAMM. The American Bar Association, the American Civil Liberties Union, the Federal Public and Community Defenders, the National Association of Criminal Defense Lawyers, and numerous other groups have weighed in in support of retroactivity.
"Retroactivity is huge," said Nora Callahan, executive director of the November Coalition [18], an anti-prohibitionist group that concentrates on drug war prisoners. "If it isn't retroactive, it isn't justice," she said.
"The commission has for years acknowledged the adverse impacts of the current sentencing structure, and that hasn't gone unnoticed," Callahan continued. "The system lacks transparency, consistency, and fairness. That's not the commission's fault, but it is the commission's responsibility to address these issues. Reducing the racial disparities resulting from the crack laws cannot be accomplished without retroactivity. If there is no relief, that will only breed more despair and disrespect for the law," she said.
"I'm encouraged about retroactivity because there have been thousands of comments sent to the commission supporting it," said Mauer. "The commission has both a moral and a practical reason to support retroactivity. In terms of equity issues, there is a strong argument for retroactivity there. The commission has been on record since 1995 recommending reform of the crack penalties, and it seems to us that anyone sentenced since then should certainly be eligible to receive these reductions. If the commission supports retroactivity, it would be entirely consistent with what it has been recommending for years."
The Sentencing Commission's crack sentencing guideline amendment that went into effect this week and its pending decision on retroactivity come as the federal crack laws are under attack from all sides. The Supreme Court is considering them in the recently heard Kimbrough case [19], and at least three bills to address the crack-powder sentencing disparity are pending in Congress.
"There is more momentum now than at any time since the laws were established two decades ago," said Mauer. "It is that overdue recognition that the laws don't make sense, they're ineffective, and they are having a terrible racial impact. It's very encouraging to see this critique of the crack laws coming from all these different directions. We don't know how it will all play out, but there is a growing consensus that some reform will take place."
Hopefully it will include those already imprisoned under the draconian federal crack laws, some of whom have been behind bars since 1992. If not, the bulging federal prison system could see ominous rumbling like it hasn't seen for a decade -- the last time crack prisoners got their hopes up, only to see them dashed.