Black market opium production under the global drug prohibition regime is pumping hundreds of millions of dollars into the coffers of the Taliban, the top US commander in Afghanistan said last week. The opium trade accounts for as much as 40% of Taliban revenues, and that could be a conservative estimate, said Gen. Dan McNeill, commander of the NATO-led International Security Assistance Force (ISAF).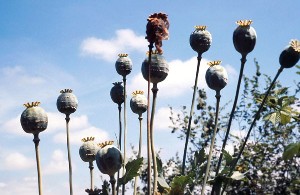 "It is my best subjective estimate that the insurgency enjoys fiscal resources from the cultivation of poppy probably to the level of 20% to 40% of its total fiscal resources," the general told journalists at a
Kabul press conference
[13]
. But he added that international experts had told him his figure was low-ball, and that opium could account for up to 60% of Taliban funds.
The Taliban, which has emerged revivified in the past two years, is widely believed to make money off the opium economy by taxing farmers and traders. This year, it has had the strongest presence in Afghanistan's southeast, which is also the area of the country where opium production is most prevalent.
According to the UN Office on Drugs and Crime 2007 World Drug Report [14], the Afghan opium crop is valued at $3 billion this year, about $1 billion of which is paid to farmers. Despite increased eradication efforts this year, production increased 34% over last year. It is unclear how much opium income makes its way into the purses of the Taliban.
Afghanistan is currently producing 93% of the world's poppy crop, and that is undermining everything the Afghan government and its US and NATO allies is trying to accomplish there, said McNeill. Besides funding the insurgency and corrupting government officials, opium profits pull people away from developing the country. "People are distracted from the value of the reconstruction because of poppy cultivation and the money inherent within," he said.
Still, he said, ISAF is not eager to get more deeply involved in fighting the drug war in Afghanistan, and if it does, its role should be limited. "ISAF is neither manned, trained or equipped to be an eradication force but there are other ways... that we might be able to help," he said.
That's not what the US wants to hear, though. Washington is gearing up for heightened involvement in drug fighting, and it is pressing, so far unsuccessfully, for aerial chemical eradication of the poppy crop -- a crop which according to the UN provides a living for 14% of the Afghan population.