David Borden [13], Executive Director
When the drug czar announced a few weeks ago that cocaine prices had gone up -- a sign of success in the drug war, so he claims -- I was surprised but not shocked. I was surprised -- slightly -- because in most years for the last few decades the price has dropped and dropped and dropped. Retail, or "street" cocaine prices are about 40% of what they were in the early 1980s, and that's without adjusting for inflation. Factor in inflation and it's closer to 20%, a five-fold decrease.
The reason I wasn't shocked is simply because within this steep, long-term decline, there have been upticks now and then, maybe once every four or so years. I was surprised in the way that one is surprised when flipping two coins and seeing both of them come up heads. Most of the time that doesn't happen -- you either get two tails, one is heads and the other tails, or the first one comes up tails and the second one comes up heads. But in one out of every four tries, on average both of them will come up heads.
I was surprised again on Wednesday, when I saw the same story come up a second time a few weeks later, this time in the Los Angeles Times. But not very surprised -- ONDCP and DEA have an obvious incentive to continue to pitch a story that seems favorable to them for as long as there's interest in it.
Unfortunately, the key word here is "seems." It certainly seems like a big jump when you read what they told the Times [14]: "[T]he cost of cocaine increas[ed] 24%, from $95.89 to $118.70 per gram over the six-month period ending in June." Okay, but when looking at the DEA information sheet [15], one learns that that number is an average including all cocaine purchases during the time period, both wholesale (trafficker to dealer) and retail (seller to customer). The retail average -- the meaningful quantity when it comes to the end result -- went from $145.42 to $166.90, a lesser 15% increase.
Ultimately, price is not really the end result to judge the drug program, of course. The final result of importance, setting aside civil liberties issues, is the net harm to society of both drugs and drug policies. Driving up prices can lead to more crime, for example, and more of those who are addicted suffering financial destitution and driven to extreme circumstances. Price -- in this case, the adjusted price for a pure gram -- is considered a measure of a drug's availability -- the higher the price of the drug, the less available it is, and the fewer expected users. Or at least that's the theory. In this discussion, retail price is defined as purchases of up to 10 grams, the range used by the DEA in its STRIDE data collection program.
If so, it seems pretty silly to talk about prices rising over half a year to $167, in light of this: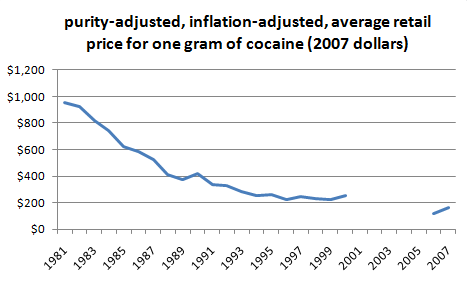 (You'll notice I'm missing a few years. I had trouble finding 2001-2006 data online this morning. I'd appreciate if someone could point me in the right direction, and I'll post a complete chart back here then and in our blog. The price data is from the aforementioned STRIDE program, divided by the Bureau of Labor Statistics' Consumer Price Index figures.)
Given how small the street price of cocaine still is compared with the past, this recent news just doesn't seem to me like something to brag about. Also, the DEA's write-up says they analyzed data going back to April 2005, but only goes on to discuss what happened from December of last year. I wonder what that means.
Bottom line, when you're only presenting the last six months to reporters, after multiple decades of data show something different -- when you don't even present the entire time range that you analyzed in the very study you just completed, your argument is weak. Sorry, the drug war really is still failing, just like it always has.
You can learn more about the drug czars' data shenanigans by picking up a copy of "Lies, Damn Lies, and Drug War Statistics." Better yet, order one from us [16].
Update: Some good info on this from WOLA [17], and discussion in the Washington Post blog [18].