In a 4-0 vote, the Humboldt County, California, Board of Supervisors voted Tuesday to send a letter to their congressional representative asking him to work to legalize marijuana. Humboldt County is part of Northern California's famed marijuana growing "Emerald Triangle."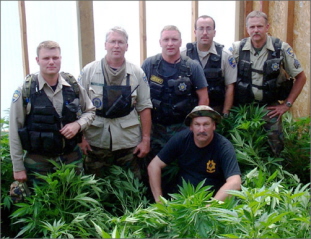 The letter, which was proposed by Supervisor Roger Rodoni, asks US Rep. Mike Thompson (D-St. Helena) for his "support in helping to initiate legislation which will legalize, regulate, and tax marijuana."
Rodoni pronounced himself pleasantly surprised by the unanimous vote in an interview this week with the Eureka Reporter [11]. "I was prepared to consider it a furthering of the conversation," he said, adding that he didn't anticipate the board's receptive vote.
The move comes on the heels of a similar effort by nearby Mendocino County, which last month endorsed marijuana legalization. Other California localities have approved measures calling for the taxation and regulation of marijuana, including Oakland (2004), Santa Cruz (2006), and San Francisco (2006).
Marijuana is a multi-billion dollar business in California and is especially important to local economies in Northern California.