The House of Representatives Wednesday night voted down the Hinchey-Rohrabacher amendment to the Justice-Commerce-Science appropriations bill. The amendment would have barred the Justice Department from using federal funds to target medical marijuana patients and providers in the 12 states where it is currently legal.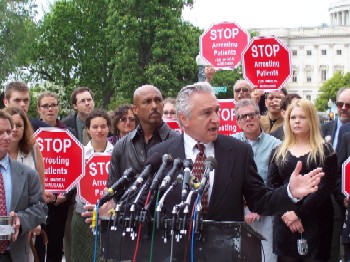 The vote came only hours after DEA agents upped the ante in its battle against medical marijuana in California by raiding 10 dispensaries in the Los Angeles area. And it came only a few days after the DEA opened a new battlefront in its war by sending letters to dispensary landlords threatening them with seizure of their properties or even criminal charges if they continue to rent to dispensaries. (See feature story this issue
here
[13]
).
The vote also came after spirited debate on the House floor. Rep. Steve Cohen (D-TN) related an emotional story about a close friend, a Navy SEAL, who died of pancreatic cancer, but used medical marijuana in his final months to ease his suffering. (Rep. Cohen distributed an email Thursday linking to a YouTube copy of his speech [14].)
Rep. Dana Rohrabacher (R-CA), a cosponsor of the amendment, hit a similar note talking about the cancer deaths of his mother and brother. "If marijuana would have helped them, it would have been a horrible thing to think that federal agents would have come in and interfered with that, if their doctor had recommended it," he said.
But Rep. Dave Weldon (R-FL) said medical marijuana was no more than a stalking horse for potheads. "Most people who want to use it want to get high," he said. Weldon also made the false and outrageous claim that marijuana "does cause cancer. I've seen it."
Rep. David McNerney (D-CA), a freshman member and the only member of the Bay Area congressional delegation to vote against the measure linked medical marijuana to the broader war on drugs. "We are facing a drug crisis with meth and other drug use on the rise. Until we get a handle on the crippling drug use in our society, I cannot support the relaxation of current drug policy,'' McNerney said in a statement after the vote. "I have spoken to many law enforcement officials concerned about the effect of drug use on our communities, particularly in San Joaquin County. The problem is real."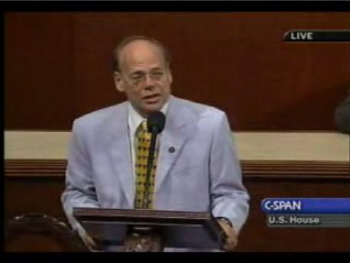 "Not only does this amendment hurt law enforcement's efforts to combat drug trafficking, but it sends the wrong message. Marijuana is the most widely abused drug in the United States,'' said Rep. Rodney Frelinghuysen (R-NJ).
The vote was 165-262, the largest "yes" vote in the five years the amendment has been offered. One hundred fifty Democrats and 15 Republicans voted for the measure, while 79 Democrats and 183 Republicans voted against it.
While supporters did not expect to win this year, they had hoped to gain 15 or 20 votes over last year's 164 "yes" votes. Instead, the gained was a disappointing two.
The amendment's cosponsor, Rep. Maurice Hinchey (D-NY), while disappointed in his colleagues, said he was "encouraged" by the vote. "It is unconscionable to me that the federal government would seek to not only deny, but arrest and prosecute, medical marijuana patients who are using the drug in accordance with state law to relieve pain and nausea associated with debilitating illnesses such as cancer, AIDS, and multiple sclerosis," Hinchey said shortly after the vote. "What we tried to do on the House floor tonight was protect those patients and their doctors from unfair and inhumane efforts by the federal government to deny them the medicine they need. I am pleased that the medical marijuana amendment received a record level of support in the House and will help build upon this new level of support next year."
"We continue to make progress, but we are disappointed that with the DEA terrorizing California patients even as the House debated, Congress chose not to act," said Rob Kampia, executive director of the Marijuana Policy Project [15] (MPP). "New studies continue to demonstrate marijuana's medical benefits, and public support is overwhelming, but many in Congress seem not to care how many patients suffer."
Opinion polls typically put nationwide support for medical marijuana in the 70% to 80% range.
With the number of "yes" votes nearly static, some drug reformers frustrated by the disconnect between Congress and public opinion on the issue are wondering if there isn't a better way. "I don't know that trying to shut off funding to law enforcement is the correct approach," said Dale Gieringer, who, as head of California NORML [16], is directly in the cross-fire, or at least the neighborhood. "If we want to change the medical marijuana law, we should change the law. But what I'm hearing from Congress is that members are waiting for a new administration to show some leadership."
"We're going to be doing some serious thinking about what we do next," said Bruce Mirken, MPP director of communications. "We really thought we would do better. Although the public supports this, many members of Congress treat it as if it were radioactive," he said.
"The question is: Is this the right legislative vehicle? If so, there's something we're missing," Mirken mused. "Is there a more effective way to educate members about how people in their districts feel? Is there a way of turning up the heat on Congress? We have lots of questions, but we can't pretend we have the answers at this point."
For Al Byrne, spokesman for the medical marijuana group Patients Out of Time [17], the answer is "yes," there is a more effective way, and that's for the activists to step aside and let the medical community take the lead. "Until this body of reform organizations can regroup and understand that it is our collective behavior as well as that of our opponents that influences politicians and the media, we will not make significant progress," he argued. "Send LEAP, MPP, DPA, and NORML out again to represent a medical issue and all we'll get is more of the same from Congress and the media. We need to elevate the discussion by letting the doctors and nurses who actually know what they're talking about speak. Then we may find a different outcome," he said.
"We definitely need more doctors and scientists educating people," said DPA director of national affairs and Washington lobbyist Bill Piper. "Clearly, some members and their staffs need to be educated, but there are a lot who are sympathetic, but afraid, so it's not just a matter of education, it's also about changing the political culture in a 'tough on crime' town. What we need is a multi-pronged approach combining education, lobbying, and grassroots work."
This year, amendment supporters started out in a hole, Piper said. "We lost about a dozen members who voted for it last year, but are no longer in office," he noted. "There are also two liberal districts with vacancies, and Nancy Pelosi didn't vote as Speaker of the House, so we started out down 15. What was surprising and disappointing is that this year we lost nine Democrats who voted for it last year."
The congressional class of 2006, the so-called New Democrats, were also a disappointment, Piper said. "We only got half of them. Many of them are from districts that were previously Republican, and that may have had them running scared," he said.
Still, said Piper, rethinking the utility of Hinchey is worth doing. "We've gained 20 votes in five years and we don't really want to wait another five years," he said. "Ultimately, the long-term objective is to change the law. It is worth rethinking what we're doing, but ultimately, a bill isn't going to go anywhere without political support."
That's right, said Paul Armentano, senior policy analyst for national NORML [18]. "I understand people's frustration that this continues to fall well short of passage," he said. "But I also realize that if the members of Congress are unwilling to take this baby step, they are unlikely to support even more far-reaching measures. This vote shows that Congress is still cowardly on these issues; to think it would be ripe for broader drug reform seems almost like wishful thinking."