The US Supreme Court Monday agreed to hear the case of a Virginia man sentenced under the harsh federal crack cocaine laws. Coming after the high court has already agreed to hear two other cases related to federal sentencing, the decision will broaden its review of federal sentencing law by adding the notorious crack-powder cocaine sentencing disparity to it.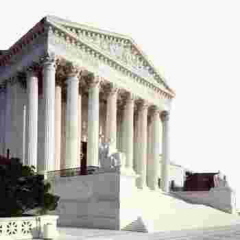 Under federal law, it takes five grams of crack or 500 grams of powder cocaine to trigger a mandatory minimum five-year prison sentence. Similarly, 10 grams of crack or 1,000 grams of powder cocaine merit a 10-year mandatory minimum. The 100:1 disparity in the amounts of the drug needed to trigger the mandatory minimum sentences has been the subject of numerous critics, including federal judges.
The case selected Monday was that of a Virginia man, Derrick Kimbrough, who pleaded guilty to two counts of possessing and distributing more than 50 grams of crack. Federal sentencing guidelines called for a sentencing range of 19 to 22 years, but Federal District Court Judge Raymond Jackson in Richmond pronounced such a sentence "ridiculous" and "clearly inappropriate," and sentenced Kimbrough to the lowest sentence he could, the mandatory minimum of 15 years.
But the US 4th Circuit Court of Appeals rejected Jackson's reasoning and ordered resentencing. "A sentence that is outside the guidelines range is per se unreasonable when it is based on a disagreement with the sentencing disparity for crack and powder cocaine offenses," the three-judge appeals court panel said.
Other federal appeals courts disagree. Both the Third Circuit in Philadelphia and the District Colombia Circuit Court of Appeals have held that, as the Philadelphia appeals court put it, "a sentencing court errs when it believes that it has no discretion to consider the crack/powder cocaine differential incorporated in the guidelines." Both courts noted that the Supreme Court itself had made the federal sentencing guidelines advisory rather than mandatory in its 2005 ruling in Booker v. United States.
The other two federal sentencing cases the court has agreed to hear are also related to the confusion in the courts in the wake of Booker. One case, Rita v. United States, raises the question of whether a sentence within the guidelines range should be presumed reasonable. The second case, Gall v. United States, involved an Iowa college student given a sentence beneath the guidelines in an ecstasy case. The trial judge sentenced Gall to three years probation rather than three years in prison, but the US 8th Circuit Court of Appeals in St. Louis ordered resentencing, finding that such an "extraordinary" departure from the guidelines required "extraordinary" justification.
The Supreme Court will likely decide Rita in a few weeks, and will hear arguments in Gall in October. Kimbrough will carry over into the next term. But in the next few months, the Supreme Court will make decisions that will potentially affect the freedom of thousands of federal drug defendants each year.