A federal jury Wednesday found "Guru of Ganja" Ed Rosenthal guilty for a second time of growing hundreds of marijuana plants in what is no more than a symbolic victory for federal prosecutors. Because Rosenthal has already served a lenient one-day sentence after he was first convicted of the same charges in 2003, US District Court Judge Charles Breyer, the presiding judge in the case, has already ruled that he cannot be resentenced.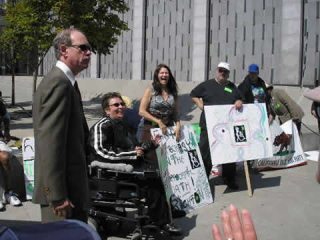 Rosenthal's original conviction was overturned on appeal. Vengeful federal prosecutors angered by his public criticism of their methods retried him knowing they could not further punish him. They even filed additional charges that Judge Breyer threw out as vindictive.
The trial itself was noteworthy for the mass refusal of medical marijuana movement people subpoenaed to testify for the government to do so. Equally noteworthy was their escaping without contempt citations -- at least so far.
Rosenthal grew the plants to produce medical marijuana for use in California, where it is legal, but his defense was unable to explain that to the jury because it was blocked from doing so by Judge Breyer. Federal law and the federal courts do not recognize "medical" marijuana. Neither was Breyer willing to let defense attorneys go too far in urging the jury to vote its conscience.
"There are places that we can't go... There are answers too realistic, reasonable questions you may have that I can't give you," defense attorney Robert Ampranan told the jurors during final arguments. "I fear my government because it does not always tell us the truth. The federal government has had almost six years to complete this recipe... and yet their recipe, ladies and gentlemen, contains tainted, soiled, spoiled ingredients," he said. "If it smells like something that's going to make you sick, you have the right to reject it."
Shortly later, as Amparan compared Rosenthal's prosecution to past injustices done under color of law, such as slavery and the internment of Japanese-Americans during World War II, Breyer sent the jury from the courtroom and accused Amparan of trying to lead the jury into questioning the federal law itself. When Amparan replied that he wasn't, but that he intended to cite the false pretenses for the war in Iraq and the disastrous response to Hurricane Katrina as other examples of government mistakes, the packed courtroom burst into cheers. Breyer warned that he would clear the courtroom if any more outbursts occurred, then ordered Amparan not to make that argument to the jury.
After deliberating for two days, the jury convicted Rosenthal of growing more than 100 marijuana plants, conspiring to cultivate the drug and maintaining a growing operation in a warehouse. He was acquitted of a fourth charge, and Breyer sternly ordered prosecutors to drop the fifth charge when the jury said it was deadlocked.
"It's a shame that the federal government continues to put California citizens in the position of having to set aside their own votes at the ballot box and pretend they don't know anything about the state law or medical science," said William Dolphin, a spokesman for the Rosenthal defense fund Green Aid [13]. "After 60% of the jury pool just refused to be involved in a case like this, we ended up with a jury that felt like it had to follow the instructions of the court."
"The government has shown it can in fact win a conviction in a medical marijuana case in the most pot-sympathetic district in the country," said Dale Gieringer, head of California NORML [14]. "Of course, when we have to play by their rules and can't even mention the main element of the defense, it's an open and shut case. Ed was clearly growing pot, as was shown by the government."
If the verdict was somewhat anticlimactic, there was high drama and civil disobedience in court last Friday. That's when six medical marijuana movement witnesses subpoenaed by the government to testify against Rosenthal simply refused. Five others who were prepared to join them were dismissed on technical grounds.
One by one, recalcitrant witnesses Debbie Goldsberry, James Blair, Etienne Fontan, Evan Schwartz, Brian Lundeen, and Cory Okie told the court they would not participate in an immoral prosecution. (Read the transcript here [15].) "I told them I could not participate and go against the wishes of the community," said Goldsberry.
Judge Breyer praised the six for their dignified conduct and asked them if being sent to jail for the weekend would make them change their minds about testifying. When they replied in the negative, he sent them home for the weekend. They reappeared on Tuesday, reiterated their refusal to testify, and Breyer simply excused them.
The successful act of civil disobedience merits attention, said California NORML's Gieringer. "It's important that this gets some attention because it is one of the few actions where people have had the courage to risk going to jail for refusing to testify for the government," said Gieringer. "The prosecutor can file contempt charges if he wants, but I think the judge would be pretty unhappy. Rosenthal isn't going to jail in any case, so to have someone go to jail would be a real travesty."
"The community is getting fed up," said Green Aid's Dolphin. "The jury pool was not happy, the judge was not happy, and a dozen people subpoenaed to testify just said 'I'm not going to do it, and you can't make me.'"
The federal government prevailed by winning several convictions against Rosenthal, but the victory may be a pyrrhic one. The Justice Department and local federal prosecutors have managed to irritate just about everybody in Northern California, from the presiding judge on down. And the continuing persecution of Rosenthal and other medical marijuana providers has only strengthened the community and emboldened it to try new, provocative tactics.