A bill that would make Rhode Island's medical marijuana law permanent has passed its final legislative hurdle and is now proceeding to the desk of Gov. Donald Carcieri (R), who vows to veto it. But the measure has passed both houses by margins sufficient to override that threat. If so, it would mark the second time in as many years [13] that the legislature overrode Carcieri's veto of a medical marijuana law.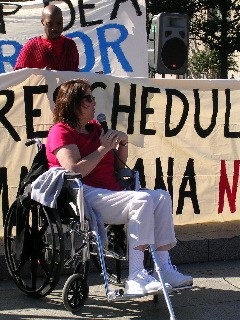 When passed last year, the Edward O. Hawkins and Thomas C. Slater Medical Marijuana Act contained a sunset provision causing the state's program to die June 30 if not re-approved by the legislature. This year's bill actually passed both houses earlier this month, but the final procedural hurdle was cleared when the full House voted this week to pass the Senate version of the bill.
The bill would allow a patient diagnosed as having a debilitating medical condition to possess up to 12 marijuana plants and 2.5 ounces of marijuana. A caregiver could have 12 plants and 2.5 ounces of marijuana for each of up to five qualified patients. The state Health Department would register patients and caregivers.
The bill has been pushed by a coalition of medical, legal, and drug reform groups, the Rhode Island Patient Advocacy Coalition [14]. It appears the group is just a veto override vote away from victory.