New Mexico Gov. Bill Richardson (D) Monday signed into law a bill making the state the 12th to approve the medicinal use of marijuana. Richardson is a candidate for the Democratic Party 2008 presidential nomination. In signing the bill, he becomes the only major contender in either party to publicly endorse the medicinal use of marijuana.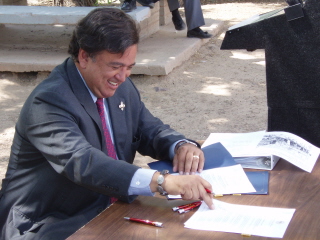 The
Lynn and Erin Compassionate Use Act
[14]
, named after patients Lynn Pierson and Erin Armstrong, allows people who live with certain serious, chronic conditions to use and possess marijuana with a doctor's recommendation. But in a departure from the normal practice in other states, where patients or designated caregivers are allowed to grow their own medicine, the New Mexico law stipulates that only producers licensed by the state Health Department may grow medical marijuana.
The bill came only after being denied House floor votes in two previous sessions and after apparently being defeated this session. But thanks to strong lobbying by Richardson and groups like the Drug Policy Alliance [15] New Mexico office, it passed on a second, last-minute vote.
"This law will provide much-needed relief for New Mexicans suffering from debilitating diseases," said Gov.Richardson in a signing statement [16]. "It is the right thing to do. I'm proud to sign legislation that makes patient care an important priority in this state," Richardson said. "It is time for Congress and the federal government to follow our lead and help those forced to endure painful, chronic diseases."
"By signing this bill, Gov. Richardson is showing his compassion for seriously ill people, and he is also reflecting the will of the majority of New Mexicans and the American people," said Reena Szczepanski, director of the Drug Policy Alliance New Mexico in a Monday statement [17]. "I hope that other elected officials take note: Americans will stand behind those that believe in compassion and mercy for our most vulnerable, our sick and dying patients struggling for relief."
New Mexico now joins Alaska, Arizona, California, Colorado, Hawaii, Maine, Montana, Nevada, Oregon, Vermont and Washington as states that have approved medical marijuana.