A Massachusetts bill would prioritize treatment over jail for probationers who fail drug tests, a new study finds no increase in crime near New York City's safe injection sites, and more.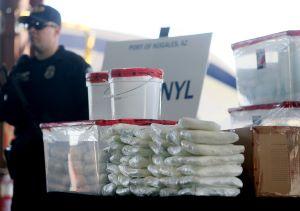 Marijuana Policy
Maryland Starts Accepting Adult-Use Marijuana Business Applications [19]. The Maryland Cannabis Administration began accepting applications for business licenses on Monday. A total of 179 of them are up for grabs. Interested parties have until December 12 to apply.
In the first round of licensing, the state will issue 75 standard dispensary licenses, 16 standard grower permits, 32 standard processor licenses, 24 micro-grower permits, 24 micro-processor licenses, and eight micro-dispensary permits.
Successful applicants must have already completed a social equity verification process that's currently closed, though the state has yet to process all the submissions.
Successful applicants will need at least 65 percent ownership held by a verified social equity applicant. Applicants are limited to one application per license type and no more than two applications in this current round.
Drug Testing
Massachusetts Bill Would Prioritize Treatment Over Jail for Probationers Who Fail Drug Tests [20]. A bill that says that a probationer's positive drug test result should not result in imprisonment, Senate Bill 982 [21], got a hearing Wednesday in the Joint Committee on the Judiciary. Similar legislation has been filed in previous sessions but has never gone anywhere.
This time around, mental health and addiction experts, as well as attorneys, were there to urge lawmakers to get it right.
"I saw hundreds of individuals placed in custody for merely relapsing, a symptom of their substance use disorder," said Deborah Goldfarb, Director of Behavioral Health at Boston Medical Center's Grayken Center for Addiction. "A correctional environment is not one that fosters recovery. And not only were folks not receiving appropriate treatment in custody, they are ripped away from any treatment connections they have."
The legislation, sponsored by state Rep. Ruth Balser (D) and state Sen. Cindy Friedman (D), says that a positive drug or alcohol test or other signs of relapse would not be considered a probation violation if someone is following a treatment plan, trying to get care or has completed a program and is complying with other conditions of probation. The bill would also prohibit the courts from ordering more substance use testing than required by a treatment provider.
"There is growing concern about the increasing problem of drug use and public policymakers are becoming more educated," Balser said. "So I'm hopeful the legislature will be receptive to changing policies to better reflect the science about the best way to respond to those with substance use disorders."
No vote was taken.
Foreign Policy
Biden, Xi Announce Deal Cracking Down on Fentanyl Exports [22]. President Joe Biden (D) and Chinese Premier Xi Jinping announced an agreement for China to crackdown on the manufacture and export of fentanyl, the synthetic opioid linked to about two-thirds of all US drug overdose deaths.
Under the agreement, China will crack down on chemical companies to halt the flow of fentanyl and the source material used to make it. That may be easier said than done, though, given that China has some 400,000 chemical companies.
The US, for its part, will lift longstanding restrictions on China's forensic police institute. China has long complained that the US should not expect cooperation on fentanyl when it has placed restrictions on the institute.
The agreement came as Biden and Xi met on the sidelines of the Asian-Pacific Economic Cooperation (APEC) summit in San Francisco, their first encounter in more than a year as tensions between the two countries heightened.
Harm Reduction
New Study Finds No Outsized Increase in Crime Near New York City Safe Injection Sites [23]. An important new study [24] published in JAMA Open Network finds that violent and property crime near the city's two safe injection sites did not increase anymore than crime in similar neighborhoods across the city. The finding came even as police conducted 83 percent fewer drug arrests near the sites, presumably to avoid scaring drug users away from the sites).
The study should work to blunt some criticism of safe injection sites, which critics have claimed contribute to criminality in neighborhoods where they are located.
"We did not observe any increase in crime or disorder or any of the things that people worry about when they see an overdose prevention site opening," said a study co-author, Brandon Del Pozo, an assistant professor of medicine at Brown University and a former New York Police Department precinct commander and police chief of Burlington, Vermont.
Dr. Nora Volkow, director of the National Institute on Drug Abuse, the federal agency that funded the study, said the study was consistent with past research into safe injection sites, and that even though the new study is preliminary data, "what it does show is that having these safe injection sites is not associated with an increase in violence."