Massachusetts voters legalized marijuana in November 2016, and since then, the city of Boston has become a national leader in attempting to insert a measure of social justice into the nascent legal marijuana industry. That takes the form of social equity programs: A deliberate effort to redress the harm done predominantly to communities of color in the prosecution of the war on drugs, by ensuring community members an opportunity to participate in the legal marketplace.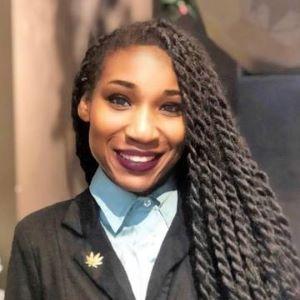 In Boston, social equity programs were instituted by the passage of the 2019 "
Ordinance Establishing Equitable Regulation of the Cannabis Industry in the City of Boston
[14]
," which created the
Boston Cannabis Board (BCB)
[15]
and the
Boston Cannabis Equity Program
[16]
. That made Boston "the first US city to prioritize cannabis industry diversity," as journalist
John Jordan wrote
[17]
at the time.
"Our statewide equity program was also the first in the nation," said Shekia Scott, who as Cannabis Business Manager for the Mayor's Office of Economic Opportunity and Inclusion runs the Equity Program. "Before this, I was director of communications outreach for the state Cannabis Control Commission, and after coordinating that, Commissioner Shaleen Title and I got Boston Councilor Kim Janey to continue an ordinance first introduced by then-Councilor [now US representative] Ayana Pressley. Working with her and her staff, Shaleen and I contributed language to the ordinance, broadening the scope of what the state was doing," she told the Chronicle.
The city program was initially funded with one million dollars -- more than the state's equity program -- and now relies on a percentage of proceeds from marijuana taxes to fund its operations.
Under the ordinance, the BCB handles licensing of marijuana businesses, while the Equity Program sets out criteria for licensees to become Certified Boston Equity Applicants, which provides them with access to financial and technical assistance.
To qualify as an equity applicant, someone must meet at least three of eight criteria [16] based on race, income, residency, veteran status, and having a past arrest or conviction for marijuana or being the child of someone busted for weed.
Being black or brown with a marijuana arrest record and having lived in Boston for at least three years would qualify you; so would being a white veteran and city resident who doesn't make a lot of money.
"Equity applicant status gets you unlimited access to technical assistance and a knowledge base," Scott explained. "If you need a website or help with an app, we connect you to contracted technical assistance partners who can complete those projects or help you complete them. You also have unlimited access to grants of up to $49,999. You also have access to conversations with investors, and it gives you a 1:1 priority in licensing. The BCB will always approve licenses on a 1:1 basis."
The city is nearly but not quite there, though. Of the 26 marijuana businesses currently operating in the city, 12 belong to equity applicants.
"There is no cap on licenses, but the city is shooting to have about 52 retail licenses," said Scott. "Half of them will be equity applicants."
Or maybe even more. There is some talk about changing the 1:1 ration to 2:1 in favor of equity applicants, but economic conditions are not currently very conducive for making that move.
"We would have to amend the ordinance and get city council approval, so we will start a community process with testimony from all stakeholders, but it's a bit of a hard sell right now because we're seeing a slowing down of applications for licenses," Scott said. "We're not receiving a massive number of applications, equity or not. If we had an overwhelming backlog, that would be a better selling point."
One of the eligibility criteria for the Boston equity program is participation in one of two state equity programs, Scott explained.
"One is economic empowerment, but that ended in 2018 with a number of applications accepted," she said. "And there is also a social equity program, which is now on its first cohort. The state's program is purely educational and technical assistance, with one track for entrepreneurs and two tracks for workforce development. And if you're interested in opening an ancillary business, such as an architect, a law firm, point-of-sale systems, website development, general business consulting and the like, there is a track for that."
The state social equity program also provides benefits for equity applicants, such as the waiving of application fees and seed-to-sale processing system fees, and the halving of annual renewal fees.
Scott is proud of the way her city and her state have been in the vanguard in the realm of repairing the damage done by drug prohibition.
"Boston and Massachusetts have a number of things that make us leaders in the space," she said. "We were one of the first cities in the country to have an equity ordinance and the state is the first in the country to have an equity program. "We see a lot of states just take our regulations and our statutes word-for-word," she said.
"The continued reinvestment of tax funding helps keep the program alive, and we have the only technical assistance program in the country that is not just education-based but project-based. If you need an architect, I can pair you with an architect, and the program pays for it. It's important not to just have equity language, but to make sure it is enacted and to have accountability," she said.
On social equity in the legal marijuana sphere, Shekia Scott and the city of Boston are leading the way. Others have already taken note; perhaps more should.