A New York assemblyman wants to ban marijuana billboards, Utah medical marijuana dispensary workers vote to unionize, and more.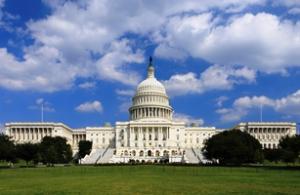 Marijuana Policy
House Committee Kills Bid to End Ban on DC Pot Sales [16]. The Republican-led House Rules Committee has blocked an amendment to the Financial Services and General Government appropriations bill that would have allowed the District of Columbia to enact legal marijuana sales in the nation's capital. It also killed an amendment to prevent drug testing federal job applicants for marijuana.
Voters in the District approved marijuana legalization a decade ago, but the District's ability to allow legal sales was blocked by a congressional rider from Rep. Andy Harris (R-MD) that has been maintained ever since. Even the Democrats controlling the Senate Appropriations Committee maintained the rider, as did President Biden's Fiscal Year 2024 budget request.
The amendment to get rid of the rider was filed by Reps. Eleanor Holmes Norton (D-DC), Earl Blumenauer (D-OR) and Barbara Lee (D-CA).
New York Bill Would Ban Roadside Marijuana Billboards [17]. Assemblyman Scott Gray (R-Watertown) has filed a bill that would ban marijuana advertising billboards along highways, Assembly Bill 8200 [18], the Roadside Cannabis Advertising Prohibition Act.
The bill provides an exemption for marijuana retailers to display signs on their premises, but they would not be allowed to install large signs that show specific products to passersby.
Gray said he was inspired after seeing a billboard that advertised marijuana with "Got Weed?" slogan and he feared that it deliberately resembled ads that focus on children and teenagers.
"A number of scientific studies have shown serious effects from marijuana on teenagers' brains, and this legislation will ensure that products are not advertised in a harmful way, while protecting the rights of authorized establishments to have signage acknowledging the location of their venue," Gray said.
The bill was filed late last month and is currently before the Assembly Economic Development Committee.
Medical Marijuana
Utah Dispensary Workers Unionize [19]. The movement to unionize marijuana industry workers continues apace. The latest pot shop to see a vote by employees to join a union is Utah's Dragonfly Wellness Cannabis Dispensary, which was the first medical marijuana dispensary to open in the state back in 2020 and voted to become a union shop last month.
Both the Teamsters and the United Food and Commercial Workers (UFCW) are involved in industry organizing efforts. Dragonfly workers opted to join UFCW Local 99, which also represents marijuana workers in Arizona and New Mexico.
Dragonfly workers said the store fought the unionization bid, hiring the Crossroads Group, a company notorious for union-busting measures. But to no avail -- employees voted 19-4 to join the union.
"For more than a decade, our union has been proud to help lead the development and stabilization of the emerging cannabis industry through our innovative Cannabis Workers Rising campaign." Said UFCW Local 99. "We represent tens of thousands of cannabis workers across the US in dispensaries, labs, delivery, kitchens, manufacturing, processing, grow facilities and more helping workers secure better wages, protection from unfair discipline, and great benefits with a union contract."
"Workers are seeing profits being made, but not feeling it in their paychecks," UCFW spokesperson Drake Ridge said. "Part of this is to ensure the workers that are making the industry thrive, that are building direct relationships with patients and giving them the medicine they need to get through the day, are seeing their fair share of the profits."
International
Colombia Prosecutors' Office Leak Exposes Dozens of DEA Agents [20]. A cyber breach at a Colombian prosecutor's office has exposed the identities of more than 90 DEA agents and 15 Homeland Security Investigations agents, as well as similar numbers of their Colombian and foreign counterparts.
Journalists have not so far published the names of identifying information about the exposed agents, but the breach reveals a lack of safeguards in Colombia, a key US ally in the fight against hemispheric drug trafficking organizations.
"It's one of their nightmares because (cartels)… can identify agents and informants, especially if you are still in-country," said Mike Vigil, a former DEA international operations chief who helped the agency expand its global intelligence footprint worldwide. "Anytime that unauthorized people have the name of an agent or an informant, it's not difficult to locate them."
A cartel might not want to risk the consequences of killing a DEA agent, Vigil said, but "to them, informants are fair game because they are considered traitors and will kill them to send a message to others thinking of cooperating."
The leak has provided the basis for the NarcoFiles [21], an investigative reporting operation from the Organized Crime and Corruption Reporting Project in conjunction with the Miami Herald and more than 40 other news outlets. The reporting on the leak has been ongoing since October 22 and has also included revelations about links between the Venezuelan government and the drug trade.
The leak came from a "hacktivist" organization calling itself Guacamaya, a common South American word for the macaw parrot, which has also claimed hacks of the Mexican Defense Ministry, as well as the defense departments of Chile and Colombia. Guacamaya said the Colombian prosecutor's office was "one of the most corrupt organizations in the country," and accused it of being servile to US interests."