Sweden is moving to broaden access to the opiate overdose drug naloxone, one of three Vancouver magic mushoom shops raided by police last week has reopened and the other two will be reopening shortly, and more.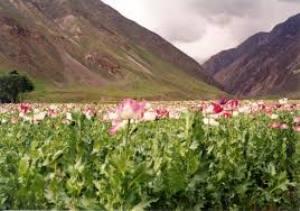 International
UN Says Afghan Opium Production Dropped 95 Percent After Taliban Ban [17]. For decades, Afghanistan has been accurately described as the world's largest opium producer. Not anymore. Opium poppy production has dropped dramatically since the Taliban banned the cultivation of the plant last year.
The UN Office on Drugs and Crime (UNODC) reports that poppy cultivation dropped to just 26,700 acres this year, down from more than 500,000 acres in 2022, resulting in a 95 percent decrease in production and limiting supply to 333 tons.
Since opium production has provided a livelihood for millions of Afghans and two-thirds of the population is already in need of humanitarian aid, imposition of the ban is having severe economic consequences, the UNODC said.
"Over the coming months Afghanistan is in dire need of strong investment in sustainable livelihoods to provide Afghan farmers with opportunities away from opium," Ghada Waly, the executive director of UNODC. "This presents a real opportunity to build towards long-term results against the illicit opium market and the damage it causes both locally and globally."
The huge contraction in supply from Afghanistan -- estimated to supply around 80% of the world's illegal opium - could eventually lead to a drop in opium use internationally, but it also risked escalating the global use of alternatives such as fentanyl or synthetic opioids, the UNODC said.
Vancouver Magic Mushroom Shops Reopen After Being Busted Last Week [18]. Long-time Vancouver, British Columbia, drug activist Dana Larsen spent seven hours in jail and saw his trio of magic mushroom shops shut down in a police raid last week, but he has already reopened one of them and says the other two are restocking and will be open soon.
Larsen has shops on East Hastings Street, West Broadway Avenue, and Granville Street. The East Hastings shop is the one that has already reopened.
Vancouver Police said they executed search warrants at the stores as part of an investigation into the illicit sale of psychedelic drugs and that officers seized "a variety of controlled substances." Larsen was not charged last week, but police said they would make charging recommendations to prosecutors once they finished their investigation.
"We have been clear that anyone who breaks the law by illegally trafficking controlled drugs and substances could be arrested and charged with a criminal offence," said Sgt. Steve Addison. "This includes people who traffic drugs for profit from unlicensed and illegal retail businesses."
Larsen said he "will try to be better prepared" if the police come back again. "People go through a lot worse things, but it's no fun sitting in a jail cell for seven hours. It's no fun that all of your products are taken," he said. "Our staff are very upset, some of them are quite worried about their future and their job and whether they want to keep working here."
Sweden to Expand Naloxone Access [19]. Faced with a rising drug overdose toll -- more than 900 cases a year -- the national government is working to implement a new, knowledge-based drug policy aimed at reducing overdose deaths by 20 percent within the next five years.
A key part of the strategy will be expanding access to the opiate overdose reversal drug naloxone. Under current law, only doctors and nurses can prescribe naloxone, but the new measure would make it accessible outside healthcare facilities and it would be distributed for free.
But legal obstacles remain and the government is still navigating the regulatory landscape to allow for broader access. Still, Sweden is now prioritizing pragmatism over prohibitionist ideology and moving to adopt harm reduction techniques.