Most Michigan state job seekers will not have to worry about pre-employment pot tests anymore, the Senate approves a bill that would allow VA docs to recommend medical marijuana for veterans, and more.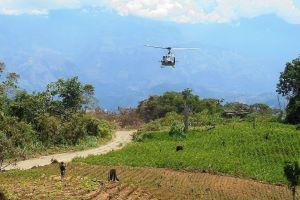 Marijuana Policy
House Members Reintroduce Legislation Repealing Federal Marijuana Prohibition [17]. A bipartisan group of House members led by Rep. Nancy Mace (R-SC) have reintroduced legislation repealing the federal prohibition of cannabis and providing resources to assist in regulating the state-licensed cannabis industry.
House Bill 6028 [18], The States Reform Act, removes marijuana from the Controlled Substances Act, facilitates record expungement for those previously convicted of certain marijuana-related offenses, and provides regulatory oversight for state-legal cannabis markets.
The bill's reintroduction comes just weeks after Democratic Rep. Jerrold Nadler reintroduced legislation, the Marijuana Opportunity, Reinvestment and Expungement (MORE) Act, that also seeks to repeal federal marijuana prohibition. House members have twice passed the MORE Act, but members of the Senate have never considered the bill.
It is unlikely that newly elected House Speaker Mike Johnson (R-LA) will prioritize either measure. Representative Johnson has repeatedly voted against proposed legislative changes in federal marijuana policy, and he has criticized Democratic leadership for advancing similar measures, particularly the MORE Act.
Michigan State Job Seekers Will No Longer Face Pre-Employment Pot Tests [19]. The state Civil Service Commission has announced that pre-employment drug screenings for marijuana will no longer happen. And anyone who previously failed a screening and lost a state job opportunity can request the removal of that record. This is after the commission approved an amendment to that effect this past July.
Under the commission's revised rules, the "authority shall not require testing for marijuana for a pre‐employment drug test of a new hire to a position that is not test‐designated."
A significant portion of the state work force, however, is "test-designated," including positions calling for a commercial driver's license (CDL), jobs operating heavy machinery, law enforcement officers (LEO) and corrections workers, healthcare workers, and positions working with controlled substances or hazardous or explosive materials. They could account for up to a third of state employees.
Last year, more than 150 applicants lost state job opportunities because of positive marijuana test results. Now, they and dozens more can move to restore their eligibility for state employment.
Medical Marijuana
Senate Votes to Allow VA Docs to Recommend Medical Marijuana to Veterans [20]. The Senate has approved the Military Construction, Veterans Affairs and Related Agencies appropriations bill, which includes an amendment from Sen. Jeff Merkley (D-OR) that would allow doctors at the Department of Veterans Affairs to issue medical marijuana recommendations to veterans in states where it is legal.
The House has previously passed similar legislation, setting the state for a conference committee from the two chambers to deal with remaining differences in the two bills.
"Veterans face too many roadblocks in getting the care they need and deserve. That's why I have consistently led an effort to ensure VA doctors are able to discuss the full range of legal treatment options with their patients," said Merkley. "Outdated laws should never censor veterans' doctor-patient relationships. I look forward to working with colleagues on both sides of the aisle in the House and Senate to make this the time we make this important option a reality for America's veterans."
"We need to start conferencing our appropriations bills," Senate Appropriations Committee Chair Patty Murray (D-WA) said [21] Wednesday. "That will require House Republicans to get serious about governing, get back to the spending agreement they negotiated, and work with us to finalize bipartisan bills that meet this moment and address the needs of our families."
International
Peru Has Eradicated 45,000 Acres of Coca This Year [22]. The Ministry of the Interior has reported that some 45,000 acres of illicit coca crops have been eradicated so far this year by the Special Project for Control and Reduction of Illegal Crops in Alto Huallaga.
Eradicators hit nearly 10,000 separate plantings in the Ucayali, San Martin, Huanuco, Pasco, Loreto, and Junin regions.
The ministry also reported destroying eight clandestine cocaine laboratories, six in Huanuco, one in Ucayali, and one in Pasco.
Peruvian coca cultivation was estimated at more than 200,000 acres in 2021, the most recent year for which numbers are available. That created the potential for the production of 785 metric tons of cocaine.