On Tuesday, Ohioans will head to the polls to address a pair of initiatives, both of which seem set to energize progressive voters in an off-year election and whose synergy should propel both to victory. Issue 1 is an abortion rights initiative, while Issue 2 [17] would legalize marijuana.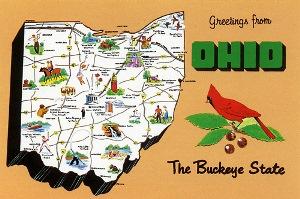 Recent polls show both initiatives winning. The abortion rights initiative is polling at
65 percent
[18]
in an Ohio Northern poll and
58 percent
[19]
in a Baldwin Wallace University Ohio Pulse poll, while Issue 2 is polling at
65 percent
[20]
in the Ohio Northern poll and
59 percent
[21]
in a Public Policy Polling survey.
If approved by voters, the marijuana legalization initiative would allow people 21 and over to possess up to 2 ½ ounces of marijuana and 15 grams of extracts. The initiative also includes a home grow provision allowing for up to six plants, with a limit of 12 per household, but landlords would be allowed to bar home grows in their properties.
The initiative would impose a 10 percent retail sales tax on marijuana purchases above and beyond state and local sales taxes. Marijuana tax revenues would go to public safety, road improvement, drug treatment and prevention, with more than 30 percent reserved for social equity investments for people and communities "disproportionately affected by Ohio's marijuana policy." (That is the only social equity provision in the initiative; it does not include any provisions for expungement of marijuana-related criminal records -- a task presumably to be left to the legislature.)
Issue 2 would create a Division of Marijuana Control inside the state Department of Commerce and would place the state's existing medical marijuana regulators in charge of licensing and setting rules for implementing the new law. Existing medical marijuana operations would be able to obtain new adult-use licenses, and regulators will also have 40 new licenses to hand out for smaller commercial cultivators and 50 licenses for new adult-use retail outlets. No one would be able to hold more than eight retail licenses or one cultivator license, but cultivators would be allowed to expand their size by four- or five-fold to serve a growing customer base.
Where retail or cultivation operations can operate will be up to municipal authorities, who could prohibit them from operating, but who could not force closure or limitation of existing marijuana facilities.
And Issue 2 would allow employers to fire or refuse to hire employees who fail marijuana drug tests.
It has been a long and winding road to Election Day for the Campaign to Regulate Marijuana Like Alcohol, which has spent the last several years navigating the state's labyrinthine initiative process. It had to successfully complete two signature-gathering campaigns before taking the issue to the legislature, which could enact the measure but refused to do so, and then undertake another signature-gathering campaign to be able to finally bring the issue directly to the voters.
It's about time, the campaign says in its official argument, which leads with an economic argument: that legal marijuana will generate hundreds of millions of dollars in annual revenue for the state. The coalition put the figure at $400 million a year, while an Ohio State University study estimated recreational marijuana's annual tax revenue potential at between $276 million and $403 million, after the industry has been operating for five years.
But it is not just an economic issue, the coalition argues. Passing the initiative would be a remedy to the state's "failed marijuana policy," the group said. "Our current marijuana laws can ruin lives based on one mistake. This measure will end unfairly harsh punishments for minor marijuana offenses, freeing local law enforcement to focus on serious, violent and unsolved crimes. Passing this measure will create a legal marijuana market in Ohio with clear, regulated and enforced safety standards, thus drying up the black market."
Because Issue 2 takes the form of a statutory initiative and not a constitutional amendment, the legislature will be able to attempt to revise or reverse it. And the current Republican-dominated legislature is indeed hostile to the initiative. It is up to Ohio voters to show lawmakers just what marijuana policy they want, and the more they can run up the margin, the stronger their statement will be.